There is talk about 'cultural connect' and the 'warmth of storytelling' in Indian films vis-a-vis the spectacle and scale that Hollywood specialises in.
Vanita Kohli-Khandekar reports.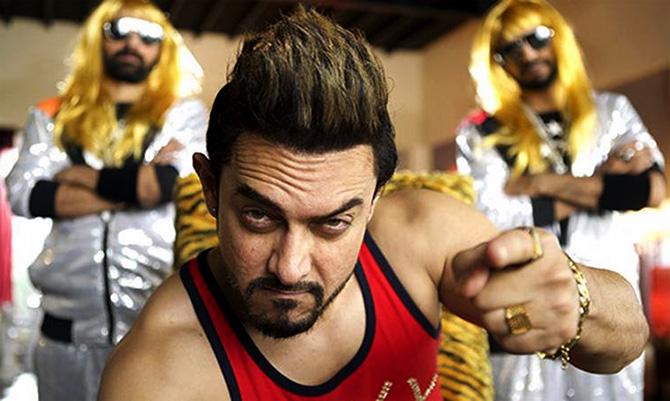 IMAGE: Zaira Wasim and Aamir Khan in Secret Superstar.
Advait Chandan's Secret Superstar -- the story of a 14-year-old girl who aspires to become a singer -- made $10 million at the box office in India last year.
The film, which was released in China earlier this year, went on to do $117.7 million business, beating Disney's Star Wars: The Last Jedi in terms of ticket sales and revenues.
Last year, Nitesh Tiwari's Dangal, which chronicles a father's struggle to train his daughters in wrestling, did over $193 million business in China.
That catapulted it to the list of the top 10 hits of 2017 at the $8.6 billion Chinese box office along with The Fast and Furious and Transformers: The Last Knight.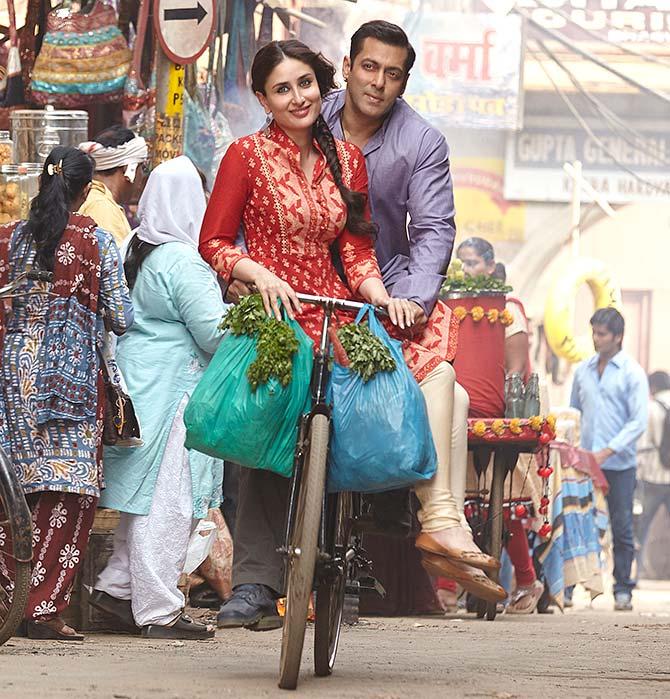 IMAGE: Salman Khan and Kareena Kapoor in Bajrangi Bhaijaan.
Last week, Kabir Khan's Xiao Luo Li De Hou Shen Da Shu (Little Girl's Monkey God Uncle) or Bajrangi Bhaijaan grossed $36.5 million in its fourth week in China.
Analysts estimate the 2015 Indian hit will cross $50 million in revenue from China.
"It is hard to discern a pattern, but three makes a trend," says Patrick Frater, Asia editor of the trade magazine Variety.
"The story of a little (Pakistani) girl lost in India has universal appeal," adds Kumar Ahuja, president, business development for the Rs 14.45 billion Eros International, the studio behind Bajrangi Bhaijaan.
Unlike Hollywood, Indian films have appealed only to certain pockets of the global market. For the last decade or so, the UK, the US and Central Asia have been the foreign strongholds of the Rs 156 billion Indian film industry. South-East Asia and China remained indifferent.
Dangal's success in China last year improved the prospects of Indian films in the world's second largest and fastest growing film market by value.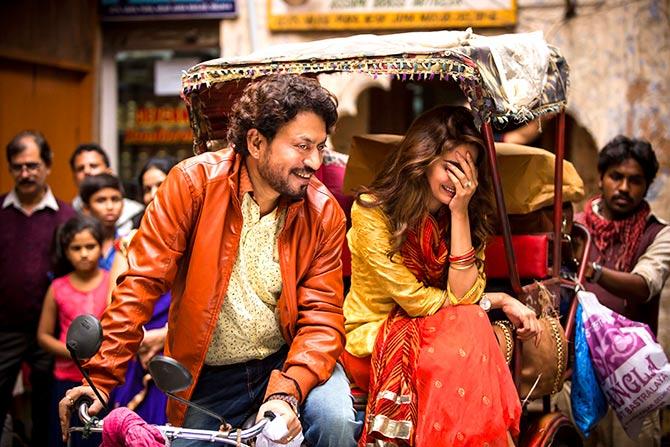 IMAGE: Irrfan Khan and Saba Qarim in Hindi Medium.
Other Indian films such as Baahubali 2 and Hindi Medium have been queuing up for a China release, difficult given that the country has a quota of 34 foreign films a year. Eros is working on two co-productions with Chinese companies.
"The door has been cracked open," says Frater.
It all began with 3 Idiots.
The 2009 superhit about the pressures of the Indian education system was released in Taiwan in 2011, picked up by word of mouth and hung on for 17 weeks, raking in around $2 million. This led to a Hong Kong release, where it made $3.5 million.
By the time of the China release, piracy had made the film popular but that limited its box office takings to $3.5 million in the mainland.
Considering it was dubbed and subtitled, 3 Idiots had done well for itself at $9 million across these three markets.
It also established lead actor Aamir Khan as the face of Indian cinema.
That, say analysts, is what led to the moderate success of Khan's next film, PK, in 2014.
But Dangal broke all records.
It has, along with Secret Superstar, made Hollywood studios, and the global and the Chinese media sit up and take notice.
There is talk about 'cultural connect' and the 'warmth of storytelling' in Indian films vis-a-vis the spectacle and scale that Hollywood specialises in.
This is partly correct. One video from a theatre in China shows a group of men dancing in the aisles to Bajrangi Bhaijaan's Selfie le le re, much like Indians do in single screen theatres.
The human, relatable stories work, say industry experts.
Last year, several foreign films, including Bad Genius, a high school thriller from Thailand, and Contratiempo, a Spanish crime film, made $41.1 million and $26 million, respectively in China.
"Some kind of diversity is creeping in," says Frater.
The other big reason that Indian films are doing well in China is because the country has more screens.
In 2011, China had around 9,000 screens. Now it has more than 50,000 -- hundreds of them in towns with a million-plus population.
Bajrangi Bhaijaan also proves there is a market beyond Aamir Khan's films. Ahuja reckons much of what happens next will depend on the films chosen for release in China.