Zee is estimated to have paid around Rs 225 crore for the complete rights of Radhe.
The total revenue that it may earn could be around Rs 135 crore, implying a shortfall of Rs 90 crore.
Viveat Susan Pinto reports.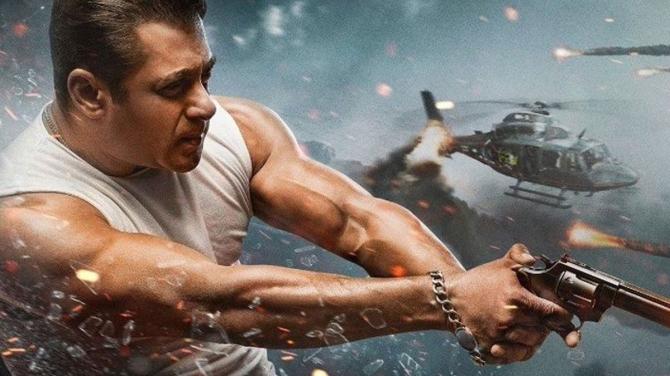 Media major Zee Entertainment may test the hybrid movie release strategy with more films it is looking to acquire in the future.
The buzz is that the media company is eyeing the rights of Antim, produced by Salman Khan, who also stars in it along with brother-in-law Aayush Sharma.
The film's release date has been pegged at July 1.
However, the ongoing COVID-19 crisis may prevent state governments from opening up cinema halls in the country, film industry sources said.
This may force the producers of Antim to take the digital-plus route that was used in the case of Radhe.
For the uninitiated, Radhe, also starring Khan, was released on May 13 on pay-per-view platform ZeePlex, over-the-top service ZEE5, direct-to-home channels such as Tata Sky, Airtel DTH and Dish TV as well as in theatres in international markets.
This was the first such case of a simultaneous release for an Indian film across platforms.
Zee had a special combo pack tailored around the film for new subscribers, including an annual subscription of ZEE5 for Rs 499. Radhe was bundled with this offer. ZeePlex subscribers as well as existing Zee5 subscribers could watch the film by shelling out Rs 249 each.
A company spokesperson said that the hybrid release model had introduced a new window for content creators to connect with audiences.
"Radhe saw a positive response from viewers from the first day of release, wherein it clocked 4.2 million views across platforms. The film has also received encouraging box office collections in overseas markets," the spokesperson said.
However, analysts have a different perspective to share on Radhe's performance so far. Karan Taurani, vice-president, research, Elara Capital, says the 4.2 million digital views do not suggest that an equal number of people purchased the film online.
"Our math suggests that a family of four or five people could have watched the film on one purchase. So, those who tuned in to watch the film on its first day of release on digital, especially, ZEE5, were around 0.9 million," points out Taurani.
"The first weekend would have garnered around 2.5 million views and will touch the 3-4-million-mark by the second weekend. However, much of this traffic is from existing subscribers, implying realisations are low," adds Taurani.
Zee is estimated to have paid around Rs 225 crore (Rs 2.5 billion) for the complete rights of Radhe. This includes music, overseas theatrical and satellite TV rights, which constituted 30-40 per cent of the acquisition cost. The balance 60-70 per cent were digital and cinema rights.
With theatres currently shut in India due to COVID-19, analysts say it is not possible for Zee to recoup 60-70 per cent of its investment from digital streaming alone.
But Radhe's satellite TV premiere, likely to happen in a few months, may help the media company garner around Rs 50 crore-Rs 60 crore (Rs 500 million to Rs 600 million) in terms of revenue. This is because curiosity levels could be high among the larger television-viewing population, attracting advertisers, said experts.
Overseas theatrical and music collections could help the company earn a revenue of Rs 40 crore (Rs 400 million), while total digital views and purchases could touch Rs 30 crore-Rs 35 crore (Rs 300 million to Rs 350 million), according to industry estimates.
So, total revenue that Zee may earn from Radhe could be around Rs 135 crore (Rs 1.35 billion), implying a shortfall of Rs 90 crore (rs 900 million).
In a concall with investors, Zee Entertainment's Managing Director and CEO Punit Goenka said Radhe would contribute to the company's bottom line through the various rights acquired.
"We look at movies as a bouquet of services. Radhe will also make money for us over a period of time through the various rights we have," he said.
Zee is likely to introduce a pay-per-view window for Radhe in the international markets in the next few months.
The movie was released in over 40 countries, including key markets such as the Middle East, Australia, US, Canada and the UK.