Radhe: Your Most Wanted Bhai is the kind of bad movie that already knows it stands on shaky grounds and doesn't do anything to mask its insecurities, observes Sukanya Verma.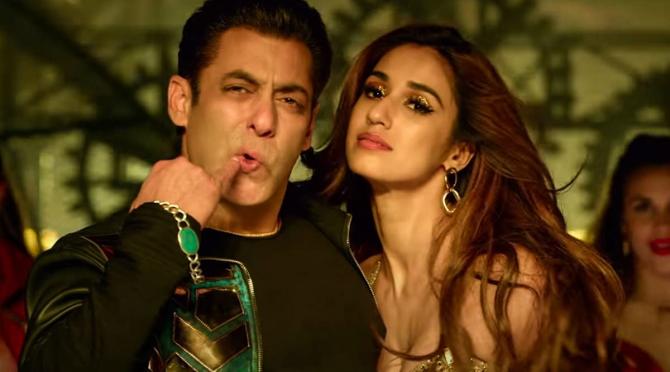 What is a superhero stripped off his powers?
Without a big screen and a hall teeming with hysterical fans amplifying Bhai's every single antic to deafening decibel and applause, Salman Khan's impact is reduced to an ineffective action figure playing out of a handheld device or one half of the wall.
When I watched Bodyguard a decade ago, I noted in my review, 'Youngsters, children, families enter in throngs to soak in the festive fervour of this Eid release and its phenomenal hero. Even before the credits begin to roll, the atmosphere packs in enough buzz and enthusiasm to warrantee an *experience*, which, for better or worse, is the purpose behind every recent Salman film.'
Ten years and a pandemic later, our movie going experience has altered dramatically and irreversibly. And in the absence of a theatre crowd, let alone a cheering one, the insignificance of Salman's masala is even more glaring.
Throwing in a song called Seeti Maar is tokenism at its most pitiable.
Radhe: Your Most Wanted Bhai is the kind of bad movie that already knows it stands on shaky grounds and doesn't do anything to mask its insecurities. Notice it reads 'Your' most wanted, which immediately puts the onus on us for old times' sake to buy in Bhai's baloney.
From evoking nostalgia for his Wanted success by way of his character's name Radhe, his 'ek baar jo maine commitment kar di' motto and plaid shirts, distressed jeans costume to referencing anything connected with him -- Bigg Boss, Being Human, beefy torsos sans a shirt, mobile phones, Galaxy apartment, signature bracelet -- the desperation to imprint is everywhere and endless.
Prabhudeva's factory style film-making turns the South Korean crime drama, The Outlaws, of which Radhe is a remake, over its head and the upshot is a script botched up so badly it is entirely unrecognisable.
What is originally about warring gangs and lawful intervention is dumbed down to a silly cop and crook game between creepy overgrown punks and middle-aged cops asserting their libido against the backdrop of a now-you-see-it-now-you-don't drugs problem.
Salman Khan sends selfies from a urinal, breaks into an undercover cop item dance with Jacqueline Fernandez.
Jackie Shroff canoodles to him in a strappy cocktail dress.
Disha Patani unlocks new levels in the Bollywood airhead stereotype.
Randeep Hooda thrashes folks like one awakens a conked out TV.
Poorly-worded newspaper headlines last as long as 29 words.
And a bunch of nondescript characters, burly and noisy, fill up the frames of this grossly outdated and dreary drivel for a little less than two hours.
There are plenty of scenes to emphasize Salman Khan's larger-than-life strength and prolonged youth.
Disha, born in the same year the actor delivered some of his biggest duds (Jagruti, Suryavanshi, Nischaiy) spends all her scenes fawning over his 'dude' body and face.
A teenager falls off a building and lands on him but not one scratch.
Salman's mid-air scuffle with Hooda takes the cake, of course.
The duo jumps off an exploding chopper in an embarrassingly sloppy climax action and not one bone is broken, not a dot of blood is lost.
The damage is entirely on the viewer's brain and sanity. This is our hero's idea of Swachh Bharat.
How about cleaning up the mess that is afflicting Bollywood instead?
Radhe: Your Most Wanted Bhai is streaming on ZEE5Premium.
Rediff Rating: