'It was not a natural death; it was an accidental death.'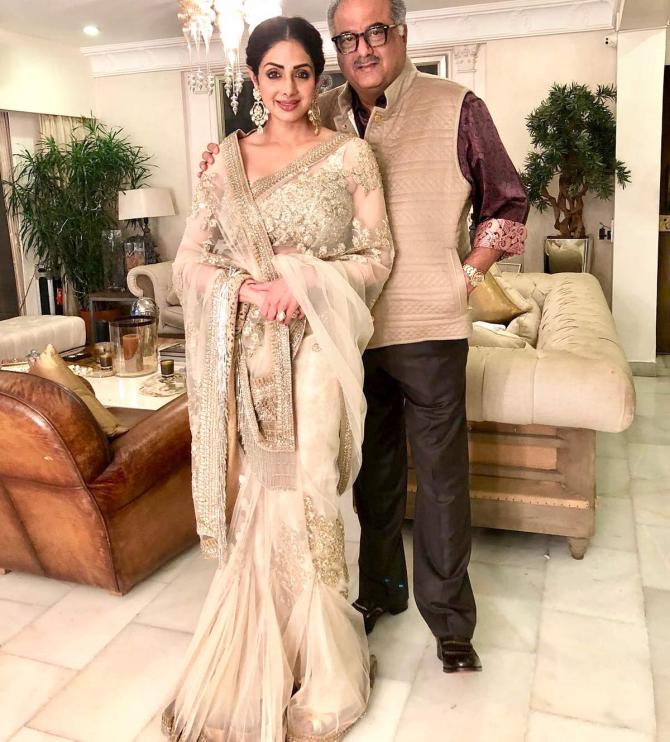 Sridevi's mysterious death in a bathtub in Dubai gave rise to many conspiracy theories about what really happened.
Five years later, her husband Boney Kapoor, who was with her at the time, finally opens up about the reasons behind her death.
In an interview with The New Indian, Boney said, 'It was not a natural death; it was an accidental death. I had decided not to speak about it because I spoke about it for almost 24 or 48 hours together when I was being investigated and interrogated. In fact, the officers said we had to go through this because there was a lot of pressure from Indian media.
'They discovered there was no foul play. I went through all the tests, including lie detector tests and all those things. And then, of course, the report which came clearly stated it was accidental drowning.'
Sridevi, he revealed, would often go on strict no-salt diets.
'She often used to starve; she wanted to look good. She wanted to make sure she's in good shape, so that on screen, she looks good. From the time she was married to me, she had blackouts on a couple of occasions, and the doctor kept on saying she had a low BP (Blood Pressure) issue, don't get into a severe diet where you avoid salt.
'Most females believe that salt creates water retention, and that was one reason why she would avoid salt,' he said, claiming she had come down to 46-47 kilos in the past.
'Later when she passed away, Nagarjuna had come home to offer his condolences, and he told me that during one of her movies, she was again on a crash diet, and that's how she fell in the bathroom and broke her teeth.'
'Since I'd got married to her, I knew this tendency of hers to do such a strict diet, and I used to push my daughter to tell her to that she must have salt. I used to push her myself. Unfortunately, she didn't take this seriously. We also thought maybe it can't be this serious until the incident happened.'
Sridevi passed away in February 2018 in Dubai, where she had gone to attend a family wedding.