Indian actor Sridevi died in Dubai on February 24.
We revisit this 2011 conversation with the Bollywood superstar in tribute.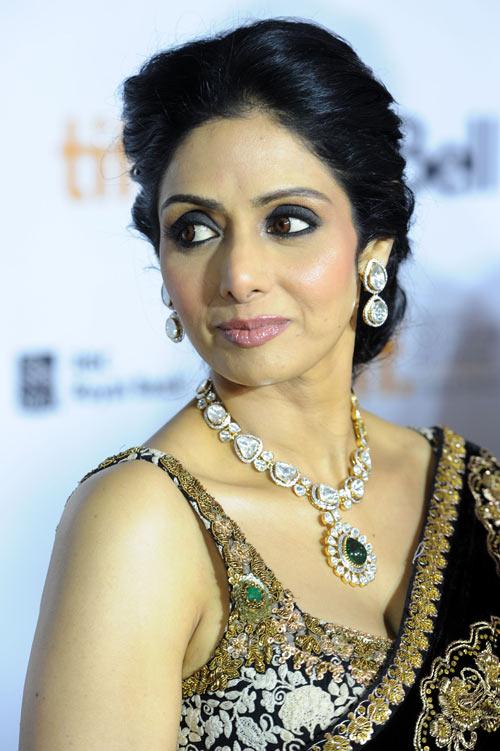 Photograph: Jag Gundu/Getty Images
She has ruled the Indian film industry and was also titled the 'Lady Amitabh Bachchan' of her time.
She has innumerable mega-blockbusters to her credit, where her stellar performances amazed the fans and critics likewise.
In the interview, eternal Bollywood siren Sridevi tells us how she still manages to look fabulous.
What is your idea of wellness?
Being in a positive and happy frame of mind.
What does true beauty mean to you?
When you are glowing with happiness.
What are the essential beauty rituals that you follow regularly?
I believe in eating the right food and at the right time, doing yoga and having lots of water; and I follow this regularly.
A beauty tip that you would give to all women?
Go on and pamper yourselves. We deserve it!
'I believe in aging gracefully'
What would be the ultimate beauty faux pas?
Sleeping with makeup on. And using too many products on your skin -- it's very harsh for the skin.
Going down memory lane, what's the first beauty product you remember using?
I remember mixing glycerin and rose water and using it on my face.
What does your fitness regime entail?
I play outdoor games with my children like tennis, and I try to be regular with my power yoga. I also make it a point to go jogging with my daughter.
You are so fit and well-toned; do you exercise rigorously to keep yourself toned?
I try to, but I don't think I'm very regular because we travel very often.
What is truly your relationship with time; are you afraid of ageing?
I believe in aging gracefully.
To confront ageing, did you decide to change, at a certain time in your life, your looks, lifestyle or habits?
Not that I know of, I'm just going with the flow.
Do you follow a diet plan?
Yes, I do. I make it a point to start my day with two glasses of warm water with a squeezed lemon and herbal tea.
Then I have some mixed vegetable juice, followed by a heavy breakfast like oat meal or muesli with lots of dry fruits, honey and made in skim milk. That gives me energy till 3 in the afternoon, that's when I have lunch with my kids.
Lunch, for me, usually consists of lots of salad and sometimes smoked or grilled salmon, tofu or feta cheese. I make sure to add a lot of greens to my salad. I accompany this with some dal.
My dinner is usually lighter than my lunch, so I stick to soups, but unlike many others, I prefer to have a roti and some vegetable curry so that I sleep well.
I snack on sauteed peanuts, a whole fruit, lots of cheese -- especially goat cheese -- with multi-grain crackers and dark chocolate. These are my weaknesses. I make it a point to eat every two hours.
What is the essential nutrition to ensure a glowing skin?
Have lots of water and liquids in general. Include ample fruits and vegetables in your diet and no fried or oily food.
Perfect makeup is nothing less than a fine art. Please share some thoughts on it.
I try keeping it as natural and minimal as possible.
Your essential makeup and beauty kit would have...?
La Prairie Platinum cream, some eyeliner and lip gloss -- that's all I need.
How do you take care of your beautiful long tresses?
By oiling it regularly and not using any harsh chemicals.
Could you share some home remedies for skin and hair care with our readers?
I would suggest everyone use fruit packs. Oil your hair and take a head massage as often as possible, for better blood circulation.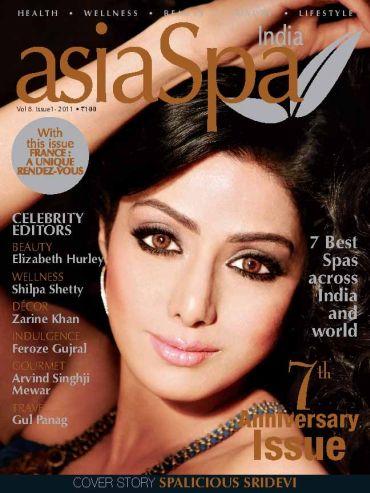 Photograph: Kind courtesy Asia Spa Magazine
What according to you is the best way to de-stress after a long day at work?
Enjoying a movie with my husband and my kids.
What has been your most indulgent spa experience?
The most recent one, in Pune at the Marriott. I went for the honey scrub, massage and a special fruit facial -- it was my first. I really enjoyed it, and I look forward to doing it again. It was blissful!
Your kind of music?
Anything soulful and soothing.
What is an instant mood-lifter for you?
Seeing my children happy.
Something that you like to collect?
Old photographs of my family.
One thing that your handbag will always contain?
Green tea-bags.