'I was on my toes the entire time because I was working with such great actors.'
'I learnt a lot.'
The movie legend discusses Mom with Rediff.com's Jahnavi Patel.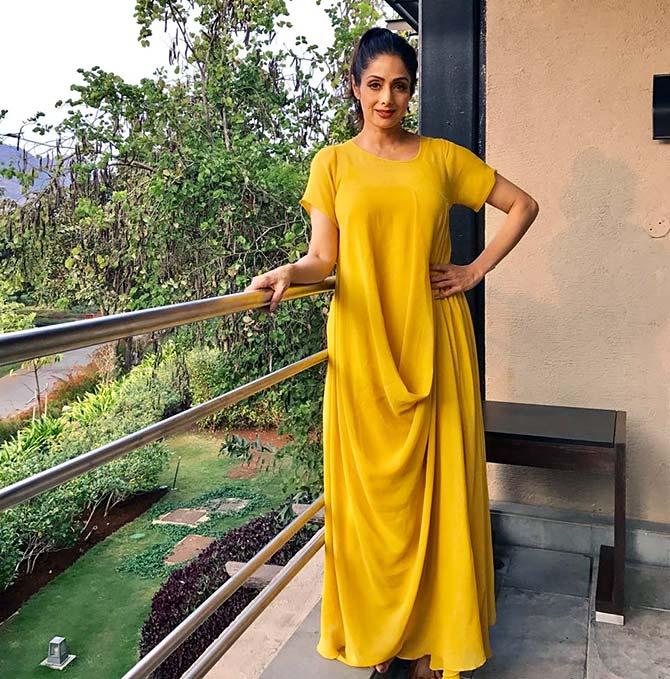 Photograph: Kind courtesy Sridevi/Instagram
It's a Sunday afternoon, and it is pouring outside.
But when an interview with the ethereal Sridevi is scheduled, you make sure to reach the destination on time.
I enter a large residential complex in Lokhandwala Complex, Andheri, north-west Mumbai.
I enter the building mentioned in the address, and remove my wet footwear outside the house.
One walks through a long white corridor, with about eight rooms in total on either side. I enter the first room.
It has a rustic and artistic feel to it. It is decorated with antique furniture -- the table, chair, mirrors, lampshades.
Photographs of Sridevi, her husband Boney Kapoor and daughters Janhvi and Khushi take centrestage.
We are offered water, then tea/coffee.
We wait for an hour in the room. It is small, but has to accommodate almost 15 people.
And the air-conditioner is out of order.
When Sridevi arrives, we are taken to a bigger room -- and the air-conditioner is working!
Sridevi sits on a sofa, holding a glass of green tea.
She closes her eyes and rubs the warm glass on it, trying to relax.
Even after close to half a century in show business, she does not seem comfortable with interviews.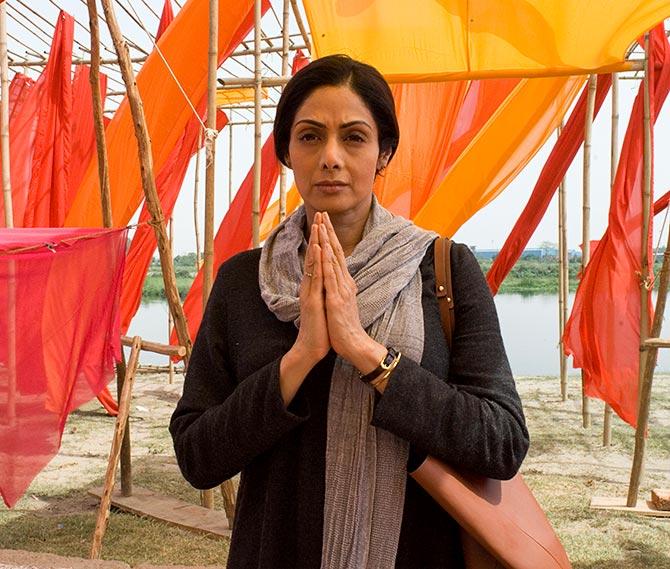 IMAGE: Sridevi in Mom.
What is so special about Mom?
It's a simple story. It's an emotional, family subject.
The reason I did this film is the relationship between the mother and daughter. That really moved me.
I had a good feeling about this script. I always go by instinct.
I lived my Mom character. I became Devaki.
I felt what she was going through. It was very unnerving to be in that kind of situation.
Not too much is revealed in the trailer.
That was my director's (Ravi Udyawar) decision. He didn't want much to be revealed and at the same time, there would be curiosity to know what is happening.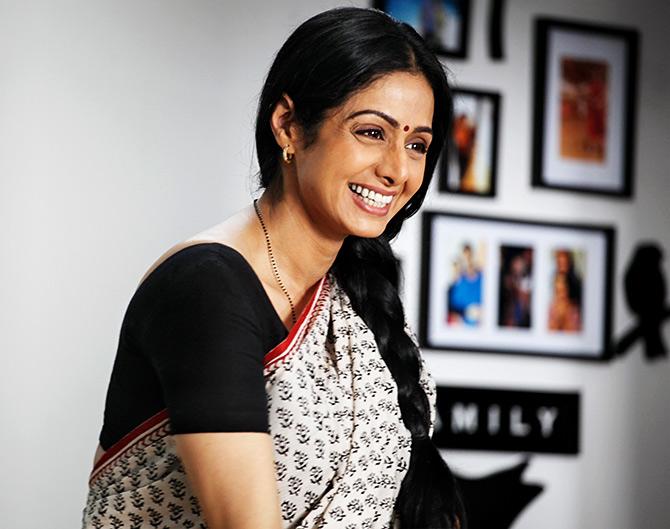 IMAGE: Sridevi in English Vinglish.
After doing so many films, do you know how a film will turn out just after hearing the script?
I am not a master in this.
As a mother, when you hear about this subject, it should move you. I just go by that.
Only the director can do justice to the subject.
If you see English Vinglish also, it's a simple line, but the way Gauri (Shinde) treated it, that was the main thing.
I thought about my children and other family members, and how would they react to my character.
Forget about me being Sridevi, no, I am a normal mother.
I don't think or plan how it will become (a) commercial (film).
My approach to selecting a film is very simple -- it should touch my heart.
Do you discuss a film with your family before signing on?
Discussions happen in every house.
If you are in a family, you won't take a decision alone.
When you hear something nice, you would like to like to share with your family.
Was it a conscious decision to sign a female-oriented film?
No, aisa kuch nahi hai.
I was not looking for a female-oriented film, it just came to me.
How was it working with Nawazuddin Siddiqui?
He is one of the few versatile actors.
When he becomes a villain, you hate him and get scared of him.
When he plays a vulnerable character, he is unbelievable.
I am a big admirer of his work.
I had a great experience working with him and Akshaye (Khanna).
Sajal (Ali), who plays my daughter and Adnana (Siddiqui), who plays my husband, have done tremendous work in the film.
I was on my toes the entire time because I was working with such great actors.
I learnt a lot.
Mom is your 300th film.
Do you think those times were tougher as compared to today?
Nowadays, there is so much exposure.
Too much of exposure toh hai hi hai, but that is what the time demands, so we have to change with it.
Everything has changed -- the media has changed, the way a film is made has changed, the environment has changed...
Then, there wasn't much media. There was a mystery around the stars.
It's different now, but that's fine.
Today's generation wants to know more about actors, so it's fine. We have to live with that.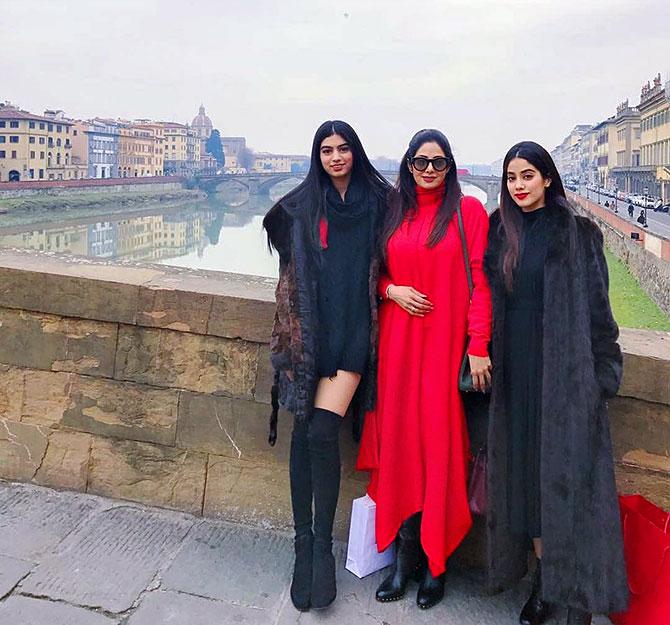 IMAGE: Sridevi with her daughters Khushi and Jahnvi. Photograph: Kind courtesy Sridevi/Instagram
What advice do you give your daughter Janhvi when she makes her debut in the film industry?
As a mother, like any mother, whether they are coming to this profession or any other, you just tell them to do the right thing.
Like, do hard work, give your 100 percent, hard work always pays...
How do you feel when fans go crazy after meeting you even today?
Well, I have really worked hard for that. I literally slogged.
So I am happy if they go crazy, I want that.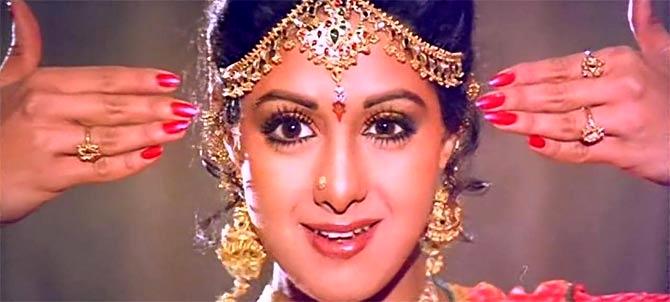 IMAGE: Sridevi in Chandni.
You have worked with numerous directors. Who brought out the best in you?
Many directors like Shekhar Kapur (Mr India). He is the best for an actor; he gets the best out of them.
Of course, Yash Chopra (he directed Sridevi in Chandni and Lamhe).
And in Tamil, Balu Mahendra (who directed Sridevi in Sadma, Moondram Pirai, Nireekshana) and K Balachander (he directed her in Moondru Mudichu, Varumayin Niram Sigappu, Aakali Rajyam).
Then, there is Gauri (Shinde) and now Ravi.
If not an actor, what would you have been?
I love to paint.
I would have become an artist, something creative definitely.