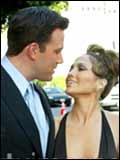 The J Lo-Ben Affleck bust-up is unofficially official.
That is, they have broken up and gone their separate ways. But neither is saying so in so many words.
No matter, the hottest ticket on the web is a replica of the $ 3.5 million Harry Winston pink diamond engagement ring Affleck gave J Lo early this year.
Perfect Collectibles is hawking, online, a version of the ring featuring cubic zirconias and pink crystal set in .925 sterling silver, weighing in at 6 carats and priced at $ 39.95.
No version of the quarter of a million Ferrari -- another of Affleck's gifts to J Lo -- is available, yet. Nor is there any word on what the actress did with the original.
Sting can go up to 8 hours!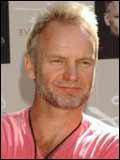 Steve Borden -- the artiste subsequently known as Sting -- let loose an envy epidemic early this month when he told the media that thanks to the Tantric sex practices he had studied, he could keep going for up to eight hours with wife Trudie Styler.
He left out a little something, though, after the story hit the headlines.
Sting did a quick back flip, and admitted he had sexed up his claims -- thank you, BBC, for inventing the phrase -- more than somewhat.
'What I didn't say,' Sting says now, 'was that this included four hours of begging, and then dinner and a movie.'
Right. Meanwhile, we are yet to hear from the timekeeper what that other celebrity tantric couple, Woody Harrelson and wife Laura Louie, are capable of.
Hollywood signs up for no war!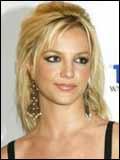 How do you know George Bush is in trouble over his Iraq adventure?
Here's a straw in the wind: the Republican Party, which had earlier trotted out Ah-nold (Arnold) Schwarzenegger to run for governor of California replacing Gary Davis, has now roped in pop diva Britney Spears to spread the good word about the latest installment in the war on terror.
'Honestly,' says Spears, 'I think we should just trust our president in every decision that he makes. We should just support that, you know, and be faithful in what happens.'
Such eloquence!
Makes up for a whole Hollywood telephone book's worth of celebs who, earlier in August, sent Bush a signed letter opposing the war.
A quick, and by no means exhaustive, checklist of signatories:
George Clooney, Jessica Lange, Meryl Streep, John Cusack, Ben Affleck, Kim Basinger, Adrien Brody, Stephen Daldry, Matt Damon, Geena Davis, Daniel Day-Lewis, Jane Fonda, Richard Gere, Danny Glover, Woody Harrelson, Salma Hayek, Dustin Hoffman, Dennis Hopper, Samuel L Jackson, Ben Kingsley, Spike Lee, Julianne Moore, Sarah Jessica Parker, Vanessa Redgrave, Rob Reiner, Tim Robbins, Susan Sarandon, Martin Scorsese, Oliver Stone and Robin Williams.
Photo: Getty images
Click here for More Features