'The Elephant Whisperers is a hopeful story of respect and cooperation with nature in an era rife with conflict and threat to our beautiful planet.'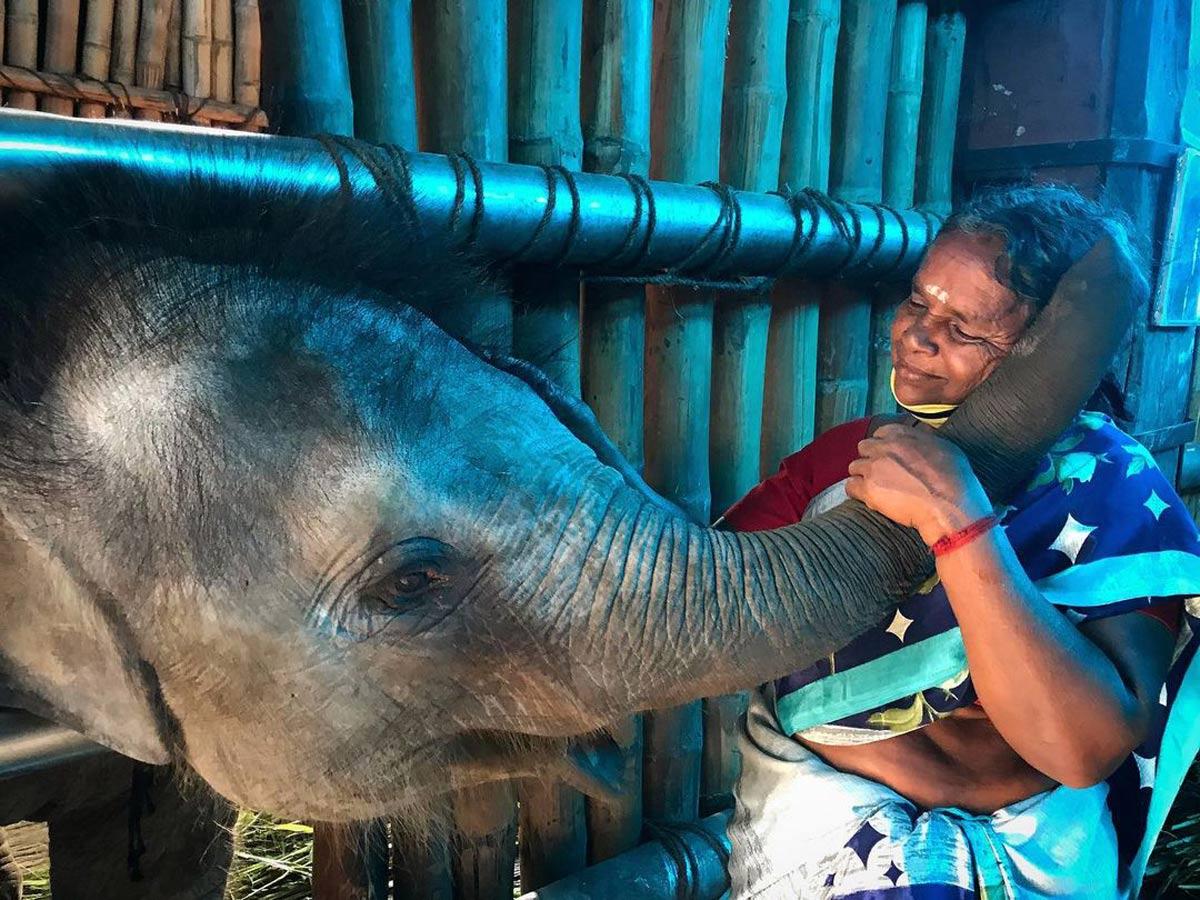 "I have not slept since the nominations were announced," Kartiki Gonsalves tells Ronjita Kulkarni/Rediff.com with a laugh.
"It's been overwhelming because my phone is flooded. In 48 hours, there were thousands of posts and messages on Instagram, Twitter, LinkedIn, Facebook, on my personal e-mail address, on the Website... it's a lot to take on at this point," she adds, rushing over her words.
The 36-year-old first-time director, who shares her birthday with Shah Rukh Khan no less, is enjoying the global attention her documentary The Elephant Whisperers is getting, especially after it bagged a nomination at the Academy Awards.
The film tells a message that is very close to her heart, as it takes a close look at Raghu and Ammu, two elephant calves, and Bomman and Bellie, their tribal care-givers in the Mudumalai Tiger Reserve in the Nilgiris.
Kartiki grew up in the Nilgiris, making the film even more special for her.
She has faced many challenges in the last five years, since she started making the documentary, from shooting elephants, getting funding, creating global awareness for it and clinching the coveted Oscar nomination.
But it's not over yet.
As she gets ready for the big day on March 12, she discloses she will be in 'panic mode' very soon: "I don't know what to wear at the Oscars!"
Did you expect the Oscar nomination?
I was really surprised.
But I was very happy inside because I've been on this journey for the last five years.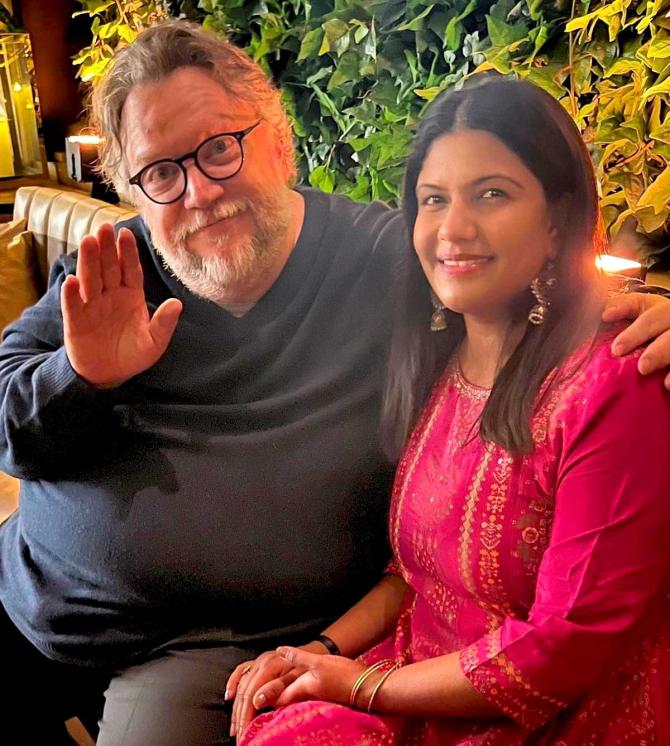 What kind of feedback have you been getting?
It's been very overwhelming because my phone is flooded.
In 48 hours, there were thousands of posts and messages on Instagram, Twitter, LinkedIn, Facebook, on my personal e-mail address, on the Web site... it's a lot to take on at this point.
I have not slept since the nominations were announced.
People have been reaching out to me from all across the world.
We have a whole fan art base, where people -- right from two year olds to 30-year-old artists -- have been sending us beautiful imageries that they've painted or sketched.
Some people have written about how they've understood elephants on a much deeper level.
Some people have written about not knowing how beautiful the south of India is. They were surprised to see how pristine it was and that there were so many animals out there.
Also, the (tribal) community and their way of life.
It was something new for a whole lot of people.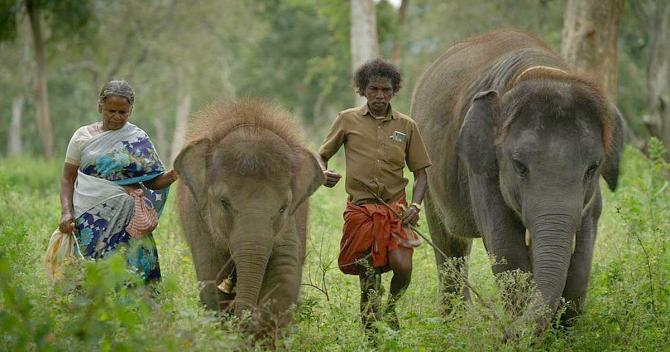 What made you make this documentary?
I think it began because I fell in love with Raghu.
I first met him when he was just three months old (in 2017).
I was driving from Bangalore to shift back to my family house in Ooty, where I grew up. I think Bomman noticed my curiosity towards the elephant calf and he beckoned to me to join them. They were going down for his bath in the river.
I didn't hesitate at all.
I pulled my car to the side, jumped out, and went with them.
It was such a treat to be able to spend so much time with this little calf.
Having grown up in Ooty, I have been visiting the reserve -- I think I first went there when I was three years old -- so I've seen wild elephants and other animals. But I have never been up close and personal with a calf.
Over the course of that evening, I forged an unbreakable bond with Raghu.
It brought me so much happiness to be able to share this beautiful connection with a being so wild and yet so young and vulnerable.
I observed that Bomman had this really special connection to Raghu. Raghu was a son to Bomman.
He would always be behind Bomman's legs, and not want Bomman to run off and leave him.
The years 2017-2018 were the beginning of a journey that will be with me for the rest of my life.
The three of us would happily splash around in the river. I would spend hours scrubbing Raghu, giving him a bath and playing with him.
He would stick out his tongue at me. They are really playful at that age.
They don't have any control over their trunk which I found very amusing.
I know all I do about elephants by just existing with Raghu, and watching him go about his daily life, his moods, his fun times, the way he acted when he was sad.
Raghu had been orphaned, and that is why he was with Bomman.
His mother was electrocuted when the herd wandered into a nearby village, looking for food and water after a prolonged drought.
That's a bittersweet beginning to the story because the Asian elephant is losing its habitat at a really rapid pace, due to encroachment and climate change in a fast developing nation like India. I wanted the story to be positive. but to also get people to engage and respect animals more.
Why focus on all the depressing parts when there's this extreme beauty and unusual family dynamics?
I grew up in the Nilgiris, so I wanted people to be able to understand these beautiful beings at a much deeper level.
I also wanted to show the importance of indigenous people like Bomman and Bellie and give such communities a voice.
That's how we embarked on this five year documentation of their lives.
If I had time and money, trust me, I would do it for 20 more years!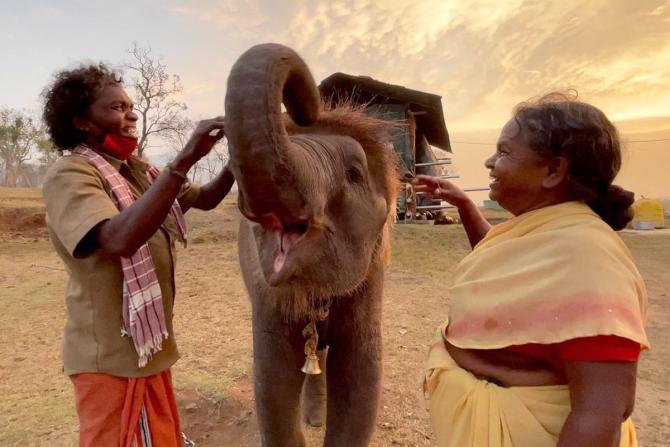 How did you get the funding to make this documentary?
In general, getting funding in India is difficult, be it for photography, art or anything in the creative field.
When I started this, I started out with this idea of going in and starting to document.
I documented this for a period of time and made a promo.
I pitched that promo to Netflix and they fell in love with it instantly. So they acquired it, and then Shikya Entertainment (established by Guneet Monga) came on board in May 2020.
Netflix has been really supportive over this entire journey. Without them, this wouldn't have come into existence.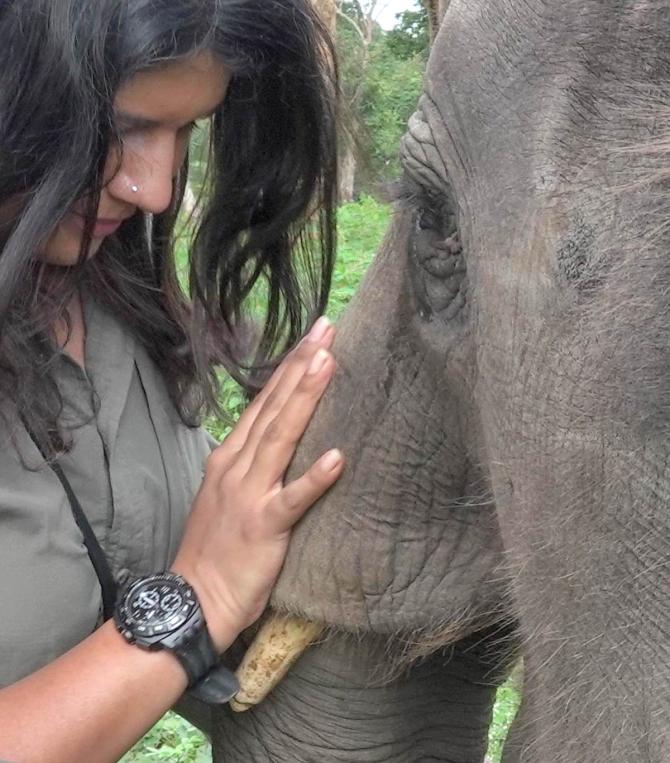 There are so many heart-warming scenes, as Raghu and later Amu find their space in this world. What are your favourite bits?
I have a whole lot of favourites.
Like when Bellie asks Ammu to lie down (next to her, and not 'on top of her').
When Ammu bellows that she wants her milk early in the morning.
When Ammu pulls Bomman's hand, as he is starting to walk off.
When young boys are washing the elephant, right at the end -- that joy is extremely special.
And, of course, Raghu playing football.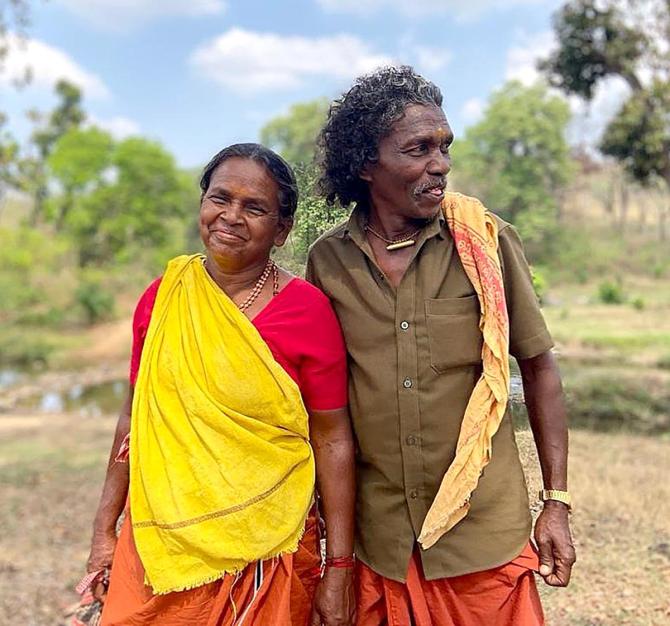 This is the first time you've made a film, the first time you are taking it to the Oscars and the first time you are dealing with global fame. How has this journey been?
The journey has been very special.
Right from day one, my focus was on making a beautiful documentary.
I never had any thoughts of going to the Oscars.
I wanted to create this beautiful movie that people across the world would watch.
The Elephant Whisperers is a hopeful story of respect and cooperation with nature in an era rife with conflict and threat to our beautiful planet.
I hope the film helps to create more awareness and empathy to elephants and the other living beings that we share our spaces with.
I'm happy that this extra publicity will help to spread the message of the film.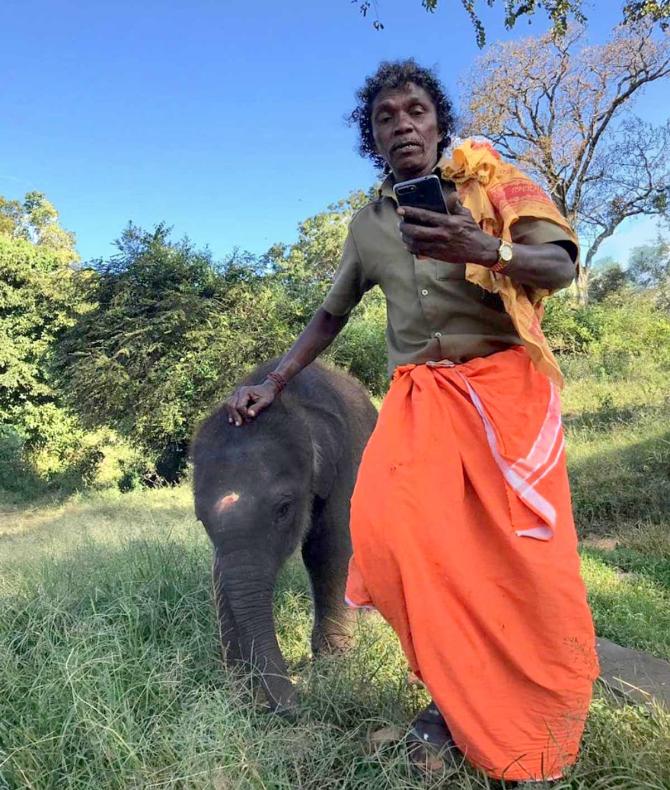 You must be very busy campaigning for the Oscars.
I came to the US on December 4, just before the launch of the documentary, and have been here since.
Yes, it has been very busy.
We had a whole bunch of screenings across the US, as we were campaigning for the shortlist.
After that, we are campaigning for the nominations.
It's a beautiful time to meet the fellow people in the competition, and watching other documentaries to see what's out there.
This opportunity for a first-time director like me has been really insightful.
The documentary community is beautiful because everyone has a message to tell the world.
You have this whole group of passionate people who have taken different instances from their lives or the countries they come from and they're fighting for a message they want the entire world to see.
Also, it is exceptional to be able to watch the documentary with an audience because for the five years that we made it, I was constantly going over the edits.
I was sitting in a room in Mumbai doing this, so to watch the documentary with people is really special. To hear people laugh, cry, watch the way that they are watching the movie... it's the best feeling in the world!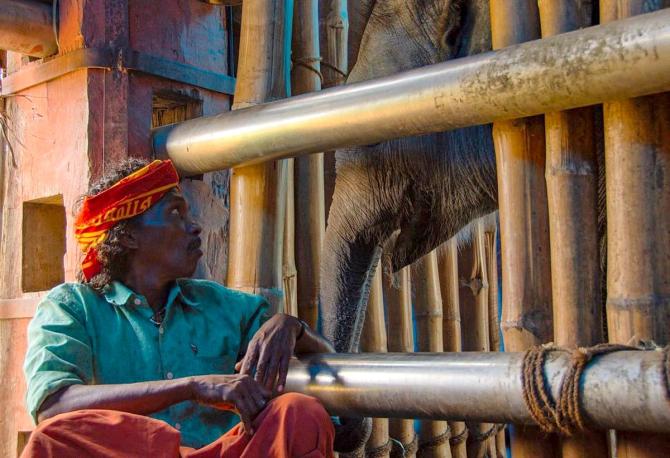 What is your Oscar plan?
At this point, I'm taking a quick break before we head back and start campaigning again for the next round.
That's going to be a combination of lunches and meals with people as well as screenings in different cities across the US.
I've been travelling a lot.
I've been in about four or five states in the US in one-and-a-half months, so it's been extremely hectic.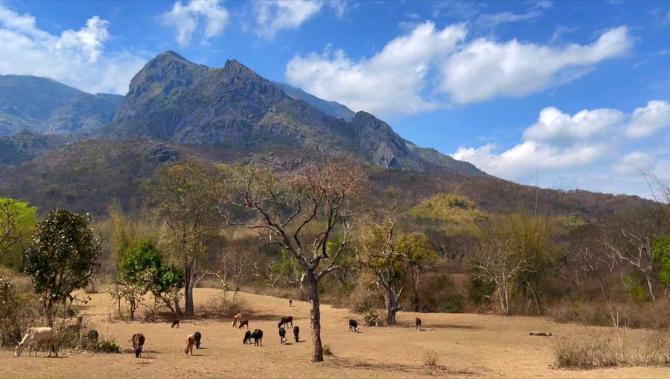 Tell us about yourself.
I was introduced to nature even before I could walk.
While many families go shopping or to the movies or to visit friends and relatives, my family headed out to explore the forests, streams, beaches, mountains, natural history, museums and aquariums.
I think the first time I ever camped out in a state park was when I was just 18 months old.
My mother was interested in animals while my father was a photographer. My grandmother was an amateur naturalist, who guided school children through local nature reserves.
So I had a lot of information provided on nature and how to photograph it alongside a whole lot of knowledge on animal behavior.
I first started taking photographs when I was 15 years old.
I graduated with a BSc in Visual Communications from a college in Coimbatore.
After that, I went for a postgraduate diploma in professional photography from the Light and Life Academy in the Nilgiris.
Later, I did jobs like a sales girl at Fab India, as a customer service person in a gym, in advertising for a few years...
I quit advertising to pursue wildlife and social documentary photography.
I would sustain myself with wildlife tours and guiding people on cultural tours to see the real India, like I would take them to silk cocoons to see how silk is made.
I soon realised that photography did not have much scope in India.
I realised that film-making was a beautiful and powerful tool with which I could reach out to the world, so I started out as a documentary photojournalist, and then turned a cinematographer and finally, director.
I'm currently a fellow at the International League of Conservation photographers, a Sony India brand ambassador, and also a nature explorer.
Basically, my work sort of moved into the line of focusing on the natural history and social documentary.
Will Bomman and Belli accompany you to the Oscars?
Bomman and Belli are fairly old and have never been outside of Chennai.
Being on a plane for the first time and flying halfway across the world can be intimidating, so we need to look into a lot of things before we can think about that.