'Gully Boy is a pulsating salute to the new angry India and its youth,' says Aseem Chhabra who watched Zoya Akhtar's movie at the Berlin film festival.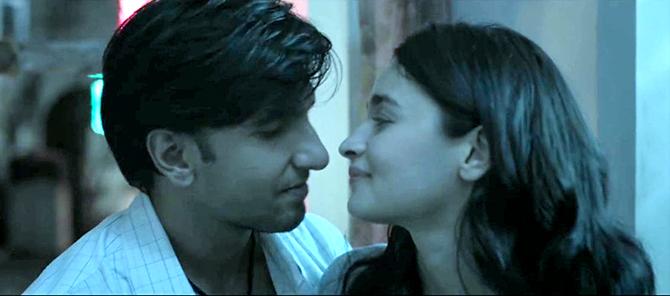 In Zoya Akhtar's Gully Boy, Ranveer Singh's Murad walks around like an exhausted, wounded animal. He is still in college, but the weight of the world around him, the congested lanes of Dharavi, the cramped two-room space he lives in with his abusive father, his hapless mother, a grandmother and a brother, is stagnating the young adult in him.
If there is any joy in his world it comes from listening to rap music on his smartphone and sharing cherished moments with girlfriend Safeena (Alia Bhatt) -- a fierce tigress as compared to Murad's timid animal -- in the bus rides they share on their way to college.
A few stolen kisses, a little bit of laughter with friends keeps Murad going. But his wide eyes and earnestness is an indication that despite the dark clouds that hang over him, surely there is hope, and one day his time will come!
And soon -- as anyone who follows popular culture in India will know -- that will become Murad's anthem. Eventually he will take on the name Gully Boy, his hip-hop moniker.
Akhtar is coming out of two back-to-back films about rich Indians who have all the money in the world to travel on cruise ships on the Mediterranean (and yet they are unhappy), or take deep-sea diving lessons in Spain (and they are still unhappy).
So to counter critics who claimed that she only knows the world of the wealthy elite, Akhtar and her co-author Reema Kagti have created a vastly different universe -- a sprawling world of the marginalised -- many of them Muslims, living in Mumbai's slums and chawls, and the youth who often channel their frustrations with the system through angry poetry expressed in rap and hip-hop songs.
There may be occasional touches of the Eminem film 8 Mile in Gully Boy -- the dysfunctional family lives of Murad, the 'Gully Boy' and Jimmy 'B-Rabbit' Smith (Eminem), their desires to break out of the depressing surroundings and finding expression through their own brand of poetry and rhythm. But the world Akhtar and Kagti create is also vastly different, original and authentic to the Indian setting.
Through 18 songs (created by 50 plus musicians -- rappers, beat-boxers, lyricists like the director's father Javed Akhtar and many songs sung by Singh, the star of the film), that have already captured the imagination of millions of Indians of all ages and not just young folks -- the Apna Time Aayega video already has 44 million hits -- Gully Boy is a pulsating salute to the new angry India and its youth (the album includes the song Azadi, inspired by the call given out by the former JNU leader Kanhaiya Kumar) who will not be satisfied with false promises of the politicians.
My two favourite songs from the album and also in the film are Doori (written by Javed Akhtar and Divine, set to the music by Rishi Rich) and Jeene Main Aaye Maza (written and sung by Ankur Tiwari and music composed by him and Mikey McCleary) Jeene Main Aaye Maza plays in the backdrop of a group of rich kids including Kalki Koechlin (playing a small role as Sky an Indian music student from Berklee College in Boston), along with Murad driving around Mumbai at night, spray painting graffiti signs on window displays at upscale stores.
The heart of Gully Boy is Ranveer Singh's intense although very quiet and internal performance -- his best in a short career that started with Band Baaja Baaraat (released in late 2010). The performance is peppered with moments of insecurity, innocence, honesty, and to be recognised for the talent that is about to explode within him.
It is most rewarding to see this otherwise loud, exuberant and showy star submit his self to a director of Akhtar's calibre. Like Vikramditya Motwane did in Lootera, Akhtar is able to mine the serious and hugely talented actor that Singh usually hides.
Bhatt is very likable as she navigates between a conservative middle class life wearing the hijab, while also showing the wild side to her persona. Safeena fiercely guards her territory -- Murad, the Gully Boy -- and gets into vicious fights to protect what she rightfully thinks belongs to her. In a fit of jealousy in one scene Safeena smashes a beer bottle on Sky's head.
The supporting actors -- Koechlin, Vijay Varma, Sheeba Chaddha, Amruta Subhash, Vijay Raaz, Nakul Sahdev -- all shine in their respective moments. But the real surprise in the film is the charming Siddhant Chaturvedi who was previously cast by Akhtar's producers Ritesh Sidhwani and Farhan Akhtar in their Amazon series Inside Edge.
As a mentor and friend to the naive Murad, Siddhant's MC Sher is the moral force of the film. And he does a neat act in the song and video Mere Gully Mein (sung by Singh, Divine and Naezy).
Sharply edited by Nitin Baid (Masaan, Raazi and Trapped) Gully Boy is beautifully shot by Jay Oza who did a remarkable job of capturing the underbelly of Mumbai in Anurag Kashyap's Raman Raghav 2.0.
Good art takes us to places that we rarely get a chance to experience. In the nearly two-and-a-half hours long Gully Boy, Akhtar grabs our hand and walks us through a world that few of us know, even though it exists in Mumbai and other parts of India.
And now we are blessed to have witnessed that world, breathed its smells and most importantly heard its sounds.
Rediff Rating: