Rajkummar's Oscar dreams.
Madhuri excited to work with Anil after 17 years.
Tiger thrilled to star with Hrithik.
All the Bollywood buzz, right here.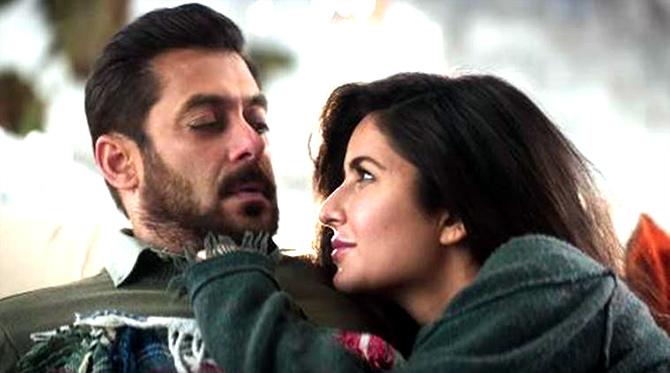 IMAGE: Salman Khan and Katrina Kaif in the song Dil Diyaan Gallan from Tiger Zinda Hai.
Salman Khan and Katrina Kaif reunite on screen after five years and the superstar says he is happy to romance Kat in Tiger Zinda Hai.
The duo, who have worked on movies like Maine Pyaar Kyun Kiya and Partner, will reprise their roles in the sequel to 2012's Ek Tha Tiger.
When asked what it was like to romance Katrina after a long time, Salman says, "It is good. It is always good to romance. As there's no fight, it's good to romance."
Katrina recently appeared on Bigg Boss, which Salman hosts, to launch TZH's song Dil Diyaan Gallan.
"Katrina was with me on Bigg Boss when she told me that Swag Se Swagat earned some 50 million likes. Now, we have launched a romantic song. Both songs are nice and people are loving them."
"Let's see what happens on December 22 and what the destiny of the film is," he says.
***
Tiger hopes to match up to Hrithik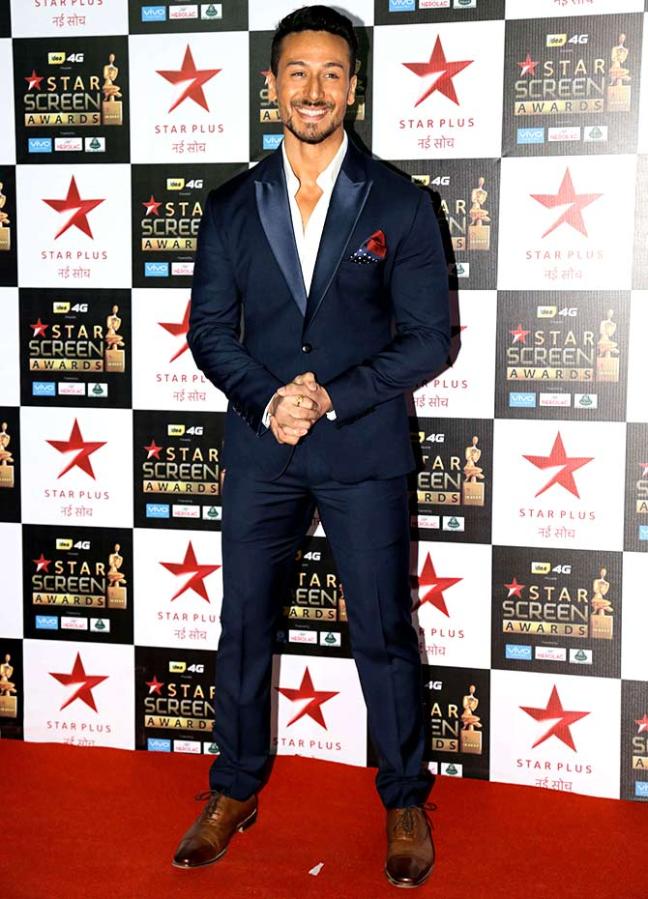 IMAGE: Tiger Shroff at the Star Screen Awards. Photograph: Pradeep Bandekar
Working with his 'idol' Hrithik Roshan is a dream-come-true for him, says Tiger Shroff, and he will put in all the hard work needed to match up to the superstar.
Backed by Yash Raj Films, the upcoming yet-untitled movie featuring Hrithik and Tiger will be helmed by Siddharth Anand who directed Duggu in Bang Bang.
"I am most excited about working with him (Hrithik). I am so thankful that I got such an offer so early in my life," says Tiger.
"He is my idol. Whatever I am today it is because of what I saw of him while growing up," Tiger adds.
The action film, also starring Vaani Kapoor, is slated to be released on December 25, 2019.
"I will have to prepare a lot. He (Hrithik) is a very hard-working actor. So if he gives 100 per cent, I will have to give my 200, 300 per cent to match up to him. But I know I would never be able to match up to him," he says.
Tiger will also be seen in Student of the Year 2, produced by Karan Johar's Dharma Productions.
There is buzz that Chunkey Pandey's daughter Ananya will make her Bollywood debut in the film.
"I have no idea about any of the cast members yet," shrugs Tiger, only revealing, "We will be starting the shooting in January-February."
***
Madhuri and Anil, back after 17 years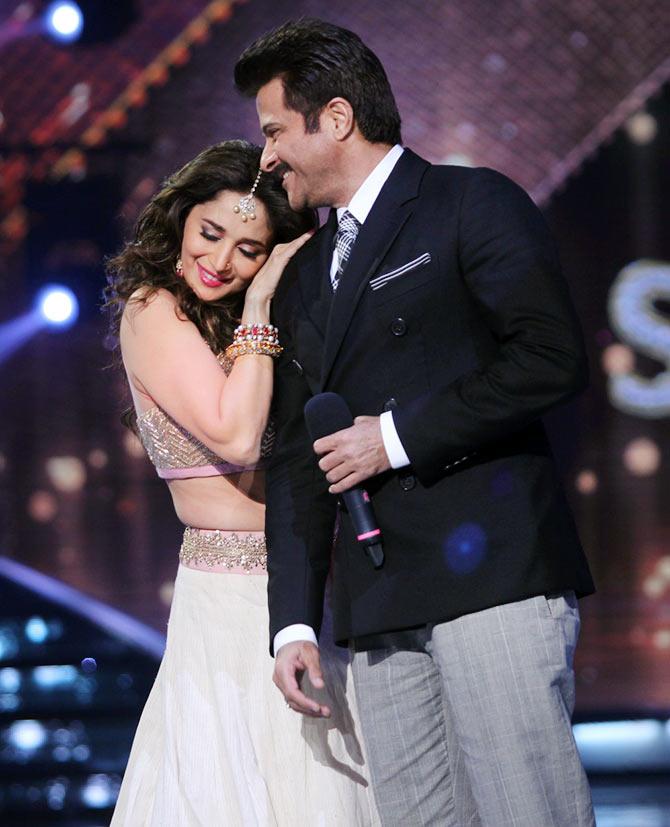 IMAGE: Madhuri Dixit and Anil Kapoor on Jhalak Dhikhhla Jaa 7.
Madhuri Dixit and Anil Kapoor will reunite for Inder Kumar's Total Dhamaal.
Last seen together in the 2000 film Pukar, Madhuri and Anil have given several hits -- Beta, Parinda, Tezaab, Ram Lakhan among others.
"I will be working with Anilji after 17 odd years," says Madhuri.
"I am really looking forward to it. It is a comedy, an entertaining film," she adds.
The third installment in the Dhamaal series, the film may also star Ajay Devgn, Riteish Deshmukh, Arshad Warsi and Jaaved Jaaferi.
A Priyanka Chopra-backed television series based on her life, Madhuri says, is "definitely in the works."
Sri Rao, a New York-based writer, has penned the comedy series about a Bollywood star who settles down in an American suburb.
Madhuri left Mumbai after she wed Dr Sriram Nene and moved to Denver where she lived for 12 years. She returned to India in 2011 with her husband and two sons.
***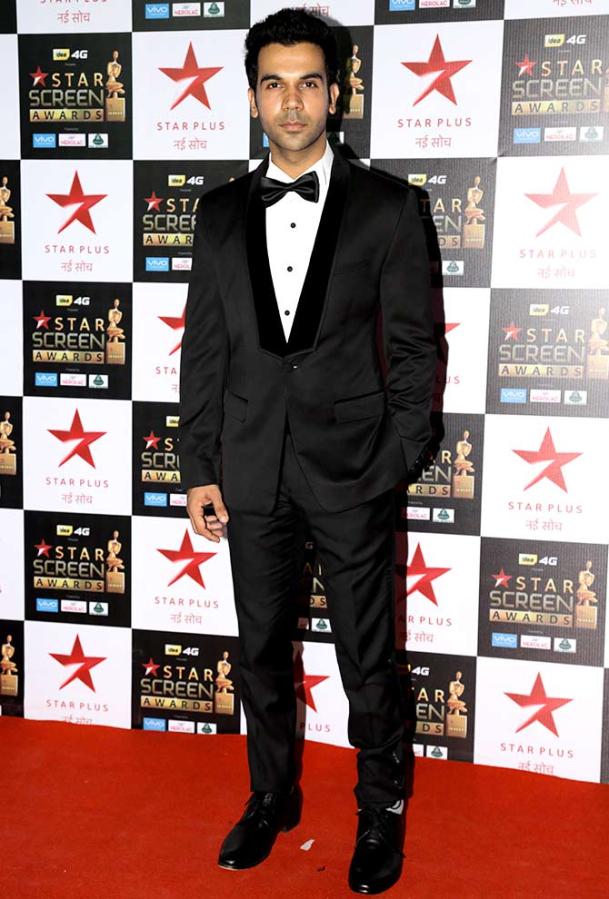 IMAGE: Rajkummar Rao at the Star Screen Awards. Photograph: Pradeep Bandekar
With Newton India's official entry at the Academy Awards, Rajkummar Rao is already picking the person who should present him the award.
He hopes it will be either Meryl Streep or Daniel Day-Lewis!
The 33-year-old actor is upbeat about Amit Masurkar's dark comedy representing the country at the Oscars, but he prefers to be grounded about it.
"I hope the new year brings along a lot of happiness for the whole country. We are very hopeful for Newton, and I hope the new year will be great for the film too," he says.
"I would like to walk the red carpet at the Oscars, but I am not dreaming about it. It is better to be neutral and happy about the fact that it is India's official entry for the Oscars this year," Rajkummar adds.
The year has been rewarding for Rajkummar with well-reviewed films like Trapped, Bareilly Ki Barfi, Newton and the Web series Bose: Dead or Alive.
"I really enjoyed the year and I am glad I got to be a part of some really wonderful films. I hope it continues next year too. I hope you guys say that 2018 is my year as well," he says.
The actor, we hear, has signed Dinesh Vijan's zombie comedy to be directed by Go Goa Gone directors Raj and DK.
***
Makers, protesters both at fault: Mr Bharat on Padmavati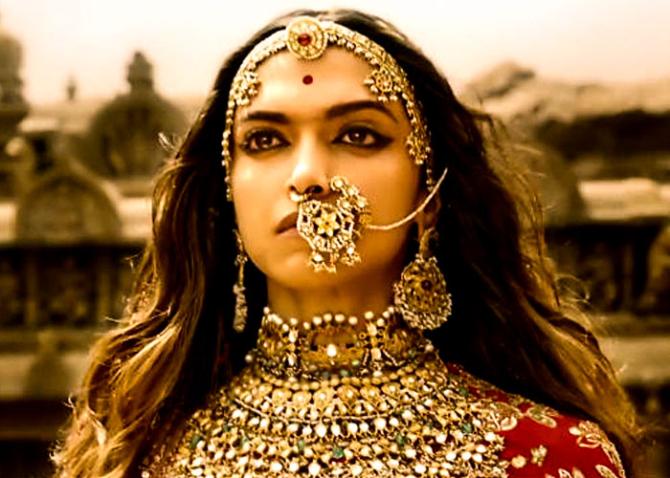 IMAGE: Deepika Padukone in Padmavati.
Labelling the drama surrounding Padmavati as "nonsense", Manoj Kumar says both the film-makers and the protesters are at fault for mishandling the situation.
Sanjay Leela Bhansali's Padmavati has been mired in controversy after several Rajput groups alleged that history has been 'distorted' in the movie.
Bhansali insists there is no 'distortion' of history in his film.
"I will blame both sides. This is nonsense," Manoj Kumar told Press Trust of India.
"If the Rajputs feel something is wrong, they should have written to the makers that before releasing the film, kindly show it to us," says the actor who symbolised 'patriotic' cinema in the 1960s and 1970s.
"The producers should have written to them after their objection, that come and see the film and finish the matter in one hour. This is washing dirty linen in public. To some extent, even the media is also to be blamed."
Kumar, who wrote and starred in the historical drama, Shaheed, on Bhagat Singh's life, believes one can take liberty while making a film based on history only when it does not tamper with the facts.
"When I started to make my film about Bhagat Singh, there were some incidents which I had to conceive within the framework," says the actor.
"Every film made later on Bhagat Singh featured the scenes which I had conceived."
***
Bruce Lee biopic a work in progress: Shekhar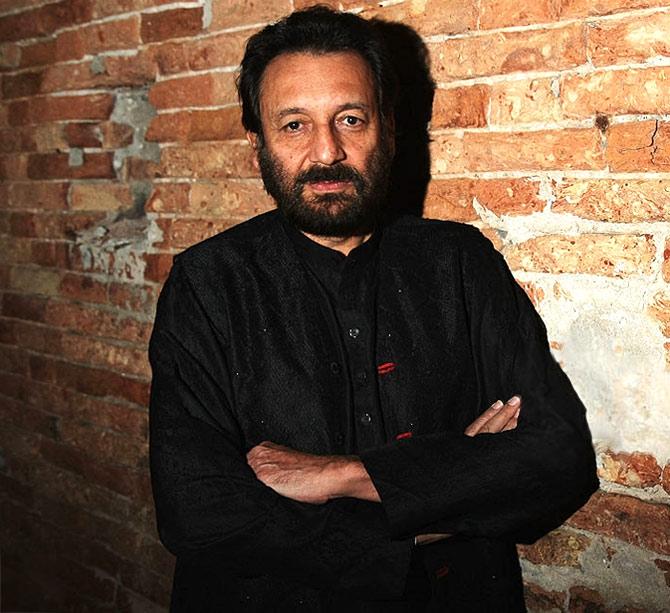 IMAGE: Shekhar Kapur. Photograph: Gareth Cattermole/Getty Images
Shekhar Kapur says the script of a proposed biopic on Bruce Lee is a work in progress.
The film-maker -- who turns 72 on Wednesday -- has signed up to co-write and direct Little Dragon, his first China project.
"We are working on the script," Shekhar says, adding that the first script draft was written by Shannon Lee, Bruce Lee's daughter.
Little Dragon will chronicle Bruce's early life before he left Hong Kong for Hollywood and went on to become a movie icon in the 1970s.
Shekhar believes Indian films have a big market in China.
"I used to say Indian films will definitely be very popular in China and yes, they are. Dangal has proved what I said," he says.
Aamir Khan's Dangal or Let's Wrestle, Dad raked in more than $93.3 million within a month when it released in China in May.