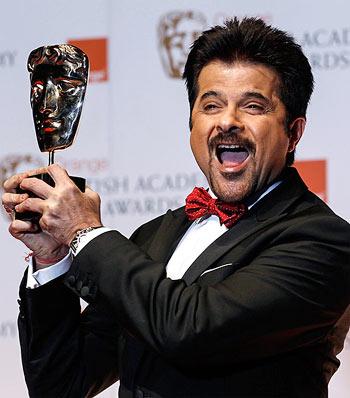 Happy birthday, Anil Kapoor!
He was touted as the next Amitabh Bachchan but Anil Kapoor proved he's a force to reckon with by carving his own exclusive identity.
For more than three decades, the star has worked in over 100 movies, delivered blockbusters and critically acclaimed performances, starred in Oscar winners and Hollywood action movies, played an iconic superhero, looked half his age, looked twice his age and set many a trends.
What a prolific career but it's hard to believe the age-defying Kapoor turns 60 on December 24.
Here then are the things we love about Bollywood's beloved birthday boy!
His introduction scenes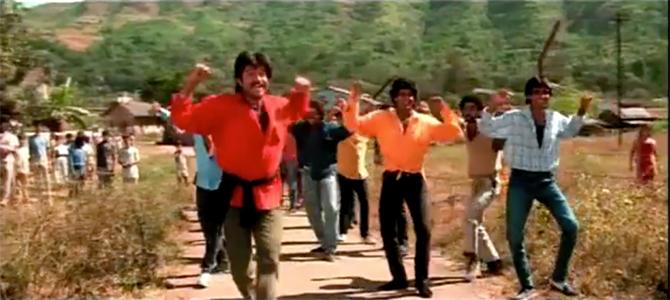 IMAGE: Anil Kapoor's entry in Ram Lakhan.
A glimpse of his feet, a hint of his eyes, a peek of his whiskers and a booming background score broadcasting the arrival of its scene-stealing hero. How very dhina dhin dha indeed.
That 'Jhakaas' dialogue delivery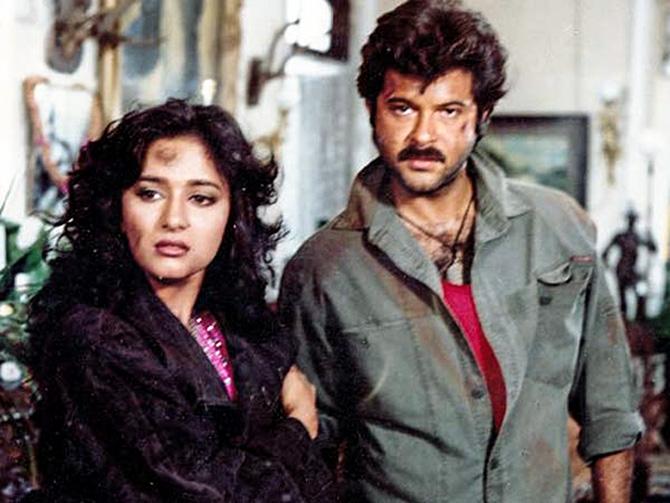 IMAGE: Madhuri Dixit and Anil Kapoor in Tezaab.
Wolf whistles are tailor-made for moments like AK's Jhakaas quip or 'Haan, haan main tezaab hoon' outburst.
His capacity to become one with the character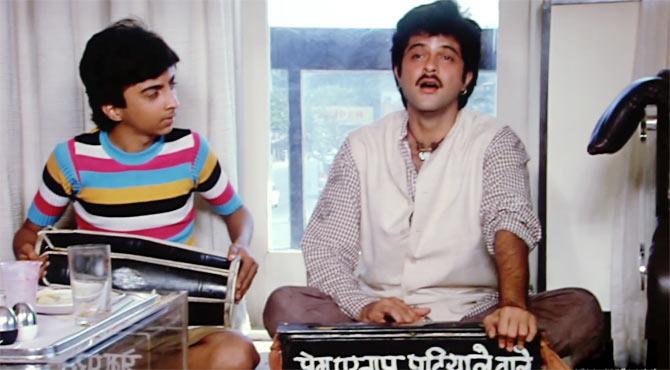 IMAGE: Anil Kapoor plays Prem Pratap Patialawale with Master Raju in Woh Saat Din.
Munna, Lakhan, Prem Pratap Patialawale, Ishwar, Virendra Pratap Singh or Saheb, Anil Kapoor never got stuck in a 'Vijay, Rahul, Prem' rut instead create brand new memorable characters to his credit.
Moochein ho toh Anil Kapoor jaisi warna…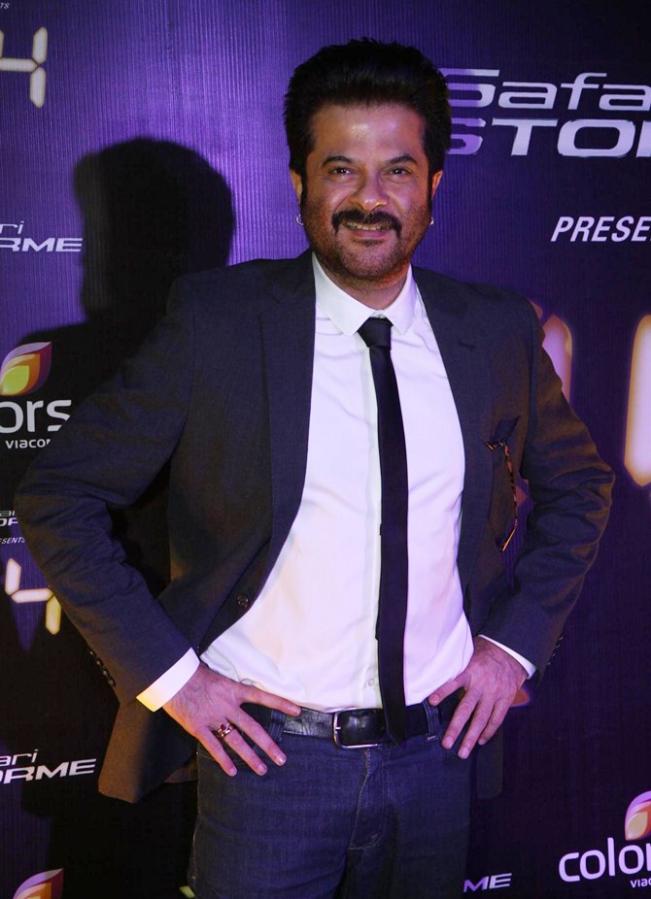 IMAGE: Anil Kapoor's mustache! Photograph: Pradeep Bandekar
As much as we enjoyed his temporarily clean-shaven appearance in Lamhe, Anil Kapoor is a lifelong member of the Mustache club along side Raj Kapoor, Shatrughan Sinha and Jackie Shroff.
His eternally youthful visage and healthy ways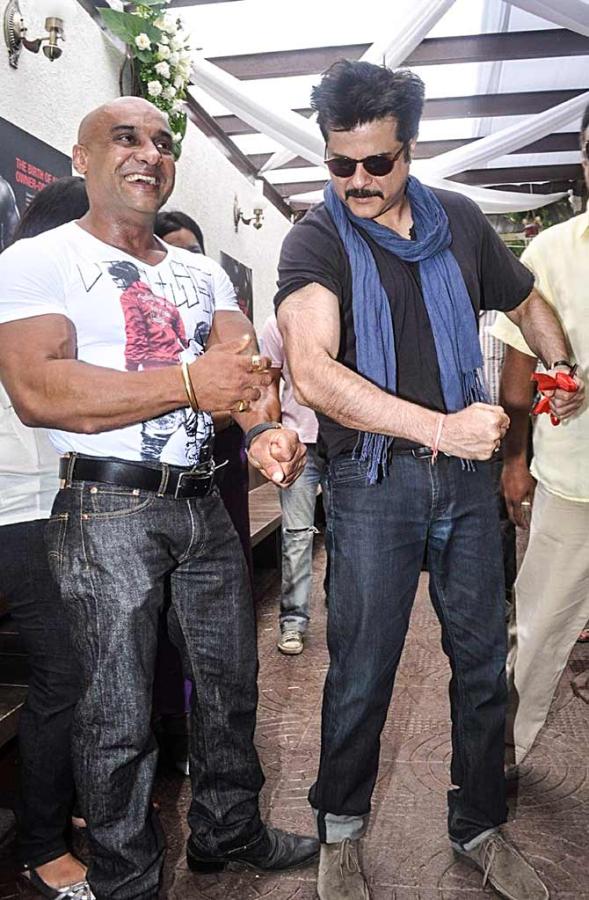 IMAGE: Anil Kapoor shows off his muscles at a gym launch. Photograph: Pradeep Bandekar

Anil Kapoor simply refuses to age, and that's both enviable and inspiring. The Welcome star is particular about his fitness regime and maintaining a healthy lifestyle.
His beaming smile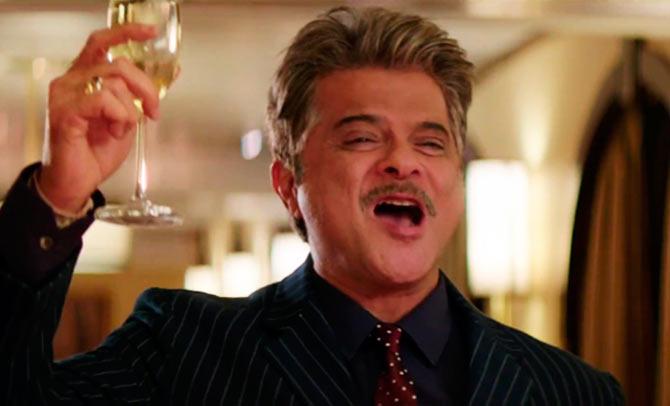 IMAGE: Anil Kapoor's smile in Dil Dhadakne Do.
It's like happiness reaches his eyes and forms twinkling bits of mischief and cheer. You just cannot help but smile back.
That flawless comic timing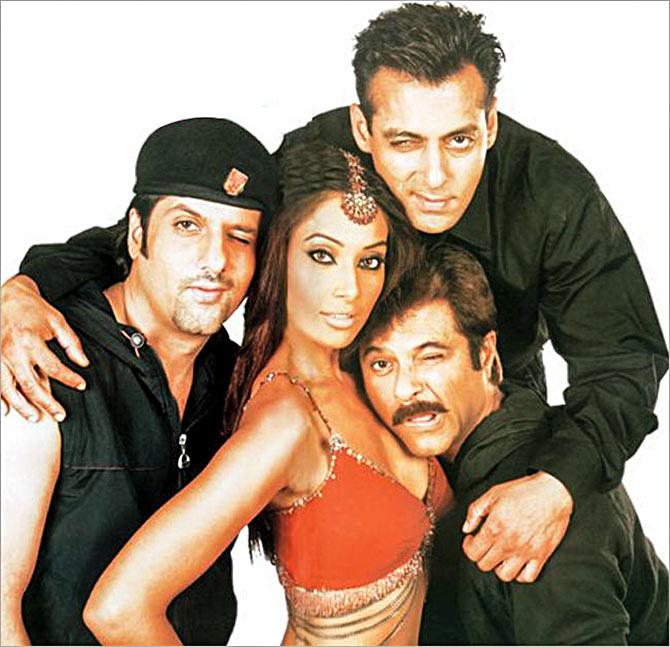 IMAGE: Anil Kapoor with Fardeen Khan, Bipasha Basu, Salman Khan in No Entry.
Trust Anil Kapoor to make a stale B-positive joke also worth half a chuckle not because of how silly it sounds but how well he tells it.
His sizzling chemistry with 80s reigning queens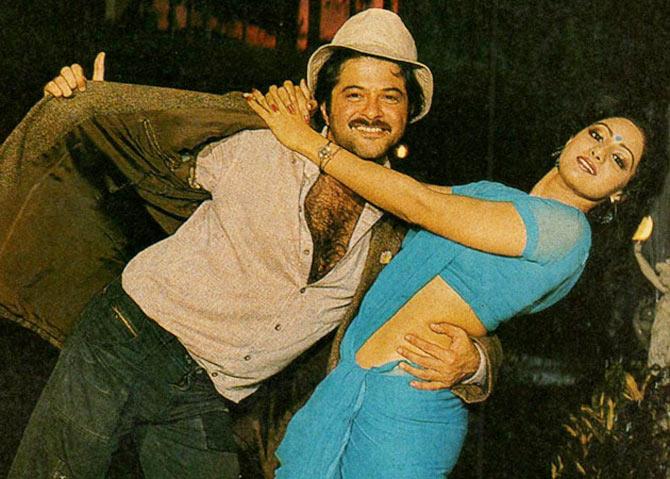 IMAGE: anil Kapoor and Sridevi in the Mr India's Kaate Nahi.

Be it dancing to Dhak Dhak with Madhuri Dixit in Beta or raise the heat inside a barnyard around a sari-clad Sridevi in Mr India's Kaate Nahi, AK made one hot jodi with the numero unos of that decade.
Bromance factor!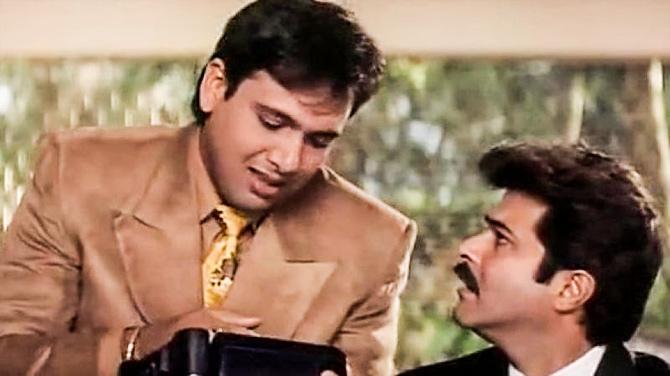 IMAGE: Govinda and Anil Kapoor in Deewana Mastana.
What's not to adore about his witty face-offs, chummy equations or bhai bonding opposite Govinda, Salman Khan, Anupam Kher or Jackie Shroff?
His perfectionism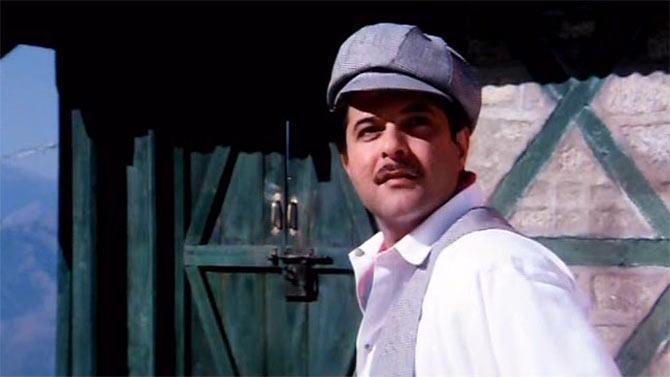 IMAGE: Anil Kapoor in 1942: A Love Story.
Long before Aamir Khan called dibs on the title, Anil Kapoor's propensity to immerse himself in a role on a cosmetic level gathered notice in films like Eshwar, Lamhe and 1942: A Love Story.
His standing as Bollywood's BEST superhero ever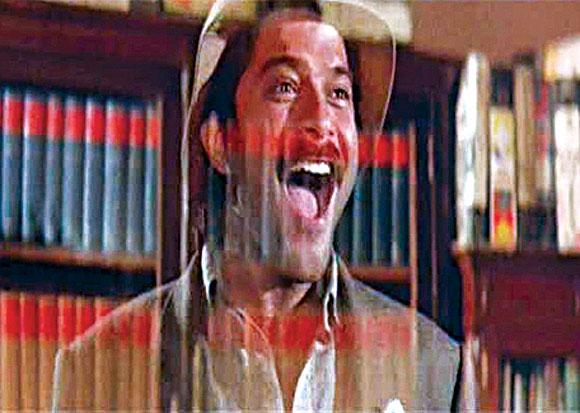 IMAGE: Anil Kapoor in Mr India.
Quite a few actors have dabbled in the genre since, sporting slick bodysuits and phony masks but no one can recreate the original thrill of Anil's invisible superhero Mr India.
His tanned machismo in Jaanbaaz and Joshilay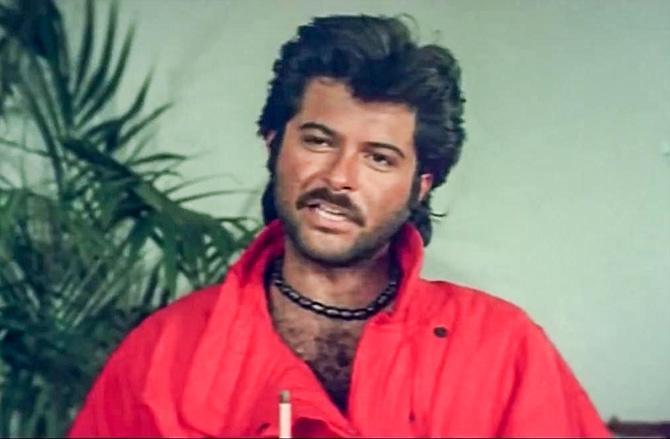 IMAGE: Anil Kapoor in Jaanbaaz
Too much bronze may be Gauri Khan's greatest undoing but on Anil Kapoor's cowboy characters it worked like sensual magic.
His stylish swag!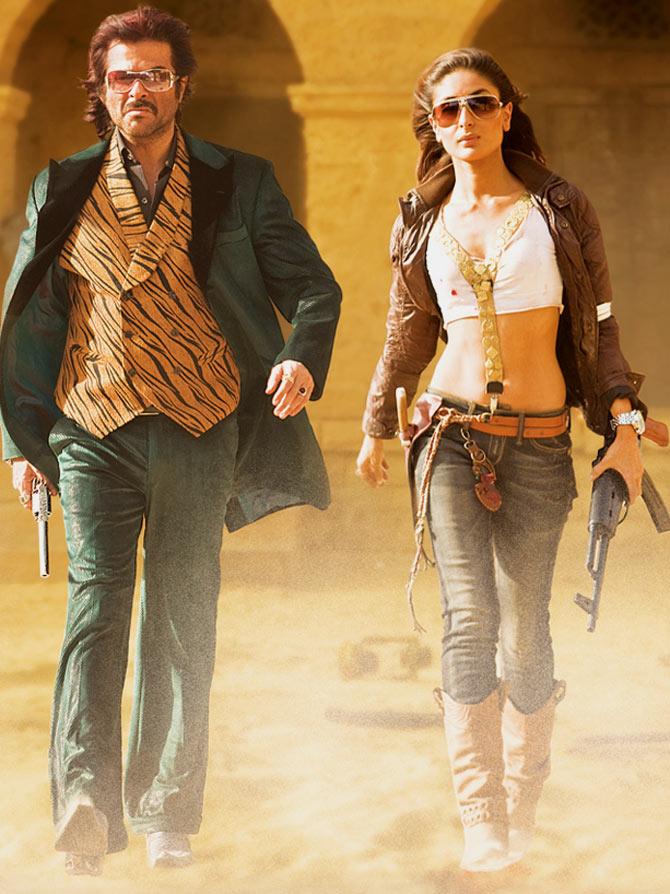 IMAGE: Anil Kapoor's swag with Kareena Kapoor in Tashan.
Pulled up collar, arched eyebrows and that swaggering strut, AK's nothing if not Tashan.
His killer moves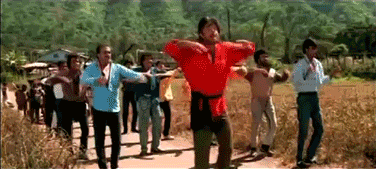 IMAGE: Anil Kapoor's signature move in Ram Lakhan.
Rumpumpum rumpumpum.
'Nuff said.
The importance of appearing earnest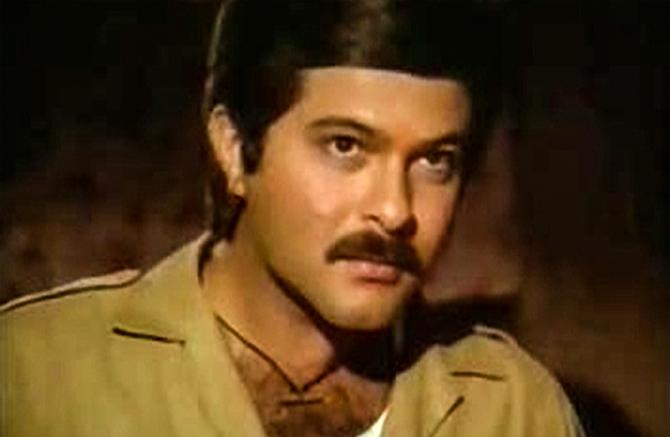 IMAGE: Anil Kapoor's vulnerability in Eeshwar.
And when a role demands restraint, AK completely suppresses the gregarious side of his personality to project touching vulnerability -- it's the key to his versatility.
Wife bhakti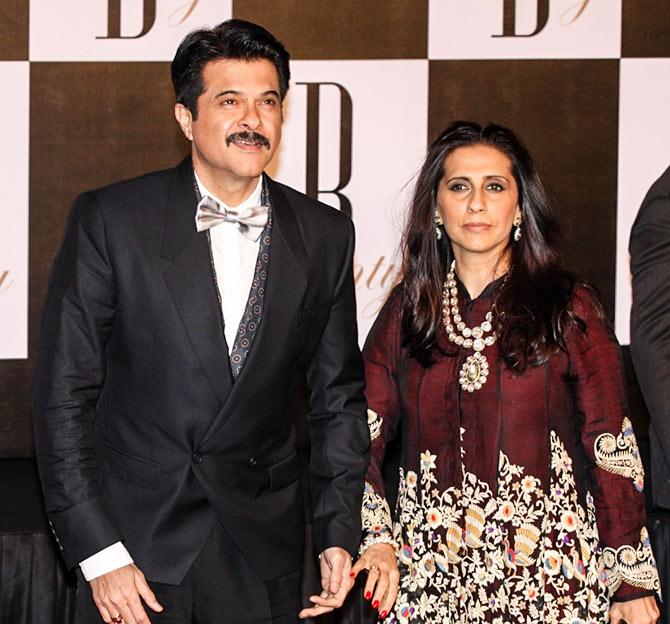 IMAGE: Anil Kapoor with his wife Sunita.
It's always nice to hear lovely things about his wife from an actor's mouth. Especially now, when marriages are falling apart left, right and centre.
Chilled out daddy!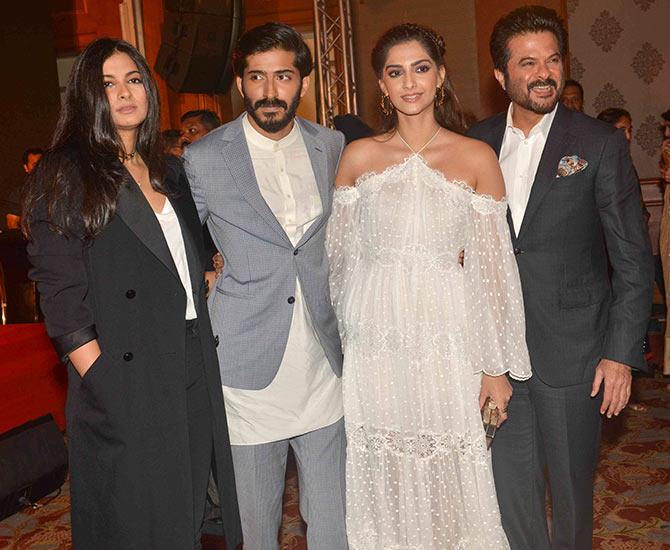 IMAGE: Anil Kapoor with his children Rhea, Harshvardhan and Sonam.
Unlike the controlling, manipulative father he played in Dil Dhadakne Do, AK is broadminded daddy in real life wherein he's respectful of his kid's privacy and doesn't feel the urge to control or oversee their every single move, personally or professionally.
That he didn't launch his kids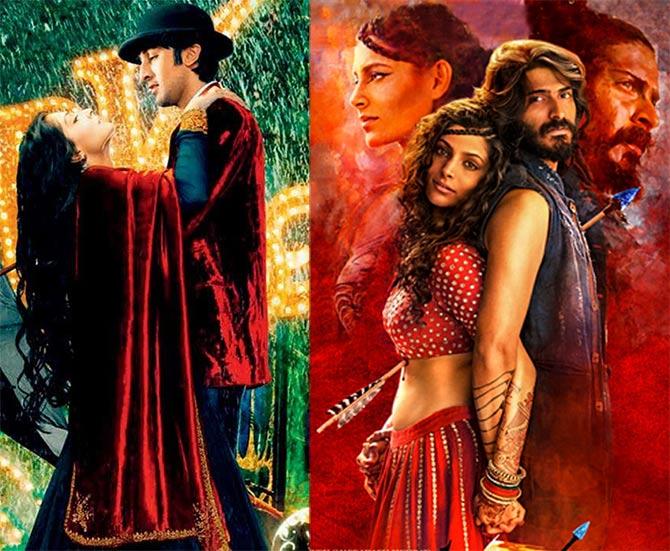 IMAGE: Anil Kapoor did not launch Sonam and Harshvardhan in Saawariya and Mirzya respectively.
Quite a few Bollywood star kids got launched by their influential mommies and daddies. Yet AK's kids -- Sonam and Harshvardhan -- bagged their debut outside the home banner.
Never forgetting his modest roots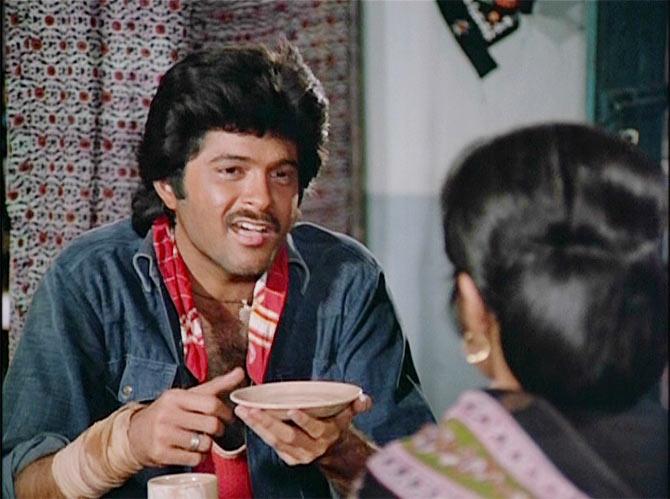 IMAGE: Anil Kapoor plays a boy from a chawl in Mashaal.
Anil Kapoor may live in a palatial bungalow today but he hasn't quite forgotten his humble beginnings inside a chawl in Chembur, a suburb of Mumbai. The struggle, he believes, made him a better person and actor.
The Family Man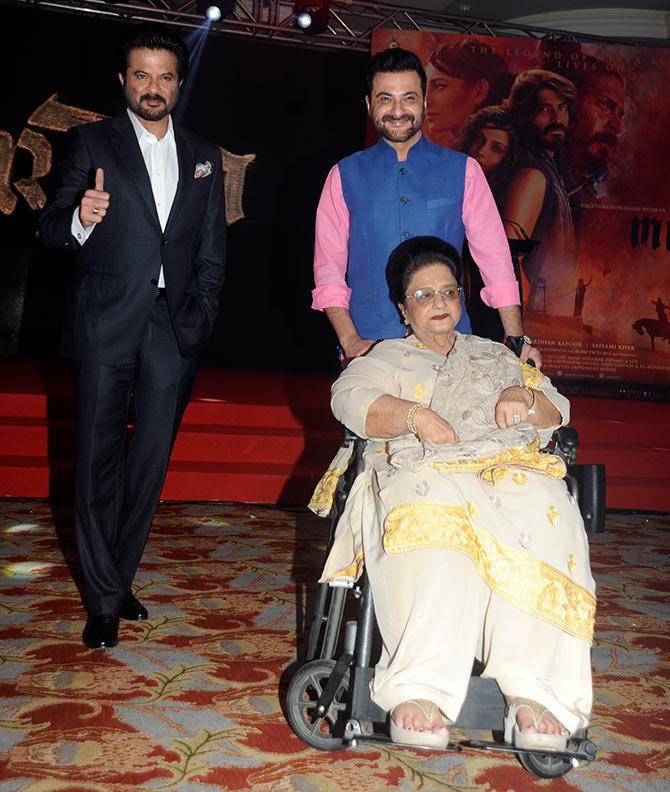 IMAGE: Anil Kapoor with his brother Sanjay Kapoor and mother Nirmal.
Outside his workspace, Anil Kapoor is a happy family man who gets along famously with both his brothers -- Boney and Sanjay-- and their offspring. Thanks to Koffee with Karan, we're much aware to what extent nephew Arjun hero-worships him.
International appeal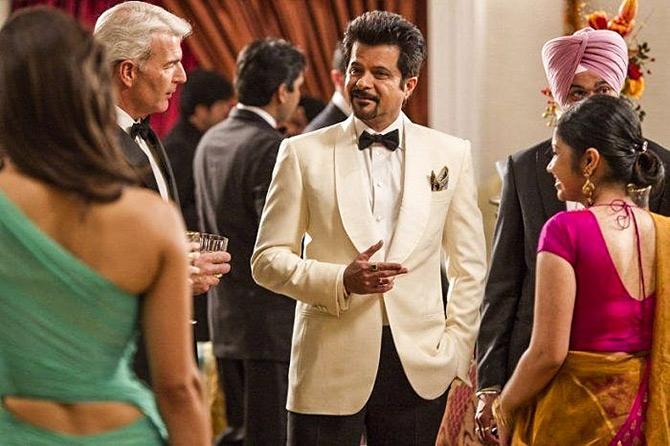 IMAGE: Anil Kapoor in Mission Impossible 4.
Slumdog Millionaire, Mission Impossible 4, TV series 24, kudos to Anil Kapoor for bagging some of the most prestigious global assignments.
Professionalism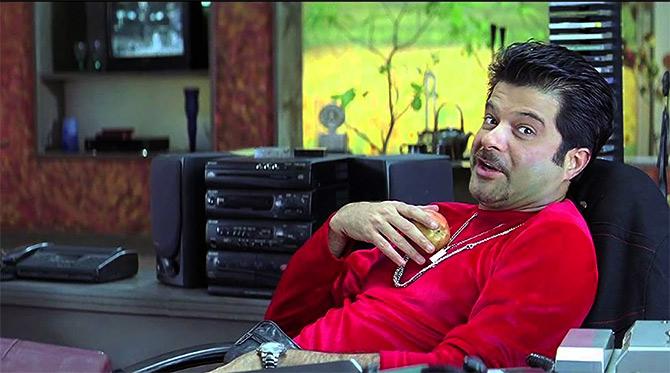 IMAGE: Anil Kapoor in Subhash Ghai in Taal.
From Subhash Ghai to Zoya Akhtar, everyone will vouch for AK's dedication to his art.
His little known singing skills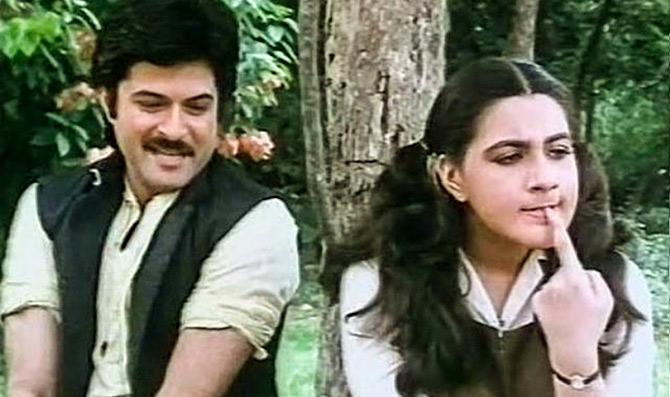 IMAGE: Anil Kapoor with the leading lasy Amrita Singh. Anil Kapoor sang the title track in the film.
Did you know the Chameli Ki Shaadi title track crooner is a trained semi-classical singer?
Staying relevant even as his colleagues lose steam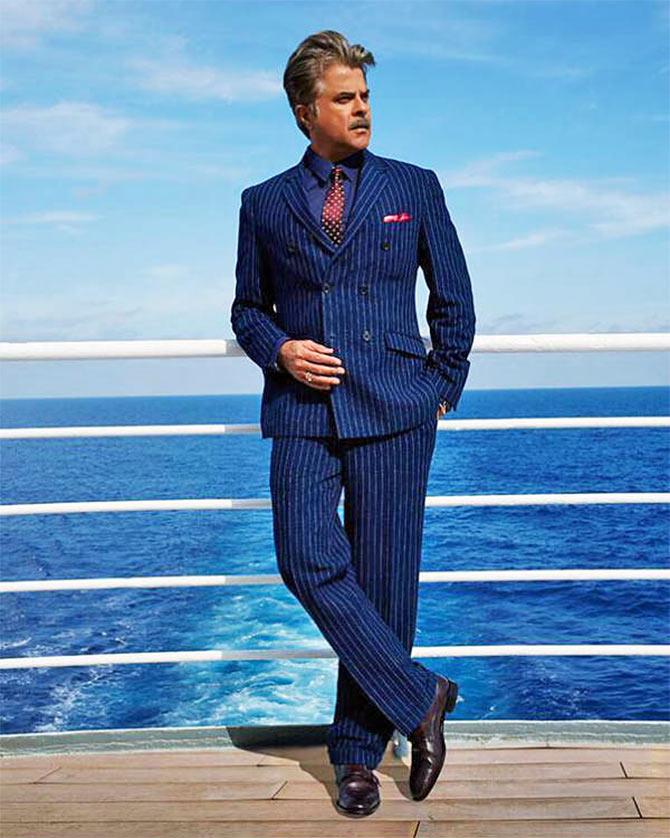 IMAGE: Anil Kapoor in Dil Dhadakne Do.
While his contemporaries like Sunny Deol clings on to his action hero image, Sanjay Dutt hopes to revive his career after a spell in jail, Jackie Shroff and Govinda make do with supporting parts in largely lousy fare, Anil Kapoor made waves on the international scene and impressed in a central role while playing his age in Dil Dhadakne Do.
His infectious enthusiasm!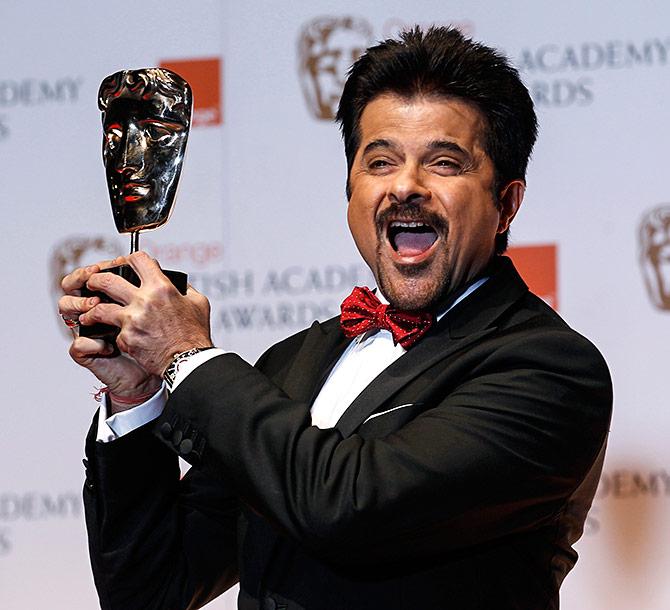 IMAGE: Anil Kapoor was at BAFTA to present an award to Pedro Almodovar for his non-English film The Skin I Live In. Incidentally, Almodovar didn't turn up for the event and Anil Kapoor accepted the award on his behalf. Photograph: Reuters/Suzanne Plunkett
To share a childlike excitement about one's job even after 30 years is a rare feat in a world where cynicism abounds.
His 'victory' move!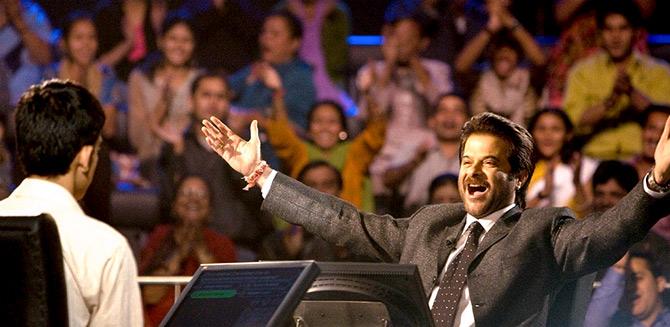 IMAGE: Anil Kapoor's victory hands in Slumdog Millionaire.

You know that triumphant gesture he does, throwing his hands up in the air with glee, every time he's won something? It's cute.
That he's worked with the A to Z of Bollywood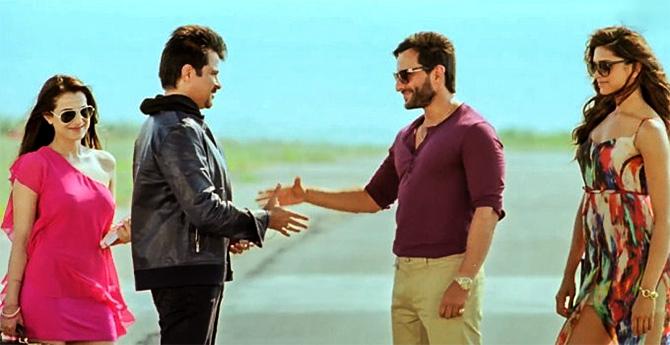 IMAGE: Anil Kapoor with the latest breed of actors Ameesha Patel, Saif Ali Khan and Deepika in Race 2.
The man has worked with, like, everybody -- Dilip Kumar, Amitabh Bachchan, Nutan, Rekha, Dharmendra, Jeetendra, Mala Sinha, Shatrughan Sinha, Utpal Dutt, Waheeda Rehman, Rajinikanth... to everyone from his own generation to Aamir, Salman, Shah Rukh, Saif, Akshay, Ajay Devgn, Deepika Padukone... incredible innit?
His experimental approach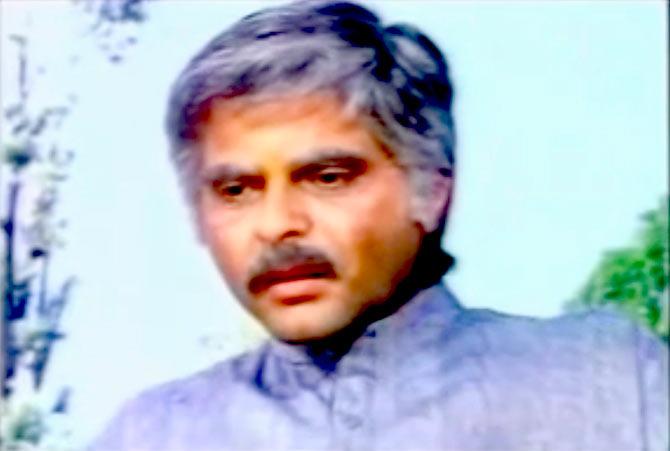 IMAGE: Anil Kapoor plays old man in Eeshwar when he was in his 20's.
Playing an old guy in his 20s and 20-something in his 40s, AK's done it all.
His awesome take offs on Dev Anand and Raj Kapoor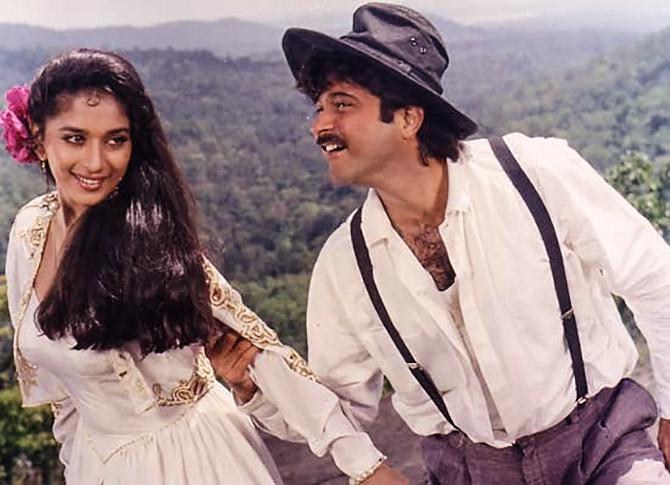 IMAGE: Madhuri Dixit and Anil Kapoor in Kishen Kanhaiya
Watch his hardcore Bollywood buff avatar in Rakesh Roshan's Kishen Kanhaiya and you'll know what we mean.
His astonishing range in drama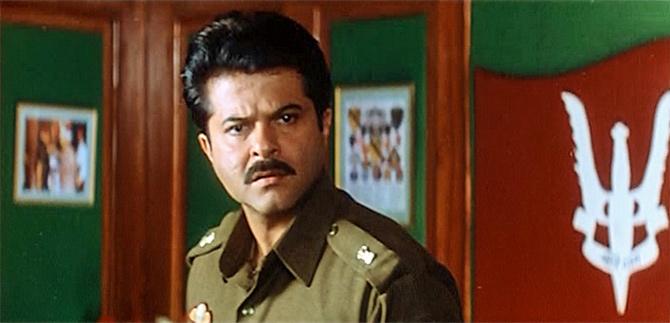 IMAGE: Anil Kapoor in Pukar.
Remember his vehement argument in the courtroom scenes of Meri Jung, it's as though he'll explode as a result of such anger and aggression. Fifteen years later, he demonstrated a more refined version of this intensity through a knockout performance in Pukar.


Making success out of experiments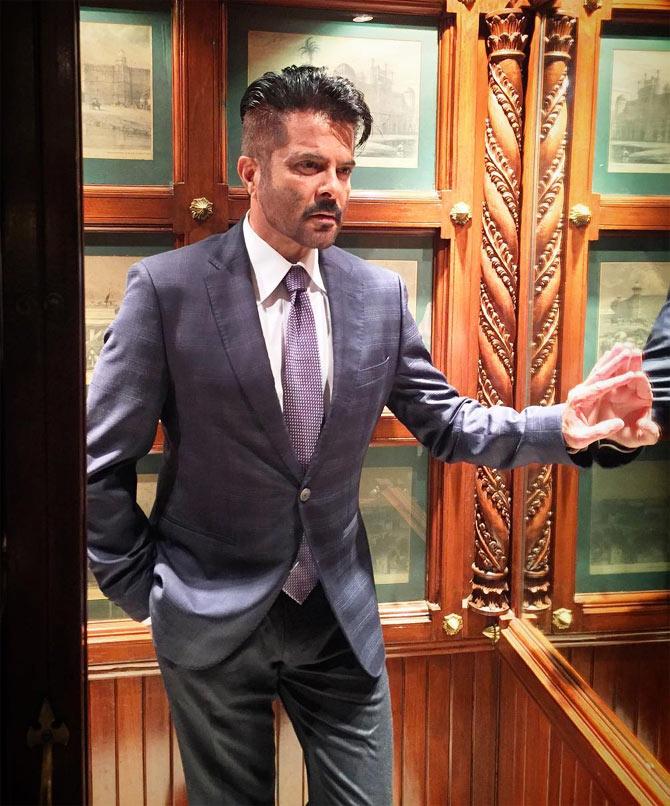 IMAGE: Look at that swag! Photograph: Anil Kapoor/Instagram
Be in off screen or on screen, he is always ready to experiment, and makes success out it. Dapper, isn't he?


Such a sport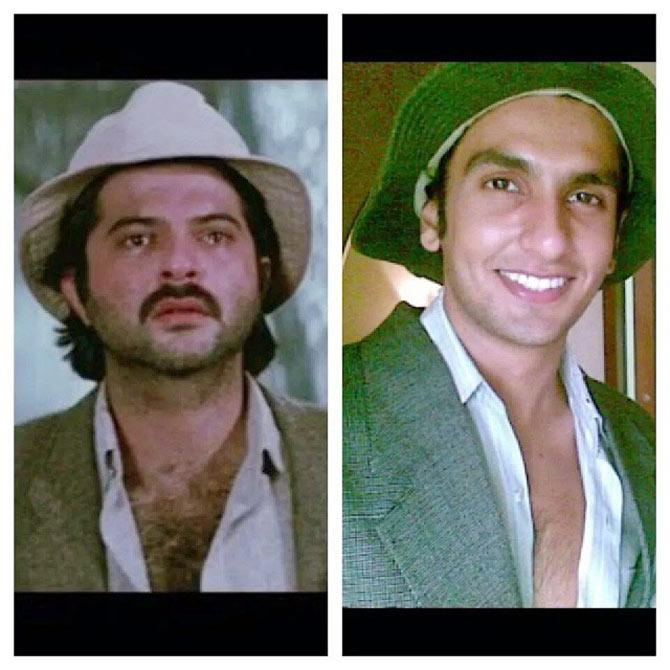 IMAGE: Ranveer as Mr. India. Photograph: Ranveer Singh/Instagram
Not many actors can take people imitating them sportingly but AK does and how. Sometimes, he even joins them!


Never a dull moment around him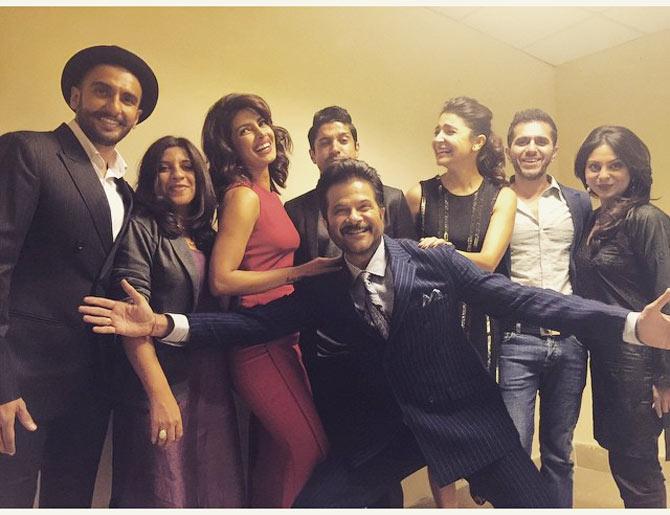 IMAGE: The Dil Dhadhakne Do team. Photograph: Anil Kapoor/Instagram
When he is around, be rest assured you'll be entertained to the fullest. He will also make monotonous pictures exciting.


Impromptu jigs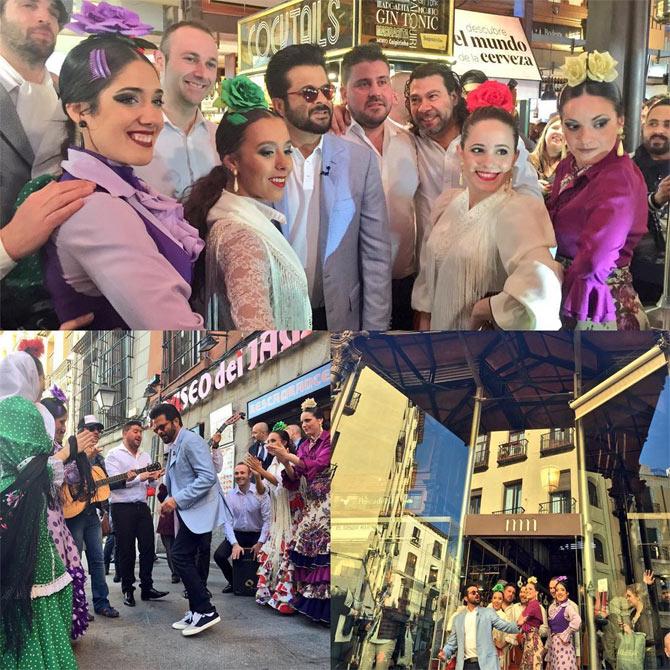 IMAGE: AK breaks into a jig with the performers. Photograph: Anil Kapoor/Instagram
He may or may not be one of the best dancers but that has never stopped him. He does not need an excuse to break into an impromptu jig.

While in Spain for the IIFA awards this year, he didn't mind grooving with street performers.


Raising awareness against child labour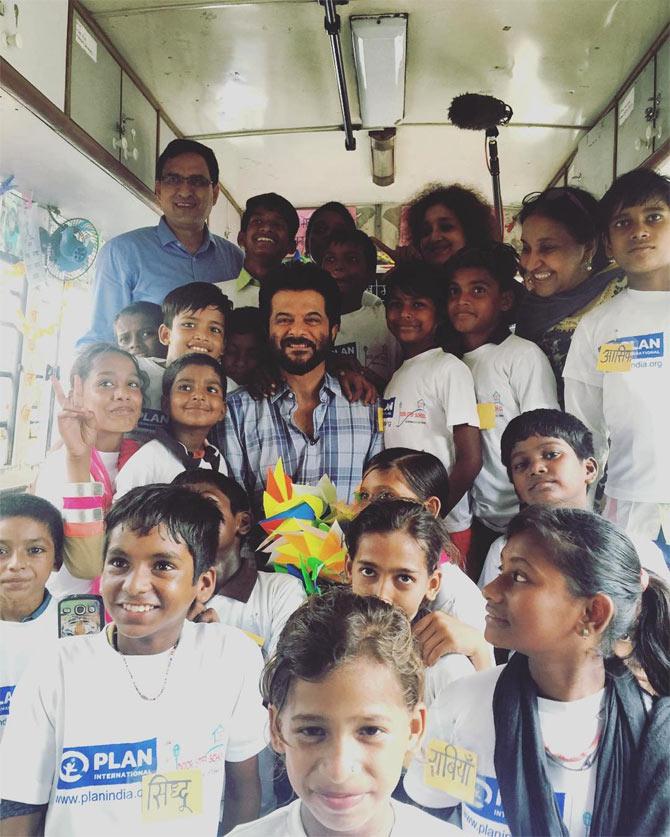 IMAGE: See those happy faces. Photograph: Anil Kapoor/Instagram
AK does his bit to create awareness against child labour; he is the goodwill ambassador of Plan India. Here, he takes a bus ride with underprivileged children.


Playing daddy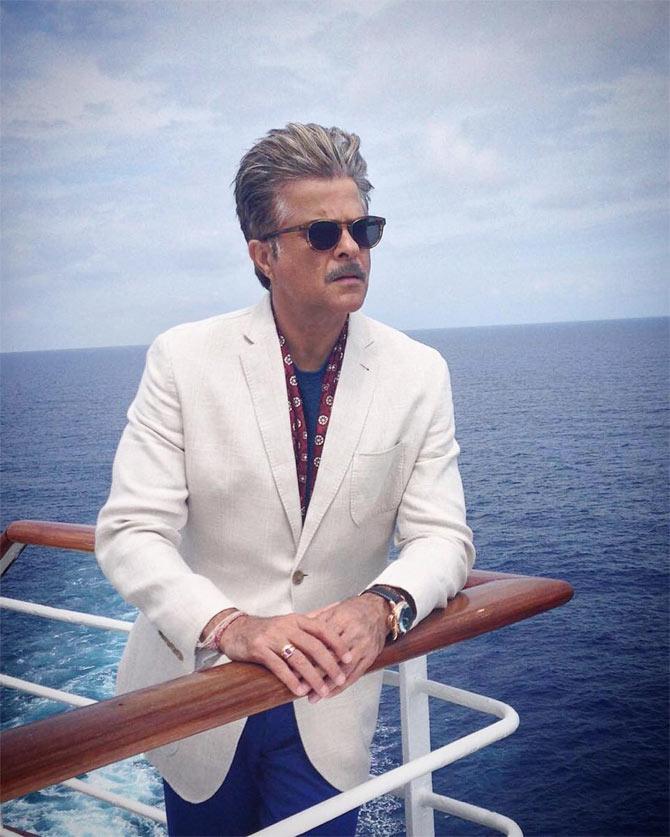 IMAGE: Anil Kapoor in Dil Dhadakne Do
He has no inhibitions about playing father to mainstream actors.
In Dil Dhadakne Do, for instance, he plays father to Ranveer Singh and Priyanka Chopra.


Charming the young ladies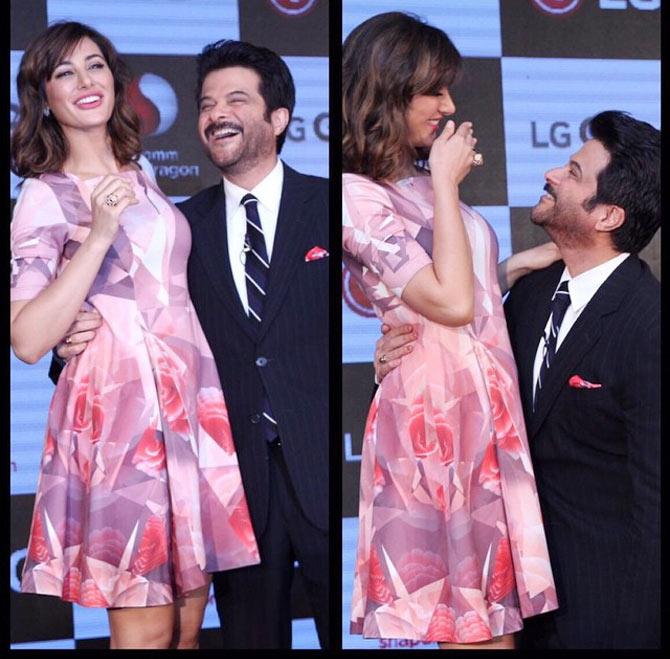 IMAGE: Making Nargis Fakhri blush. Photograph: Anil Kapoor/Instagram
He may be turning 60 but his charm can make even young Nargis Fakhri blush!


Keeping us posted on social media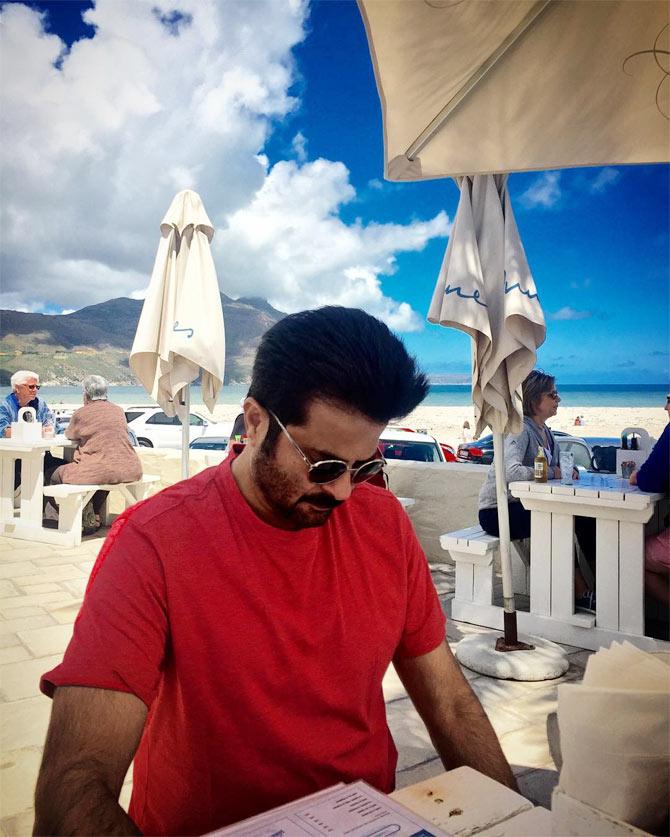 IMAGE: What's on the menu? Photograph: Anil Kapoor/Instagram
Anil Kapoor is quite active on social media platforms and keeps us posted with the details of his life.
'Sitting down for lunch in the company of blue skies, fancy clouds and majestic mountains. #CapeTown, you're spoiling me,' he captions this picture.


It's all about loving the fans!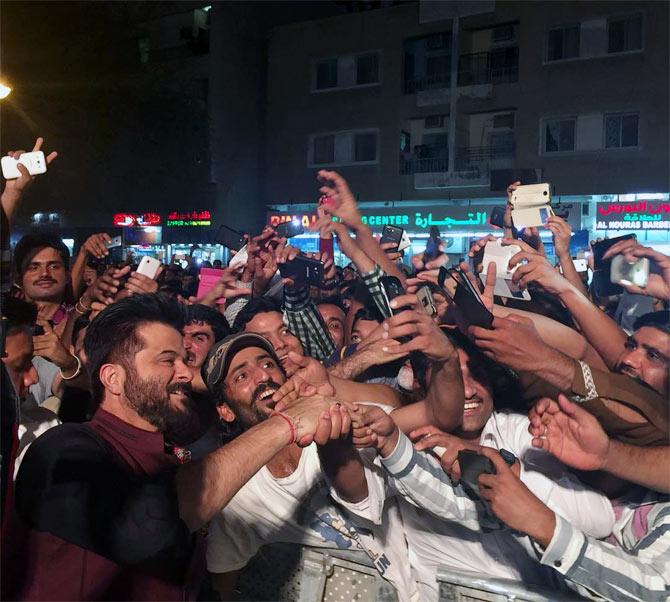 IMAGE: Selfie please? Why not! Photograph: Anil Kapoor/Instagram
He loves his fans and obliges them from time to time.


Showstopper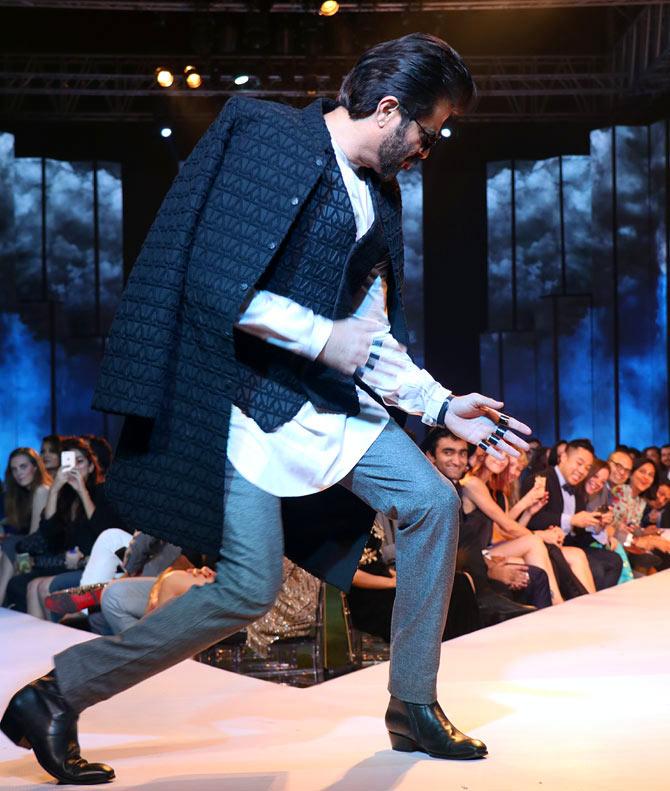 IMAGE: Jhakaas moment on the ramp at the GQ Fashion Nights 2016. Photograph: Hitesh Harisinghani/Rediff.com
When he is on the ramp, it's entertainment, entertainment, entertainment.


Chacha-bhatija are a riot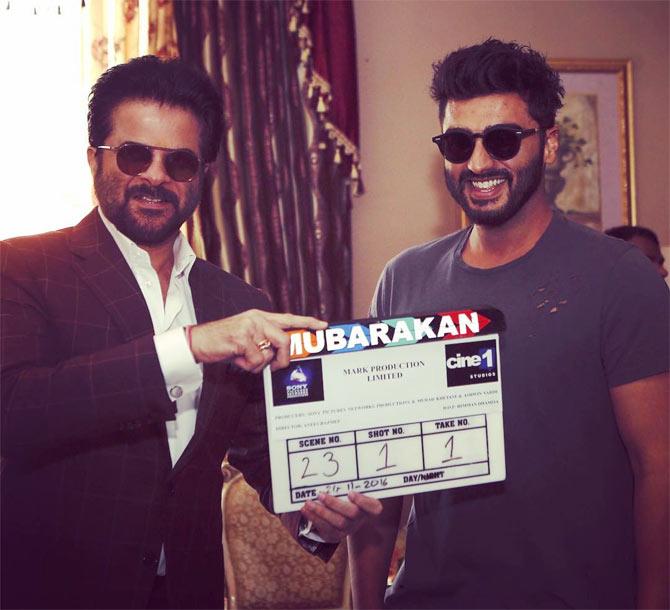 IMAGE: Anil and Arjun Kapoor on the set of Mubarakan. Photograph: Arjun Kapor/Instagram
The chacha-bhatija duo have been a riot off screen and we cannot wait to see them on screen in Mubarakan.


Age no barrier!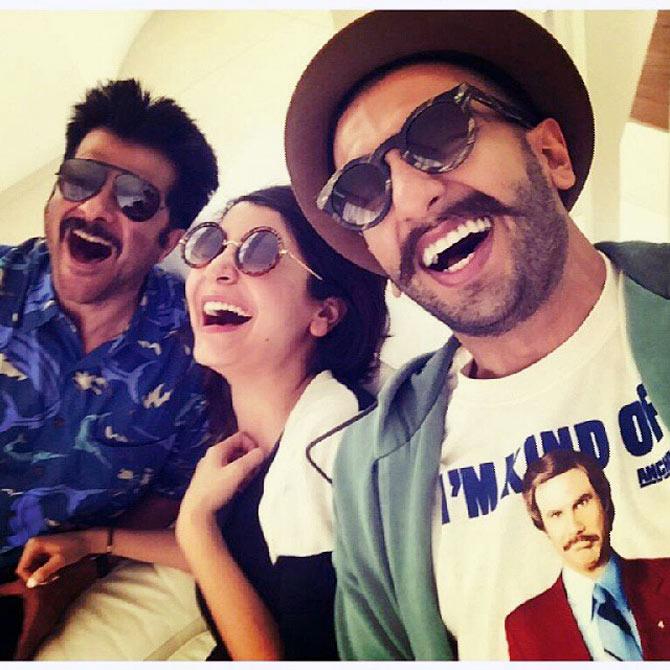 IMAGE: Anil, Anushka and Ranveer laugh their heart out! Photograph: Ranveer Singh/Instagram
He can gel with the younger generation like nobody else!
They love to hang out with him and this picture is proof enough.


Made television watchable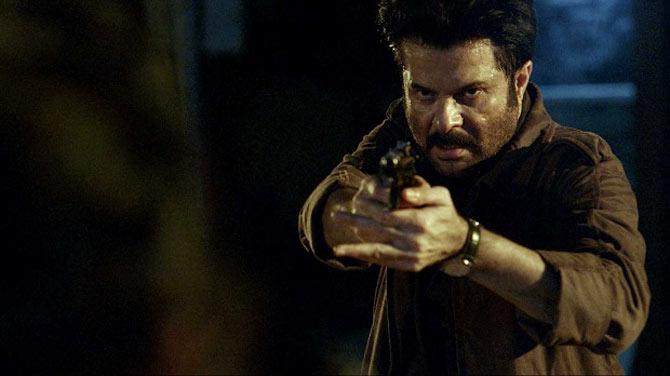 IMAGE: Anil Kapoor in 24
When AK entered the television space with 24, he made television watchable for a whole new section of audience.
Not scared to experiment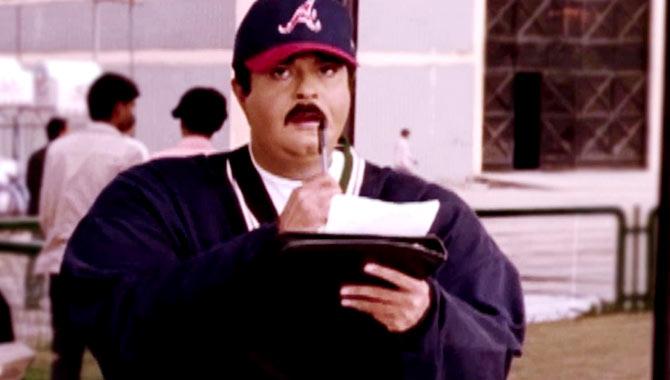 IMAGE: Anil Kapoor in Badhaai Ho Badhaai
He doesn't mind hiding himself behind prosthetics or makeup, like when he played an overweight man in Badhai Ho Badhai or a woman in Jhoot Bole Kawa Kate.