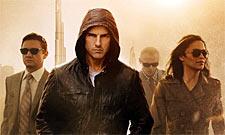 The first movie to reach the $200 million milestone in North America this year, Paramount's
Mission: Impossible -- Ghost Protocol
has also become the top grossing film in the Tom Cruise franchise, flying past the $546 million earned by
Mission: Impossible II
to hit $571 million at the worldwide box office. 
This is the second film in 2012 to reach the $500 million benchmark, the other one being the animation film
Puss In Boots
, whose worldwide collection is $510 million. Expect the film to end its highly profitable run with some $530 million. This was one of the last films DreamWorks made for Paramount before joining hands with Reliance Entertainment.
The news of  the records came amidst mixed reports for Oscar nominated films. While The Descendants and The Artist got the best boosts, War Horse has not benefitted much, doing smash business only in the UK and average business in America and Canada.
In an unrelated development, 59-year-old Liam Neeson scored a third consecutive hit with
The Grey
, a tough survival drama set in Alaska, following
Taken
and
Unknown
. All three opened at No 1 in North America. There surely is no chance of The Grey, which opened to $30 million in half a dozen countries, doing roaring business like
Ghost Protocol
but the film, which cost about $45 million, could easily grab over $125 million worldwide, earning a decent profit.
Cruise, 49 whose career as a box-office dynamo seemed to be waning last year, is once again a highly bankable movie star. He was also a co-producer on the latest Mission film. With $28 million grossed across the world over the weekend -- most of it coming from outside North America -- the movie which cost about $125 million to produce and $100 million to market has already become profitable. It could end its worldwide run with about $625 million before it starts the DVD-Blu ray journey.
The film was also a huge hit in India, according to Paramount, grossing over $13 million in the English and Hindi versions. But its India box-office looks very small compared to its South Korean (heading for $50 million) and Japanese (expected to gross at least $70 million) grosses. And over the weekend, it opened in China, and grossed $12 million as per Paramount
The film's success is also a milestone for its director Brad Bird who made into his foray into live action cinema having directed such huge animation hits as
The Incredibles
and
Ratatouille
.
Mission
and
Sherlock Holmes: A Game of Shadows 
continued to dominate the world markets, with the latter heading for a hand $530
million final worldwide. A giddy mixture of suspense, action and comedy,
Shadows
directed by Guy Ritchie features Robert Downey Jr., Jude Law, Naomi Rapace and Jared Harris with Rachael McAdams.
Some of the Oscar nominated films in the middle of their run also get upward bumps.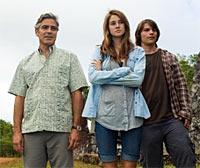 Especially notable is
The Descendants
, the delicately-directed comedy drama in which a man has to wrestle with his comatose wife's infidelity and the task of bringing up two daughters, not to forget a crucial decision about selling off the family property in Hawaii. In America, the movie more than doubled its screen count to nearly 2000 theaters and earned a healthy $6.5 million over the weekend. The film has just begun its international run and is already a hit in Australia. 
It has grossed $95 million worldwide and is yet to open in many countries. The George Clooney-starrer is nominated for 5 Oscars including best director (Alexander Payne), actor (Clooney) and best picture.
Hugo
, a very expensive film which was ending its run in most countries with a $120 million highly disappointing gross, got some boost following its 11 Oscar nominations and might earn $150 million before the awards. It will surely get a big boost if it wins couple of top awards but it is contending with
The Artist
which is building more and more critical acclaim and a decent box-office collection in America following its 10 Oscar nominations.
It was chosen the best picture over the weekend by the highly influential Directors Guild of America which overlooked Martin Scorsese's
Hugo
and embraced a French director Michael Hazanavicius whose  name was hardly known in America before the film released. Having made a decent $3.3 million over the weekend in North America, the black and white and mostly silent film is about the early days of talking pictures in Hollywood and has grossed $16.7 million. The worldwide gross for the $15 million film is about $50 million. It is yet to open in many countries and it could have a new lease of life in countries such as France where it has ended its run in case it takes home top Oscars.
On the other hand,
War Horse
, a touching and spectacular World War I film based on a highly popular book in the United Kingdom is doing decent business only in North America and the United Kingdom. Even then the film could end its North American run with just about $80 million before the Oscars. And its worldwide gross could be just about $150 million. The highly regarded film cost just about $66 million and because of the low cost (comparatively speaking), it might just about recover the investment.