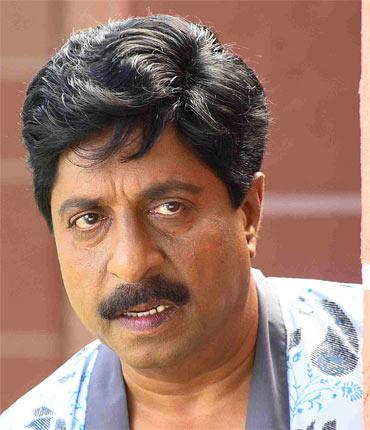 Remember Saroj Kumar, the silly looking superstar played by Sreenivasan in the 2005 blockbuster
Udayananu Tharam
? He is making a comeback in the Sajin Raghavan directed
Padmasree Bharat Dr Saroj Kumar
.
"This is not a sequel to
Udayananu Tharam
. We have just taken a few characters from the film and made a different story," clarifies the first-time director.
Sreenivasan, who had written the script of
Udayananu Thaaram,
does the same for this film too.
He plays the title role of Padmasree Bharat Dr Saroj Kumar. Jagathy Sreekumar's Pachalam Bhasi, Salim Kumar's Rafeeq, and Mukesh's Babykkuttan are all coming back in the new version.
"Udayabhanu, the character played by Mohanlal in the earlier film, will not appear in this one though we mention him a few times in the story," says Sreenivasan.
Mamta Mohandas plays Saroj Kumar's wife.
Padmasree Bharat Dr Saroj Kumar
is produced by Vaishakha Cinemas. The cinematographer is S Kumar and the music director is Deepak Dev.
 The shooting of the film is going on in Kochi right now.