Manoj Kumar eased past Valentino Knowles of the Bahamas, winning 17-11, to enter the second round in the light-welterweight (64kg) category and continue the Indian boxers' fine show at the World Championships in Baku, Azerbaijan, on Friday.
Manoj, the lone Indian in action on Friday, has a tough bout next, as he is up against reigning European champion and fourth seed Raymond Moylette of Ireland.
Moylette rallied to beat Latvia's Arturs Ahmetovs 16-11.
Manoj, who had earlier beaten Knowles in the Commonwealth Games semi-finals, took a slender one-point lead in the opening round, closing it 5-4 ahead.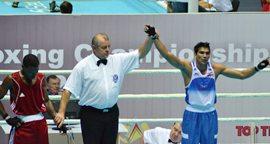 The 25-year-old Haryana boxer then consolidated the lead to 11-8 by notching six points to his opponent's four in the second round.
In the final three minutes, the Indian added another six points to his tally to clinch the issue comfortably.
Manoj joins L Devendro (49kg), Suranjoy Singh (52kg), Akhil Kumar (56kg), Dinesh Kumar (81kg) and Vikas Krishnan (69kg) who had earlier made it to the round of 32 in their respective weight categories.
"Knowles was a tough customer and made Manoj work really hard for his points at least in the opening round. He was coming up with some very good uppercuts and right hooks," national coach Gurbax Singh Sandhu said from Baku.
"But Manoj played smart and fought from long range; he also became very aggressive in the second and third rounds. This unsettled Knowles and he found it tough to cope with Manoj's combination of straight punches and uppercuts," he added.
On Saturday, Olympic bronze-medallist Vijender Singh (75kg) kicks-off his campaign in the event, where he won a bronze medal the last time around.
Vijender, world number eight and seeded seventh in the mega event, will face Cuba's Olympic silver-medallist Emilio Correa Bayeaux in the opening round.
Emilio had beaten the Asian Games gold medallist Indian in the Olympic semi-finals before a hand injury took away almost a year from him.
Also in action on Saturday is Jai Bhagwan, in the lightweight 60kg division.
Jai, a bronze medallist at the Delhi Commonwealth Games, will face Lithuania's Evaldas Petrauskas in his opening bout.
"Both the bouts are very tough. Vijender's bout is tough we all know but even Jai's bout is not easy. This Lithuanian guy is known to be tough and had beaten Vikas Krishan once when he was in the lightweight category," said Sandhu.