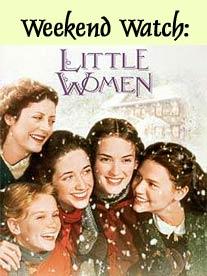 Little Women DVD review Collector's Edition
The story: One doesn't generally go looking for warmth and spirit in films. Mostly, we only expect to be entertained. Some films, however, succeed in achieving both. They cuddle your hearts and endear themselves to you with their simplicity.
Little Women, adapted from Louisa May Alcott's classic, possesses this rarity. Set against the Civil war era in New England, it is the heart-rending story of the adorable March family. Though not particularly well off, the Marches celebrate life for all its worth. The movie chronicles the coming of age of the sisters -- Meg (a shy girl on the brink of womanhood), Jo (the wild, free spirit), Beth (subdued, compassionate and melancholic) and Amy (the child aching to be a woman) under the wise counsel of their doting `Marmee'.
The men in their lives play a vital role too. Be it the girls' affluent albeit lonely neighbour, Laurie (or Teddy as Jo fondly addresses him), Laurie's courteous tutor John Brooke, or the bumbling German professor Bhaer, they contribute their bit to the little women's lives.
Winona Ryder, who plays the fiery Jo, sums it up best: "It's not just about a girl (referring to Jo's character) who wants to be a writer. It's about falling in love and getting your heart broken and breaking other people's heart. It touches just about everything."
The beauty: Released in 1994, director Gillian Armstrong is the fourth in line to adapt Alcott's blockbuster novels -- Little Women and Good Wives -- into a motion picture. The story was first brought on celluloid during the silent films era in 1919. In 1933, Katherine Hepburn starred as Josephine March and went on to win an Oscar. Mervyn LeRoy directed the first coloured version of the same in 1949.
The Australian born Armstrong depicts the strength and vulnerability of her predominantly female cast with grace, dignity and benevolence. The feminine spirit is overwhelming, but not overpowering. For instance, as Jo eloquently aspires, "Women should vote not because they are angels and men are animals but because we are human beings and citizens of this country."
Armstrong's inspiring direction, coupled with Robin Swicord's keen understanding of the screenplay, is to be praised. Though the films stays faithful to the book and offers more than its previous counterparts, the shifting of episodes is at times hasty according to convenience. But then as Bhaer says, "We are all hopelessly flawed." The inadequacy here, is therefore, magnanimously excused.
The accurate art-designs (Richard Hudolin), authentic costumes (Colleen Atwood) and emotionally splendid musical score (Thomas Newman) deserve compliments in superlatives.
The heart: There is a timeless quality to the March family that is universally appealing. Their ups and downs, day-to-day problems, heartaches, sibling quarrels, childish squabbles, tender sacrifices, adolescent troubles make them a very real family. That's what makes Little Women special.
Winona Ryder's spontaneity and zest breathe life in the legendary Jo March. Her performance won her an Oscar nomination, also listed in the Best Costume Design and Best Music, Original Score category.
No one plays the mom quite like Susan Sarandon. Remember her delightful conversations with her son in Stepmom? Here too, she is just wonderful as Marmee. Trini Alvarado looks every bit the divine Meg. Claire Danes wins all your sympathy as the angelic Beth who meets with a tragic fate. There are two actresses playing Amy. As the young Amy, Kirsten Dunst (fresh from the rocking success of Interview With The Vampire, back then) is a total imp. This natural born actress steals the scene almost every time she's in the frame. You actually wish Amy never grew up after witnessing Samantha Mathis' lacklustre portrayal as the grown up.
Gabriel Byrne is a seasoned actor and it shows in his rendering of Professor Bhaer. Eric Stolz as John Brooke neither has much screen time nor presence. Finally, Christian Bale is the perfect Laurie. Though his character is under written, he woos the viewer with his brooding disposition, enigmatic gaze and boyish smile. Just a 20-year old lad then, Bale couldn't have possibly thought that, 15 years later, his intense face would don the mask of Batman.
The goodies: The special features hamper is quite filling. Here's the deal:
# You can enjoy Gillian Armstrong's extensive commentary throughout the films. Discover the unknown details with regards to the cast, crew, locations and adapting Alcott's novel.
# View two deleted scenes. Jo teaches French and Marmee comforts Beth. Why were they left behind? Check the Director's commentary to know the answer.
# A short albeit engaging Making of Little Women featurette. Produced by HBO, this one carries exclusive footage, behind the scenes filming and interviews with the members of the cast and crew.
# Costume and Set design gallery with Colleen Atwood's commentary: Shot on location in Vancouver, Canada, Atwood gives us a insight on the detailing and research that went into creating 19th century authenticity. Be it the bed, drapes, candle stands, chinaware, furniture, dolls, architecture, every bit contributed to taking the viewer back in time.
# Historical timeline: A year map telling us a little about Louisa May Alcott and different cinematic versions of her book.
# Want to know the basic bio of the actors and filmmakers? Choose the talent files and productions notes.
# Apart from the theatrical trailer, the DVD features English, Spanish, Portuguese, Chinese, Korean and Thai subtitles.
The recommendation: A lovely family film. Entertaining, touching, feel good. Watch it.
Which movie would you recommend for Weekend Watch? Tell us!