'There are 10 people (around them) -- the PR person, the media person, the managers, the fitness person, the security...'
'We were never pampered. If we said something wrong, we would get criticised.'
'We learnt from those mistakes.'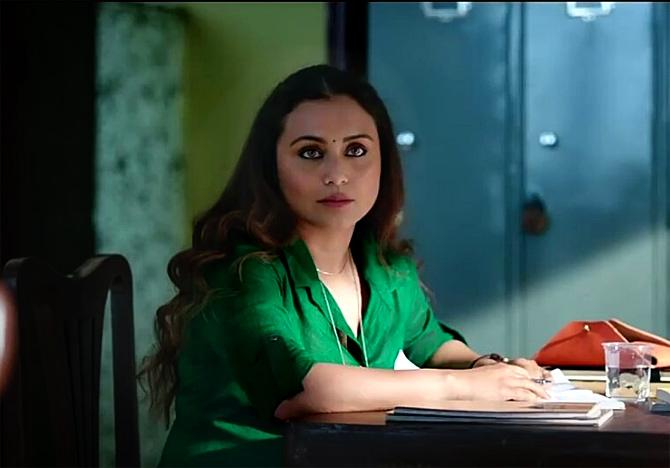 IMAGE: Rani Mukerji in Hichki.
Rani Mukerji wears a smile and a bindaas attitude at the Yash Raj Studios, Andheri, north west Mumbai.
She refuses a cup of tea because she wants to wrap up the interviews quickly and go back to her daughter, Adira.
"I always pick the afternoon slot because she sleeps at this time. I take advantage of it by doing my work (at that time) and then going back," she says.
Rani talks about Hichki, her first film after Adira was born, and, of course, the mystery man in her life.
Rediff.com's Jahnavi Patel listens in.
From a student in Kuch Kuch Hota Hai and Black to a teacher in Hichki.
I started my career at 16. I will be 40 (on March 21).
It's been a journey where I have actually grown up in this film industry... whatever I have learnt, my experiences are wonderful.
Of course, there have been ups and downs, but that also teaches you a lot.
My choice of films has changed with the way I have grown up.
Each phase in my life -- my teenage years or my 20s, my late 20s, my early 30s, my late 30s -- have been a part of my journey in the movie business.
Every time I have chosen a role, it has connected to me at that point in my life.
Today, the point of life in which I am, Hichki has been a very special film that connected with my soul.
I would like to give this message to India, or tell the world that this is the kind of movies India is churning out.
Hichki is about overcoming one's weakness and turning it into a strength.
It also talks about the education system in our country and the discrimination that people face in society when they have a weakness.
It talks about how students from different economic backgrounds are treated in school.
The film has a lot of layers.
When I was young, I had a stammering issue.
Had someone taken that as a weakness of mine, and if I had made it a strong weakness, I wouldn't have been an actor.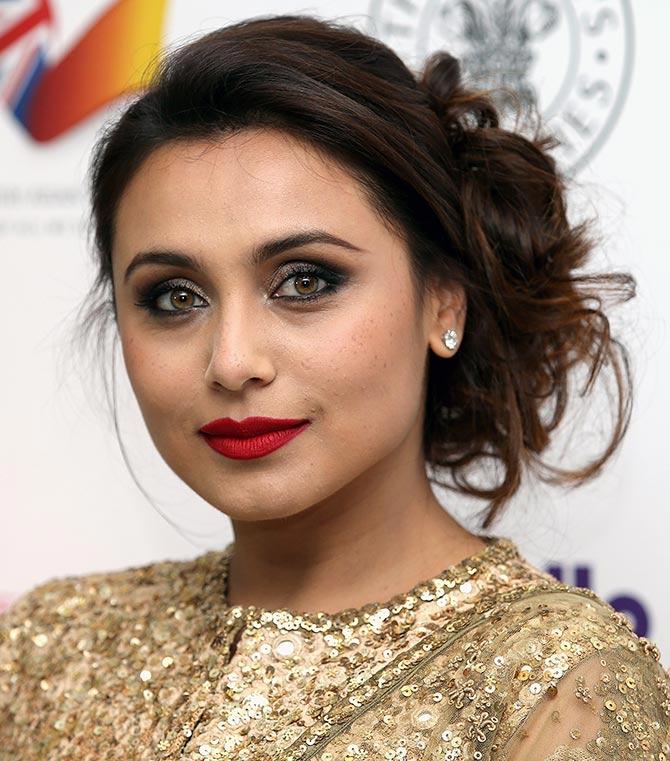 Photograph: Chris Jackson/Getty Images
While filming, did it take you back to when you used to stammer?
I think God tests us at different times in our lives. And we have to emerge winners because the life God has given us is too special.
When I met dumb, deaf and blind people during my research for Black, I thanked God every day.
You suddenly feel so blessed that you can see, talk and walk without anybody's help. You become more humble as a human being.
When people ask me how I have survived in the industry without being on social media, I find it funny.
It's not important to my life or me.
Everything boils down to this: Was Rani Mukerji good in the film or not?
That is my work, my job and my profession.
I treat this (interview) as a meet and greet so that I get some pointers from you; I get to learn what people are thinking about.
I still consider journalists as a medium between my fans and me.
How important is formal education for actors?
Formal education, if you are talking about academics, I don't see how that will help actors. But our actors do need acting classes.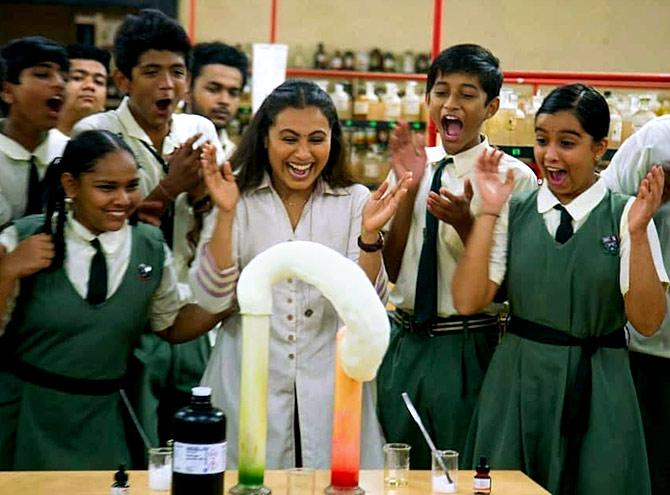 IMAGE: Rani Mukerji in Hichki.
What was shooting with children like?
It's been amazing because most of them were facing the camera for the first time.
They had a lot of realistic and organic quality in them, which was great because we wanted the classroom scenes to look real.
Some of them were trained actors, one of them is from television, so they came with their own set of experiences.
What is amazing with kids is that they don't have an image or a particular way of performing. They give it their all.

IMAGE: Rani with Sourav Ganguly in Sourav Ganguly Dadagiri . Photograph: Kind courtesy Zee Bangla/Instagram
You mentioned on the reality show Sourav Ganguly Dadagiri that you love macher jhol bhaat (fish curry with rice). With the constant pressure of staying fit, how difficult is it to eat what you love and yet, stay in shape?
Firstly, I don't understand this pressure. I think actors are really spoilt and pampered today.
There are 10 people (around them) -- the PR person, the media person, the managers, the fitness person, the security...
We were never pampered.
If we said something wrong, we would get criticised. We learnt from those mistakes.
Today, the PRs write the dos and don'ts.
Young actors are so pampered from the moment they step out. There's so much training, I don't think there is any pressure.
They wear rented clothes for free! You get to wear beautiful clothes, there are people to get you ready, make you beautiful... where's the pressure?
Even weight wise, what's the pressure? Khao peyo, khush raho. Kya itna tension leneka? (eat, drink and be happy. Why take any tension?)
When you see an Aamir Khan in Dangal, you see him as a character.
When you see him in Dhoom 3, you are seeing another character. So the weight depends on what you do for a role.
How does it matter what shape an actor is in after he's done with a particular role?
Does it matter if I'm wearing jeans today?
But it will matter if I do not play a role well. That is what is important.
How does it matter how I looked during my pregnancy and after it?
What should matter is this: Is Naina Mathur (her character in Hichki) convincing? Is she real?
We are actors, not models.
We have to do justice to who we are on screen. We have to be believable.
Aamir is an institution of how an actor should be. Even Kamal Haasan. These actors have redefined their characters.
Today, because of social media, people are interested in how actors look -- how they look when they go to a gym or to the airport.
Arre, how does it matter? Kya farak padta hai bhai?
At the end of the day, this pressure is rubbish.
I come from an era where I bought my own clothes.
I feel scared to wear rented clothes. ki kahin khujli na ho jaye... kaun kahaan se pehenke aa raha hai, uss insaan ne nahaya nahi hai, hame kya pata (You never know if the person wearing the clothes before had a bath or not).
Today, when Sabyasachi makes an outfit for me, he makes it especially for me. That's why I wear it.
I don't ask for bhade ke kapde (rented clothes).
I wear what I can afford.
My manager tells me not to repeat my clothes.
But why? These are my clothes and sometimes, I have to repeat them.
Let the media write whatever, it is their job. Why will I change how I am for the media?
When I had become an actress, brand culture was just introduced in India. People asked me to wear brands, but I was like, why should I?
If you ask me what I am wearing today, I don't know. I have worn what I liked.
I am not here to make a great statement and become some hero. That's not my agenda.
I like to do my work, and then go back to my daughter, my family.
I speak what my heart says.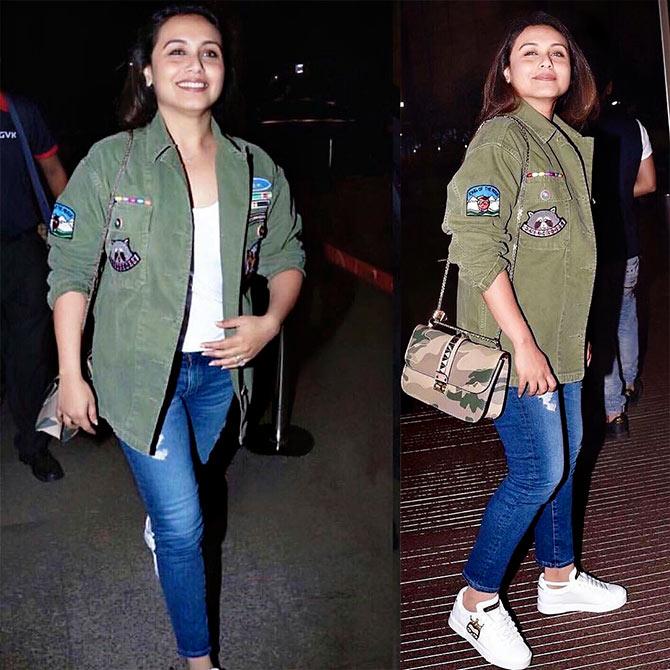 Photograph: Kind courtesy YRF/Instagram
Has motherhood changed you? Influenced your choice of films?
Motherhood obviously does change you because there is a different kind of passion, a different kind of love that you feel after you become a mother and you can translate that into your work.
When my father passed away, I truly understood what sadness was. What missing somebody was... there's a vacuum when one of your parents is no there.
When I performed those scenes in my films, it was just an aspect of my performance. I would think hypothetically, what it must be like to miss a parent.
But when it actually happens to you, that sadness, you can really feel it.
I have been pregnant and had babies in so many films, but I can never begin to explain how different it is when you actually go through the process.
What kind of hichkis or hurdles did you face when you started your career at 16?
Obviously, my height, my voice... but luckily, I had Aamir opposite me!
Then when I worked with Abhishek (Bachchan), the height became an issue. But then, it was nice that I was short because we were compared to his parents! So it kind of worked.
If I had come in an era only where there were only tall heroes, it would have been a problem. But then, we had Salman, Shah Rukh and Aamir and I looked pretty good with them.
My voice was a huge issue.
During Ghulam, Aamir, Mukeshji (Bhatt, producer) and Vikram Bhatt (director) felt my voice was not as thin as the heroines of that time. Heroines had shrill voices then.
So they dubbed my voice.
Then when Kuch Kuch Hota Hai happened, I remember Karan (Johar) asking me, 'Why was your voice dubbed in Ghulam?'
I said maybe they didn't think my voice was right for the film or the character.
So he asked me if I had dubbed for my first film, Raja Ki Aayegi Baraat.
I said yes.
So he said, 'You will dub in Kuch Kuch Hota Hai.'
I said okay.
Aamir called me after seeing Kuch Kuch Hota Hai and said, 'Babes, I made a mistake. Your voice is really good. You should have dubbed it in Ghulam.'
So in life, these things happen. But if you believe in yourself, other people will have belief.
Today, my voice has become my identity.

IMAGE: Rani and Aamir Khan in Ghulam.
You played a physically challenged character in Black and now, you play one in Hichki. Which role was more challenging?
Both were challenging.
When you play such sensitive characters, you have to keep in mind the sensitivity of the people who are actually have that (disability).
With Hichki, I felt it could become comical. A lot of people with Tourette's Syndrome... people laugh at them.
In the US, a lot of people suffering from this have become stand-up comedians. They don't mind people laughing at them, but pay for it! They have made a career out of it.
I can't do that in films. I can't make Naina Mathur a stand-up comedian.
So it has to be done in a sensitive way. Even if they begin with laughs, they should change and feel empathetic towards people who have this.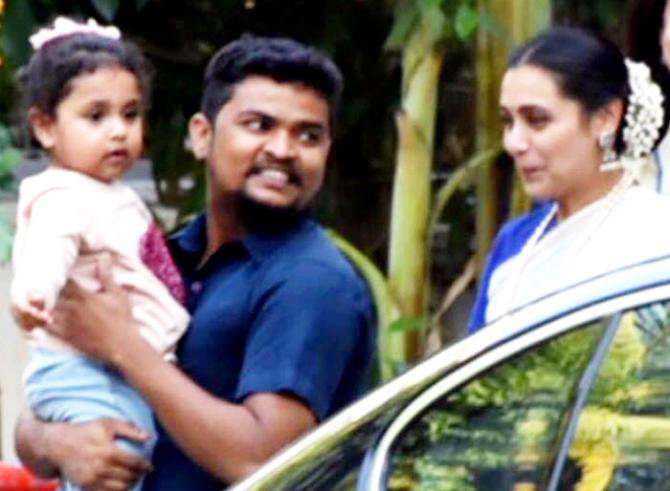 IMAGE: Rani with her daughter Adira. Photograph: Pradeep Bandekar
How do you balance work and family life?
When I was shooting for the film, I used to go early in the morning.
I used to finish five, six hours of work and return before her lunch time, so that she doesn't miss me too much.
When a baby wakes up, she has her whole routine.
I used to make sure that before she missed me, I should be back.
Now, slowly, I've started telling her that I'm going for shooting.
Yesterday, when I returned from my promotions, she asked, 'Mumma, aap shooting pe gaye the? Make-up nikal diya?'
I said, yes.
She understands because when she sees me without make-up, she realises I'm completely (different).
When she sees these things (make-up) happening, she'll be like 'Yeh kya hai, mumma?' Then I have to explain that this is make-up.
She's very happy when I remove my make-up.
Both her father and she have this complaint that I should never be in make-up.
When I come home, the first thing my husband says is, 'Go, remove your make-up.'
Will Aditya Chopra ever direct you?
Usko bola na!
You will be 40 on March 21.
It's an amazing age to step into.
When we were young, we used to feel life is over at 40.
Now, life starts at 40. Especially for me, because I have just given birth to my daughter, so my life is just beginning.
My new career is beginning, so I am like a newcomer in this profession and raring to go.