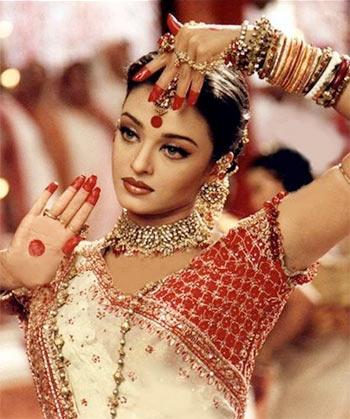 Go ahead. Pick a favourite!
Opulence is Sanjay Leela Bhansali's middle name.
Pick any movie of his and you'll witness it in abundance.
So enormous is this obsession that the filmmaker will go to the extent of altering the reality of his source to fit in his vision.
Like in Sarat Chandra Chattopadhyay's Devdas, Paro and Chandramukhi, played by Aishwarya Rai Bachchan and Madhuri Dixit, never even meet, forget dance together. But in Bhansali's adaptation, they have a heart-to-heart and break into the elaborate duet Dola Re on the occasion of Durga Pooja.
Similarly, in his latest magnum opus, Bajirao Mastani chronicling the life and romance of 18th century Maratha Peshwa and his ladyloves, both his wives Kashibai and Mastani, essayed by Priyanka Chopra and Deepika Padukone respectively, celebrate the latter slipping into traditional Nauvari attire in Pinga.
Purists frowned at his audacity during Dola Re and are up in arms at his culture distortion in Pinga.
Creative liberties aside, there's no denying the entertainment value of both songs unrolling a dance off between a pair of beauties. And how they invite obvious comparison with one another.
So here's one. Go on and pick your favourite.
Choreography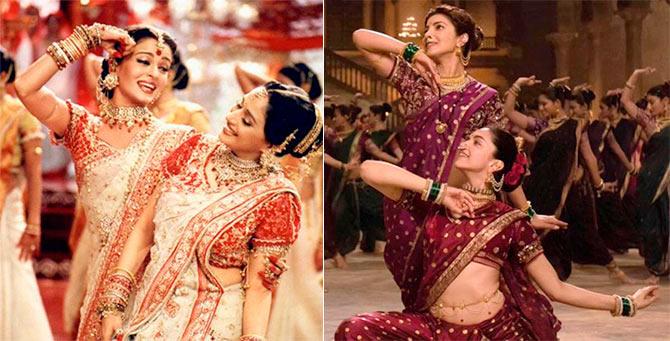 Dola Re: Two of the best dancers in the business -- Madhuri and Aishwarya -- burn the dance floor with sheer gorgeousness and vibrant rhythms under Saroj Khan's keen guidance.
The veteran dance director shared how she explored a dance form called nautwary, which incorporates steps from Kathak and Bharatnatyam to lend the steps a highly classical quality.
Dola re fetched her over a dozen trophies for Best Choreography.
Pinga: Best known for his western style, Remo D'Souza aims to change his game in Pinga. And to achieve the same he took tips from Bhansali's Maharashtrian cook and watching tons of Marathi folk dance videos.
The lively Pinga lifts generous chunks of Lavani moves, something that hasn't gone down well with culture pedants.
And while Priyanka and Deepika are in complete live wire mode, D'Souza is modest enough to admit his creativity cannot be compared to the vast experience of Saroj Khan.
Whose choreography does it for you?

Grace
Dola Re: When Madhuri's elegance meets Ash's radiance, the frames lit up with magic. But it's the control they exercise to their energy that makes for a rare, effective, collective grace.
Pinga: Tall and pretty, nimble and nifty, Priyanka and Deepika are a wild mix of saucy and serene. The overall sexiness in their midriff-baring aura overpowers everything else.
In the battle of classic versus hot, the winner is?

Chemistry

Dola Re: The narrative of Devdas, even if dramatically remodeled, comes alive in the heartfelt interactions of Madhuri and Ash when they come together in their devotion for the same man. In the brief duration of the song, they construct a rapport so ardent, it's easy for the audience to buy into the implausibility.
Pinga: The bonding in Pinga isn't all that defined but DP and PC's personal chemistry is so potent, it easily conveys the complicated but genuine camaraderie of their bittersweet equation on its own.
One's commitment or the other's charm, your vote goes to?

Costumes
Dola Re: Cream and white pujo saris in their most glamorous, sequined avatars are an instant success on the beautiful Madhuri-Ash combo.
Pinga: Gold motifs on a purple pink and plum red nauvari, draped sensually around PC and DP's slender waist with embellished velvet blouses to match are exquisite but lack the drama of Bhansali's most beloved hue -- red.
Maangteeka or naths, you prefer?

Star power
Dola Re: When two of Bollywood's most popular heroines come together, it's a big deal. When Madhuri and Aishwarya come together on any platform, it's a big deal. But a dance off just took the casting coup to another level.
Pinga: Let's admit it, there's no novelty about this pairing. We've seen them hobnob at social events, giggle and gossip on Koffee With Karan. No fireworks, no issues, no politics, no wow factor. Except they're both exceptionally attractive and trying to make their mark outside the Indian film industry.
So tell us Mad-Ash or Pee-Cee-Dee?

Sets

Dola Re: Bright, bold chandeliers, sheer red drapes, grand pillars, a room filled with splendor, gulaal and shakti.
Pinga: Dim, dark and mysterious, looming palace walls all around and a force of incandescent lamps at work.
Take your pick between spectacle and sublime.

Synchronization
Dola Re: Between Madhuri's rhythm and Aishwarya's exuberance, it's hard to tell who's better. And that's Dola Re's greatest triumph. Both the girls are in perfect harmony realizing the significance of their contribution as a team over individual.
Pinga: Whatever the debate about its authenticity may be, no one can argue how effortless and electric Priyanka is in Pinga. There's no denying Deepika Padukone's solid presence but her approach is more technical than spontaneous.


So for the final time, you guys, Dola Re or Pinga?