'The chowkidar and the paanwala have seen Mirzapur.'
'They may have missed Delhi Crime, but they have seen Mirzapur'.
'Sometimes I feel I have done so much work, why do people know me only by this role?'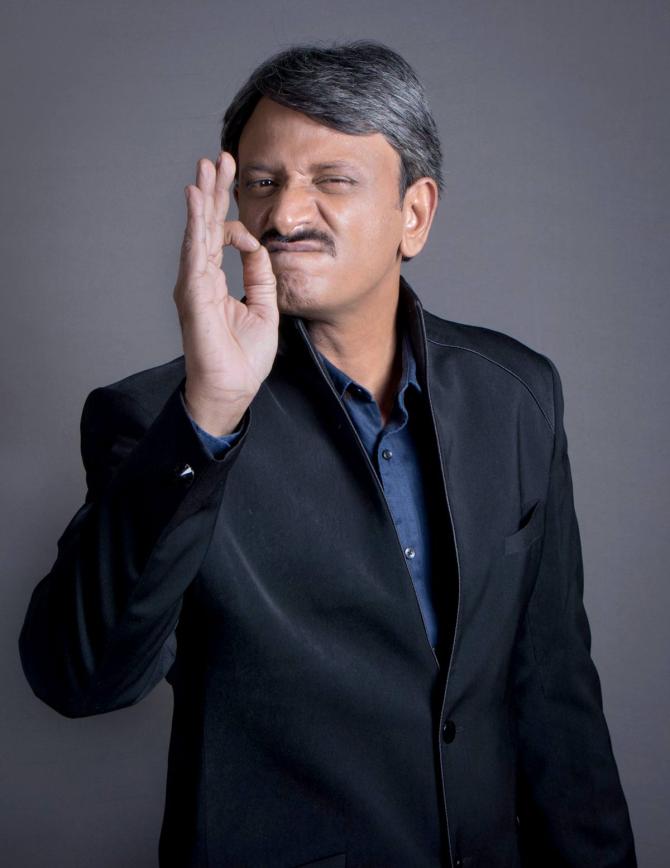 "I told my colleagues that since we got nominated, we had a good chance of winning the Emmy," Rajesh Tailang says, referring to the Web series Delhi Crime winning the top Emmy for Best Drama Series.
The actor, who started his career with the trend-setting television serial Shanti in 1995, owes a lot to Delhi Crime Director Richie Mehta even before this Web series came along.
The OTT platform has also given Tailang a boost in his career, as he is seen in such shows like Selection Day, Bandish Bandits and Mirzapur,
But as he tells Patcy N/Rediff.com, "I still have to get one more boost in my career."
What was going in your mind when you were shooting for Delhi Crime since the series is based on the horrific Nirbhaiya case?
We shot it in 2018, six years after the incident took place. Still, it's fresh in our minds even today.
It's a reminder that something like this should never happen.
That was one of the reasons why we came together for Delhi Crime.
Everyone in the country was enraged about the incident, so automatically the approach was different.
You have a long association with Delhi Crime Director Richie Mehta.
I worked on Richie's first film, a short film called Amal.
Seema Biswas introduced me to him in 2007.
I had a very small role in Amal.
Since it was a bilingual film, my job was to write the Hindi dialogues. I was also the accent coach for the main lead, Rupinder Nagra.
At that time, I was teaching at the National School of Drama, that's how I came across Richie.
In 2011, Richie approached me for Siddharth in which I played the lead role. I wrote the dialogues too.
After that, he made an episode called India In A Day for Ridley Scott's series Life In A Day. I was a part of that too.
I have worked in all of Richie's projects.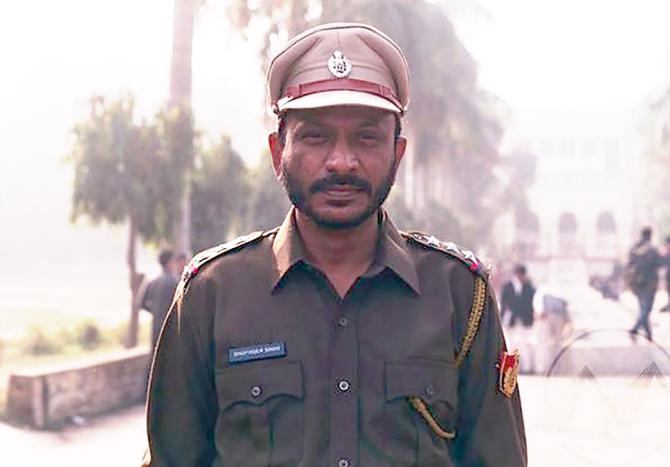 Tell us about yourself.
I come from Bikaner.
After my graduation, I went to Delhi to join the National School of Drama.
My family is full of musicians. My grandfather was a tabla player and a Dhrupad singer.
All my uncles play the sitar. One of my uncles was a disciple of Ali Akbar Khan.
My cousins play the sitar.
My brother -- the late Sudhir Tailang -- was a cartoonist.
I started doing theatre when I was 12.
When I was 14, I attended NSD's children workshop. That's when I came to know about a post-graduation course at NSD.
Annup Sonii and Adil Hussain were my batchmates.
Within a year of passing out, I came to Mumbai.
I auditioned for the television series Shanti in Delhi and got selected.
My second audition was in Mumbai.
One of my classmates was from Mumbai, so I stayed with him initially.
Then I rented a place with Annup Sonii.
I did not have to struggle for stay and food.
But there was always a struggle for good work. It is still there.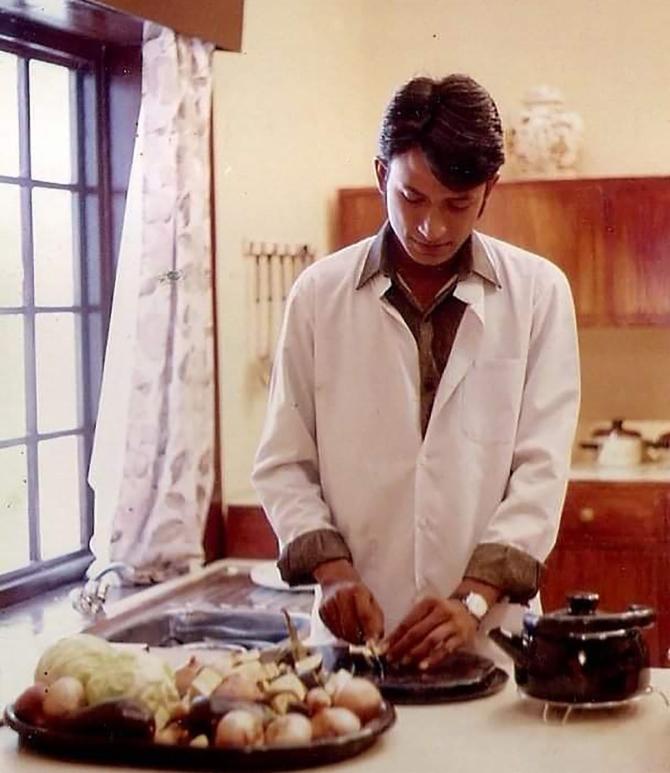 How much has Mandira Bedi, who led the cast in Shanti, changed through these years?
There is a tremendous change.
She was very young when she started.
If I remember correctly, she was not interested in acting.
She did Mass Communication and was assisting Prahlad Kakkar in his ad films.
We used to rehearse together because it was a three camera set-up and we had to shoot the entire scene in one go. There were no cuts.
Mandira did a good job in Shanti.
I met her four years ago. She has changed not just physically, but as an actress too.
Your first film was Govind Nihalani's Hazar Chaurasi Ki Maa.
I worked with Govind Nihalani in all the three Hindi films that he made: Hazar Chaurasi Ki Maa, Takshak and Dev.
In Hazar Chaurasi Ki Maa, I played a 60-year-old man at the age of 26.
I was apprehensive but he convinced me. Then I thought I should do it because that was my job as an actor.
A lot of people stopped me from playing a 60 year old, but I wanted to work with him and did not want to lose the opportunity.
My second film was Hansal Mehta's Jayate. It was his first film as director and it never released.
We worked again in Omerta.
Does it upset you when a film does not release?
Not really.
There are a couple of movies like that. Some were stalled in between, some never released.
It is part and parcel of the job.
I don't get upset with such things.
As an actor, I feel I should do my job and move on.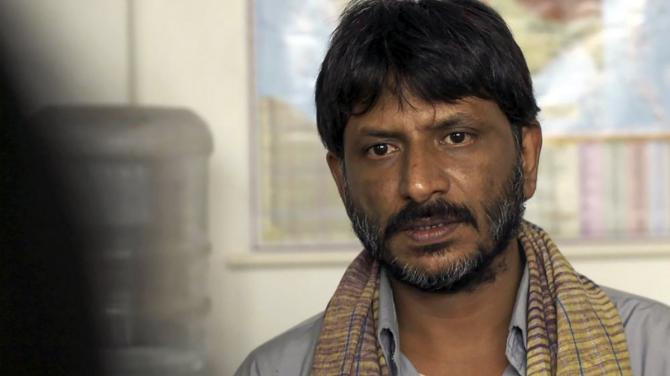 But you returned to Delhi.
I was doing theatre in Mumbai and Pune in between my film and television work.
I moved to Delhi and started doing theatre actively and teaching at the National School of Drama.
The reason why I moved back was that I did not want to do serials.
By then, the type of serials that were made had changed. It was the post Balaji phase and there was no place for actors like me.
Before the Balaji phase, that is before 1997, there was a lot of work done on classics like Ek Kahani, Swaraj, Bharat Ek Khoj... so many shows based on literary works like Ghalib and Rabindranath Tagore's stories.
That scenario changed post Balaji.
It was more about saas-bahu and for younger people.
I couldn't fit in that kind of television.
There were no good roles for me and in films, I was not getting good roles.
I thought that if I love acting, I can do it in any medium.
So I returned to Delhi and started doing theatre.
Then Richie reinvented me.
Siddharth was the turning point of my career. I played the lead role and also wrote the dialogues.
After that, things were not smooth, but at least I started getting good roles.
Before that, whatever roles I got in films were just three or four scenes and I didn't want to do that.
After Siddharth, I played significant characters in Umrika, Second Best Exotic Marigold Hotel, Phantom, Omerta...
But the boost in my career is because of the OTT platform.
I have done series like Mirzapur, Crackdown, Bandish Bandits, Selection Day, Delhi Crime...
Is it difficult to survive in film industry because of its uncertainty?
It is not easy, but it's better now.
When I started, the situation was really bad.
It has improved for the younger artistes.
There are more opportunities now.
Even if they can't make a name, they can survive. There is that much work now.
There are so many channels and OTT platforms.
When I started, there were only two channels -- Doordarshan and Zee TV.
Besides commercial films, there are independent films and short films. So many people get work on YouTube.
You have worked with actors like Naseeruddin Shah, Amitabh Bachchan, Om Puri, Aamir Khan, Saif Ali Khan and Hrithik Roshan.
Naseer sir was my teacher in NSD, I have learnt under him.
I have worked with him in three-four projects.
Every time I talk to him, it is a learning experience. Talking to him is like solving a puzzle.
Whatever knowledge I have developed about acting, the credit goes to Naseer sir.
I have been a huge fan of Bachchansaab.
I worked with him in Dev.
I did not have much interaction with him, but I did have scenes with him.
I watched and learned from him.
Like Naseer sir, he explains a lots of things even when you are shooting.
Bachchansaab's discipline, the way he approaches work, the way he is with people, how he behaves on sets... these are lessons.
Aamir Khan is a perfectionist.
He is so meticulous about his work.
You have worked with directors like Govind Nihalani, Anurag Kashyap, Hansal Mehta and Kabir Khan.
I started my career with Govindji. He is like my mentor.
There is one more benefit of working with him -- he is a cameraman too.
So he directs and does cinematography at the same time.
You get to learn a lot from him.
In fact, he teaches you on the sets -- he has that teaching quality. He will tell you the small nuances, the techniques.
He treats his actors well.
He keeps the environment on sets calm.
Hansal sir gives a lot of freedom to his actors.
He handles his actors gently.
He tells you the gist of the scenes and leaves the details to the actor.
Anurag Kashyap and I have known each other since the days we were both struggling. We stayed on the same floor in Mumbai.
He used to live with his then wife Aarti Bajaj and Annup Sonii and I stayed in another flat. So he is more like a friend.
Anurag also gives you a lot of freedom. He allows you to improvise because he is a writer and actor.
Being a writer, he solves your problem easily and creates a lot of the scenes on the sets.
Kabir Khan is a master of the art of direction. He has a good combination of technique and aesthetic.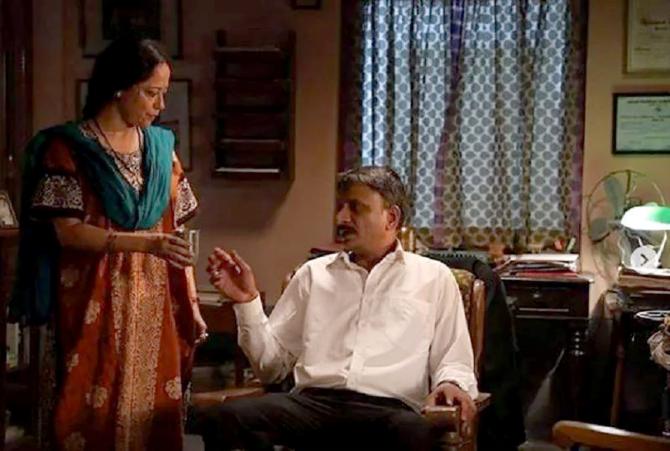 You are better known as Panditji now after the hugely successful Mirzapur series.
Yes, it's true that people recognise me as Panditji now.
Very few talk to me about Delhi Crime or Selection Day or any other work of mine.
Mirzapur was a hit and its reach is wider.
My chowkidar and the paanwala near my house have seen Mirzapur . They may have missed Delhi Crime, but they have seen Mirzapur.
Sometimes I feel I have done so much work, why do people know me only by this role?
But then every appreciation is good.
Ramakant Pandit is an honest and law-abiding person. It's a difficult character to portray because it looks simple. It can become boring easily.
If there is a negative or comedy trait in a character, it's easier to make it interesting. But to make a simple character likeable is challenging.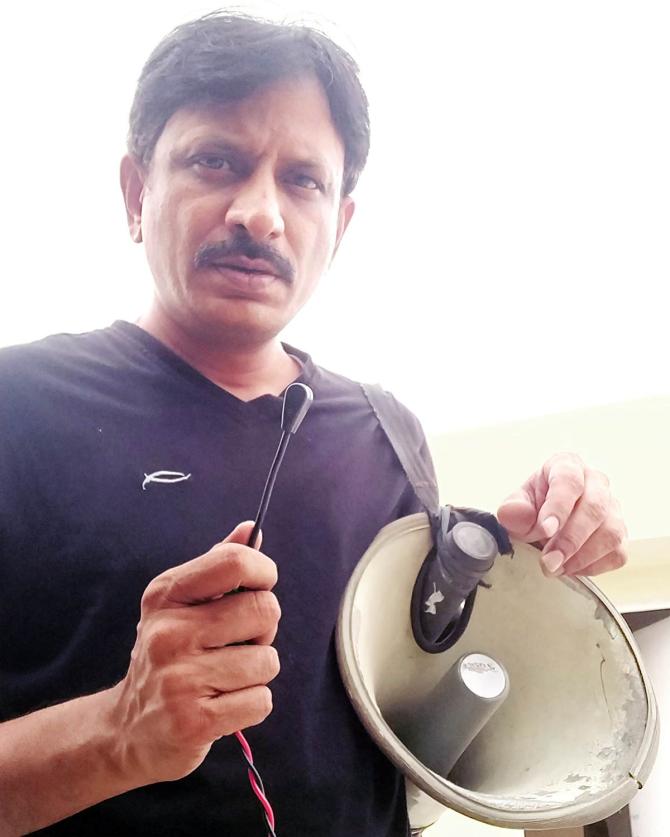 Are you happy with the roles are offered to you now?
I think there is lot more to do still.
I still have to get one more boost in my career.
You write and direct plays. Are you interested in direction?
I have directed television documentaries and short films.
I will definitely direct a feature film in my life.
Tell us about your show on YouTube's Theatre Talkies called Chand Pe Chai...
Yes, it's where I read my poems and ask other poets to read their poetry.
As a child, I used to write a diary for almost 10 years.
I used to express myself, and that's when I fell in love with poetry.
In January, my collection of poems will be published. That's also called Chand Pe Chai.
What next?
My next film Pagglait directed by Umesh Bisht and starring Sanya Malhotra and Sayani Gupta is ready.
I am also working on Mirzapur 3 and Bandish Bandits 2.