Congratulations, Deep-Veer!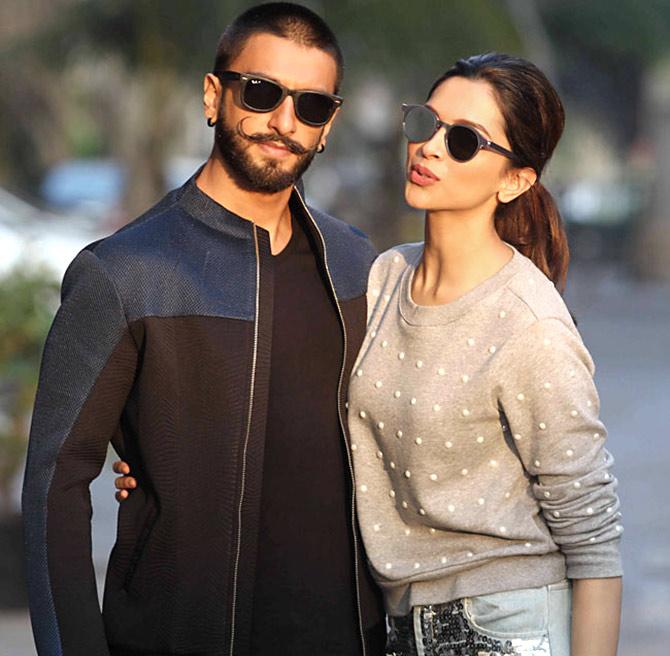 As you read this, Deepika Padukone and Ranveer Singh are now wife and husband.
They wed according to Chitrapur Saraswat Brahmin -- the community Dippy hails from -- tradition on the morning of November 14, amid close friends and family.
The morning after, the couple is reportedly getting married according to Sikh tradition, the Anand Karaj ceremony.
The wedding festivities are being conducted at the Villa del Balbianello, which overlooks Lake Como, in the same Italian neighbourhood as George Clooney's villa.
There are no pictures yet and folks are getting impatient back home.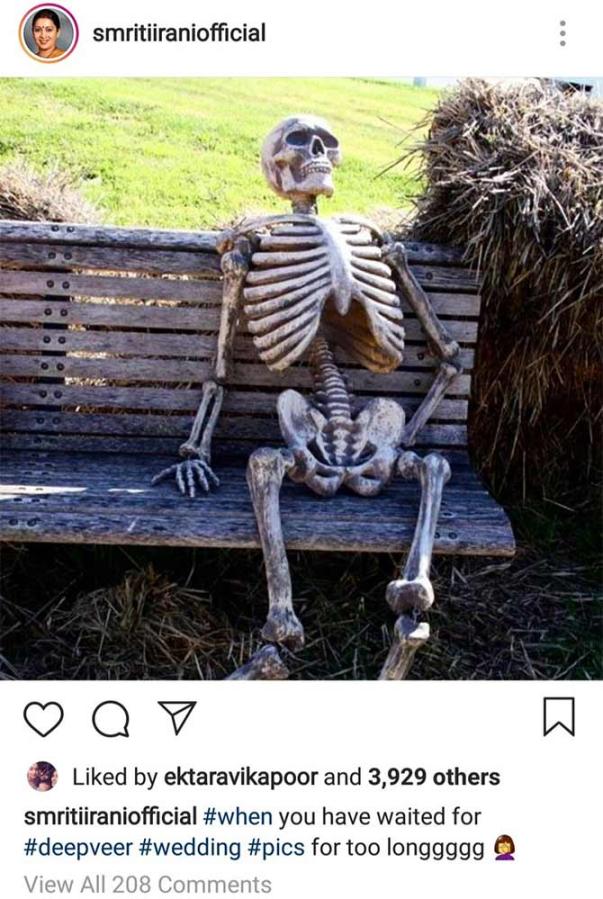 Smriti Irani -- former television star and now a Cabinet minister -- captured the sentiment perfectly with her Instagram post.
Congratulatory messages are pouring in from Bollywood:
Karan Johar, who is also eagerly awaiting pictures, tweeted, 'Such a stunning gorgeous and beautiful couple!!!! Nazar utar lo! @deepikapadukone and @RanveerOfficial!! Badhai ho !!! Love you both!!! Here's to a lifetime of love and joy!'
Nimrat Kaur tweeted, 'Huge congratulations!! Here's to the blissful ever after of every step you walk together'.
Kubbra Sait posted, 'Happiest day of the happy days to come in your lives @deepikapadukone and @RanveerOfficial may your smiles light your lives all along the way. Bless!
Simi Garewal wrote, 'Dearest @RanveerOfficial & @deepikapadukone .. as you embark on a journey of life together.. sending you oh! countless fab wishes! Have fun each day -- love more -- and make happiness together! Ranveer you can't ask for more - the princess is yours!!'
Madhuri Dixit blessed them with, 'Wishing you guys a lifetime of togetherness, love and happiness. May this be the best chapter of your life. Make the most of it. God bless!'
Riteish Deshmukh tweeted, 'Heartiest Congratulations to the newlyweds. wishing you both a happy married life. It's blissful to see love culminate into marriage. Loads of love & big hug to you guys'.
Ronit Roy posted, 'CONGRATULATIONS!!!!! Good wishes and prayers for a life together filled with love luck and happiness.......and lots of babies!!!'
Urvashi Rautela tweeted, 'Congratulations Deepika Padukone and Ranveer Singh on tying the knot. May God bless both of you with a long and happy married life'.
Kapil Sharma, who is getting married on December 12, wished the couple, 'Heartiest congratulations dearest @RanveerOfficial n @deepikapadukone on ur wedding. The most beautiful couple of this world. May god bless u with all the happiness n love. Love u both'.
Vivek Anand Oberoi wished the newly wedded couple and tweeted, 'Many congratulations to @deepikapadukone & @RanveerOfficial! Wishing you both an amazing life full of love and happiness. Both of you look so wonderful together. May you love happily ever after!'
Preity Zinta also took to Twitter to write, 'Congratulations @RanveerOfficial & @deepikapadukone on your new life together. Welcome to the married club. Wish you both loads of love, laughter, togetherness & happiness always'
Singer Mika Singh tweeted, 'Congratulations to bro @RanveerOfficial and @deepikapadukone bhaabi.. wishing you both a happy married life'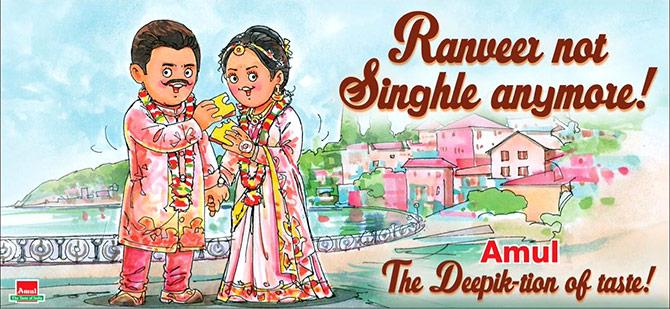 Amul sent its congratulations as well, with its signature witty message.
Do send in your congratulatory messages to the newlyweds in the message board below!