Darbar's music, the direction, sets, props, the rest of the cast are all there with one single purpose: To make Rajinikanth look like the superstar he already is, says A Ganesh Nadar.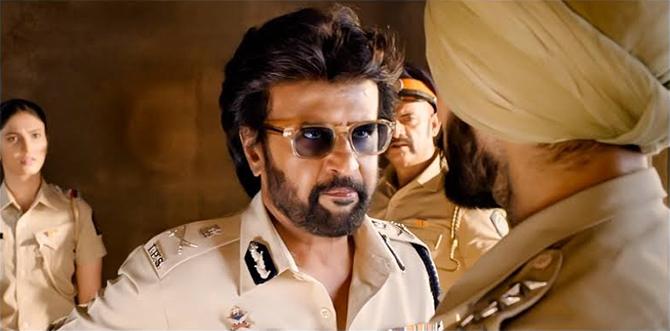 I was surprised to see the Darbar trailer drop on Twitter. The last time Lyca Pictures produced a Rajinikanth movie, the trailer was launched in a packed theatre.
They had flown in journalists from Mumbai and housed them in a five-star hotel before flying them back the same day.
A R Rahman, Akshay Kumar were there and Rajinikanth had sat through five hours of the programme. The theatre had been packed with media and fans.
That movie had Akshay Kumar as villain and this time around it is Sunil Shetty. He had played a villain in Main Hoon Na and when I had then asked him how it felt to play a villain, he had replied, "It's a big movie, it's a Shah Rukh Khan movie, I was happy to play the villain".
If he was happy that time, this time around he must be ecstatic because the hero is the only true MegaSuperstar India has -- Rajinikanth, who turned 69 four days before the trailer release.
In the first scene of the trailer, his walk is from Basha, then the sword fight is from Petta, both popular Rajini movies.
Then his name is Arunachalam, a titular character he has played before. Also, the name of his personal deity is Arunachalam; he has also played the saint in another movie of the same name.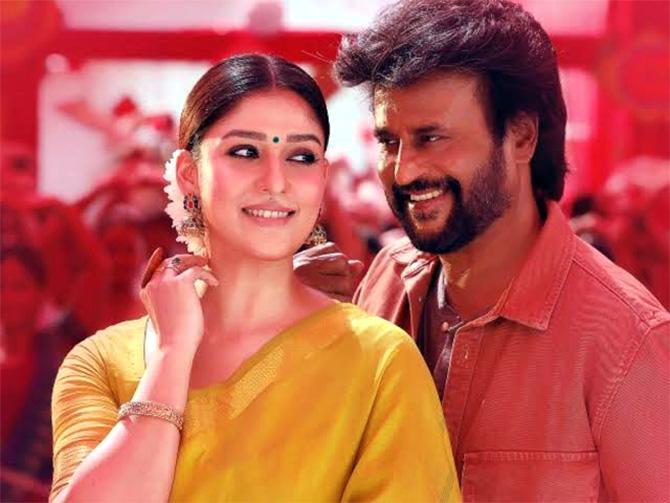 Nayanthara does what she does best, look beautiful. Rajinikanth's heroines normally don't have to do more than that. The exception was Jyotika as and in Chandramukhi who had outshone the superstar in that particular movie. And credit to him that he allowed her to do so.
Even in Thalapathy, Rajinikanth told Mani Ratnam the director that he had to make Mammootty's role very powerful, only then would his Thalapathy have any meaning.
Rajinikanth is very sure about himself and is never bothered about whether his co-stars will outshine him, he knows it is simply not possible -- at least not in movie-crazy Tamil Nadu.
Before the release of every movie he always promises to come into politics, and he has done it again this time. After the movie does well, he normally retires to the Himalayas -- and we can expect him to do that again.
What is special about Petta is again repeated here -- Rajinikanth seems to age backwards, he gets younger with every movie. Maybe that is part of his superstardom mystique.
The music, the direction, sets, the props, the rest of the cast are all there with one single purpose: To make Rajinikant look like the superstar he already is.
Here we are told he is a super cop, that too the police commissioner of Mumbai. His most successful movie Basha was also set in Mumbai as well as the recent Kaala where we had Nana Patekar as the villain.
Akshay Kumar, Nana Patekar and now Sunil Shetty -- looks like Kollywood has run out of villains to match his stature.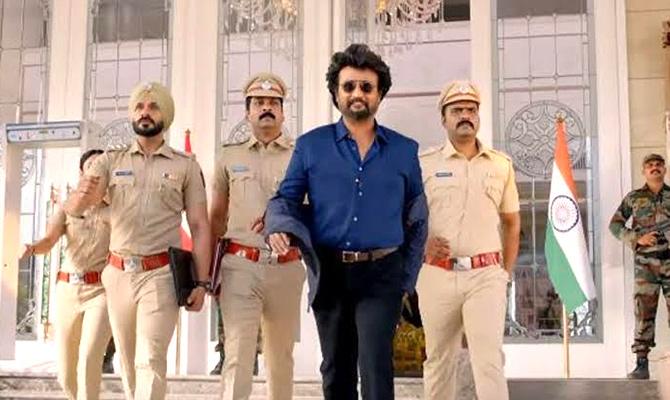 Anirudh's music is foot tapping and made for Rajinikanth to dance which he does with enthusiasm.
The action again as usual is full of extremes with the superstar beating up 'N' number of villains and shooting them without even bothering to look in their direction.
Sunil Shetty tries his dialogue delivery with "Mumbai cops are cowards, they fear for their lives", but is no match for the man who makes 'punch dialogues" a way of life.
Apart from Nayanthara, there is Nivetha Thomas who plays his daughter.
In Kabali, the girl who played Rajinikanth's daughter Yogi became so famous that she later acted in a movie titled Yogi. Just as Sai Dhanshika played Yogi very successfully, let's see if Nivetha can live up to those standards.
Yogi Babu is the comedian in this movie, but nowhere visible in the trailer.
The direction by A R Murugadoss looks as slick as usual. He has also written the movie keeping Rajinikanth in mind all the way.
He had freely borrowed from the characters of Rajinikanth's past movies. The trailer ends with the star saying 'Idhu eppadi irukku? (how's this?)' straight from his famous character Parattai in the movie 16 Vayadhiniley also starring Sridevi and Kamal Hassan. Rajinikanth was the villain in that movie.
Various scenes show him speaking in Telugu, so we guess the film is also releasing in that language. And for the Mumbai audience, he adds 'I am a bad cop' in English. Idhu eppadi irukku?
---
A Ganesh Nadar is based in Chennai and the author of two books. He can be contacted at ganesha@rediff.co.in