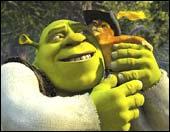 Shrek, Donkey and Princess Fiona set out on a whirlwind of adventure with more fairytale favourites to lampoon than in the first Shrek film. They also offer interesting life lessons about self-acceptance and the possibility of making one's own destiny.
In 2001, Shrek became an international hit, earning over $1 billion in theatres and DVD sales. It also bagged the first Oscar for an animated film.
In 2004, Shrek 2 will march into over 3,500 theatres in North America on May 19.
The animation flick, which cost about $80 million, follows big-budgeted releases like Van Helsing ($150 million approximately) and Troy ($180 million).
Hollywood, however, expects Shrek 2 to have a bigger opening. Anything short of $75 million in five days will be a disappointment.
Production company DreamWorks, which has gone without a solid hit for over a year, has its hopes pinned on Shrek 2.
Interestingly, California-based Vanitha Rangaraju-Ramanan served as one of its lead lighting directors.
"It is fabulous entertainment," says Rangaraju-Ramanan, adding that unlike conventional animated films, Shrek 2 offers many delightful subversive elements. The film also doesn't accept the conventional they-happily-lived-thereafter idea.
"Working on both these films has given me tremendous job satisfaction," she adds.
In Shrek 2, the green ogre faces his greatest challenge: meeting the in-laws. Previously, we saw him battle a fire-breathing dragon and the evil Lord Farquaad to win Princess Fiona's hand.
After Shrek and Fiona return from their honeymoon to visit Fiona's parents, the king and queen of the Kingdom of Far Far Away, they face new problems. Donkey accompanies the duo on this adventure too.
Predictably, Fiona's parents are shocked to see their son-in-law. Shrek and Fiona also realise that their union has upset her father's plans. Now the king enlists a powerful Fairy Godmother, the dashing Prince Charming, and ogre-killer Puss In Boots to achieve his version of happily-ever-after.
The main reason for Shrek's popularity was the combination of lively voices and great animation. In the sequel, we have familiar voices from the previous film: Mike Myers as Shrek, Eddie Murphy as Donkey, and Cameron Diaz as Princess Fiona.
Joining them is Oscar-winner Julie Andrews and Oscar nominee John Cleese as Fiona's royal parents, Queen Lillian and King Harold; Antonio Banderas as Puss In Boots, Rupert Everett as Prince Charming, and Jennifer Saunders as the Fairy Godmother.
"Mike is Shrek. I can't separate the two. Mike steps into the character and it just comes out of him," says Andrew Adamson, one of the Shrek 2 directors. "Beyond his being an extraordinary actor, he is a wonderful filmmaker and storyteller, so he thinks and acts on that level, too. He knows his character as well as or better than any of us, so he was able to offer ideas that more often than not made the scene even better. It was a wonderful collaboration."
"I have had a great experience being the voice of Shrek," says Myers, whose Austin Powers series has grossed nearly $700 million worldwide. "It's funny and well-written, which is great for me as an actor. But it's also very gratifying to me personally. Families come up to me and tell me how grateful they are that Shrek exists in the world because of the message of self-acceptance. The message of Shrek 2 is that you can make your own happily ever after."
Eddie Murphy as Donkey who drives Shrek and Fiona to distraction with his incessant "Are we there yet?" considers his work in Shrek 2 to be one of his best achievements. "Unbeknownst to Donkey, he has become the third wheel, but he hasn't figured that out because he's a jackass," says Murphy in the film's production notes. "Shrek and Fiona love him, but you've got to pick your moments, you know? A time comes when ogres need some alone time. But Donkey is such an optimist; he's always looking at the bright side of everything. He's thinking, 'This is all good. It's all worked out and we are together at last.' He is a happy-go-lucky Donkey. I wouldn't have it any other way."
In Shrek 2, Donkey is called an "annoying talking animal" by the fashionable Puss In Boots. The traditional story of Puss In Boots depicts him as a clever and fearless ogre-killer, which would make him a formidable adversary to Shrek. But fate turns the tables on Puss and he decides to join Shrek and a very reluctant Donkey.
Initially, the filmmakers thought of developing Puss In Boots as an 'English type', but soon realised it would be too conventional. So it was decided that he should be Latin. Only one name came to their minds. "We pictured him as Zorro embodied in a cat. From that moment on, Puss In Boots was Antonio Banderas," says Adamson.
Banderas relished playing Puss In Boots or, as Banderas calls him, El Gato con Botas, in Spanish.
"I have known this character since I was maybe three," he says, "but I never thought I would have the chance to play him. It was also great fun to have a little laugh at the expense of my Zorro character."
The initial conflict between Donkey and Puss is quite understandable, he feels. "Puss has a tremendous sense of honour and a very strong personality. His body, however, doesn't exactly correspond to how he presents himself to the world," he explains. "He's really an adorable little kitty cat. You just want to cuddle him. That contrast makes him very appealing to anybody, except Donkey."
Based on the book by William Steig, Shrek 2 is directed by Andrew Adamson, Kelly Asbury and Conrad Vernon from a story by Adamson.
Though Shrek was an instant worldwide hit, its sequel was not rushed into production for a good reason, insist its makers. "We wanted to do something very different by widening the scope," says producer Aaron Warner. "During the process, we were continually asking ourselves, 'Is this funny? Is it as heartfelt? Does it have as much to say as the first movie did'?"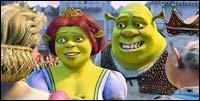 "I realised we had painted ourselves into a corner as far as your typical fairytale goes," says Adamson. "We would let Shrek and Fiona get married, presumably to live happily ever after. But that ended up creating a whole new story angle for us. I started thinking about what happens after marriage, the idea being that you don't just marry your spouse, you marry their whole family."
Fiona's parents think she has married Prince Charming. Therein lay another important aspect of the story: Meeting expectations or rather not meeting them.
"We all know that Fiona was expecting to meet Prince Charming and live happily ever after," he continues. "Her parents were expecting the same thing, so her showing up with an ogre, as an ogre, is a pretty big shock."
The parents had locked her in a tower expecting a handsome prince to rescue her and break the curse that turned her into an ogre when the sun went down. Like it usually happens in fairytales, they expected everything to go as planned. But they hadn't counted on an ogre marrying her and breaking the curse in reverse. Now their daughter is an ogress day and night.
The concomitant suspense and conflicts only makes Shrek 2 thought-provoking entertainment, says Adamson.