'Meditation will keep you calm.'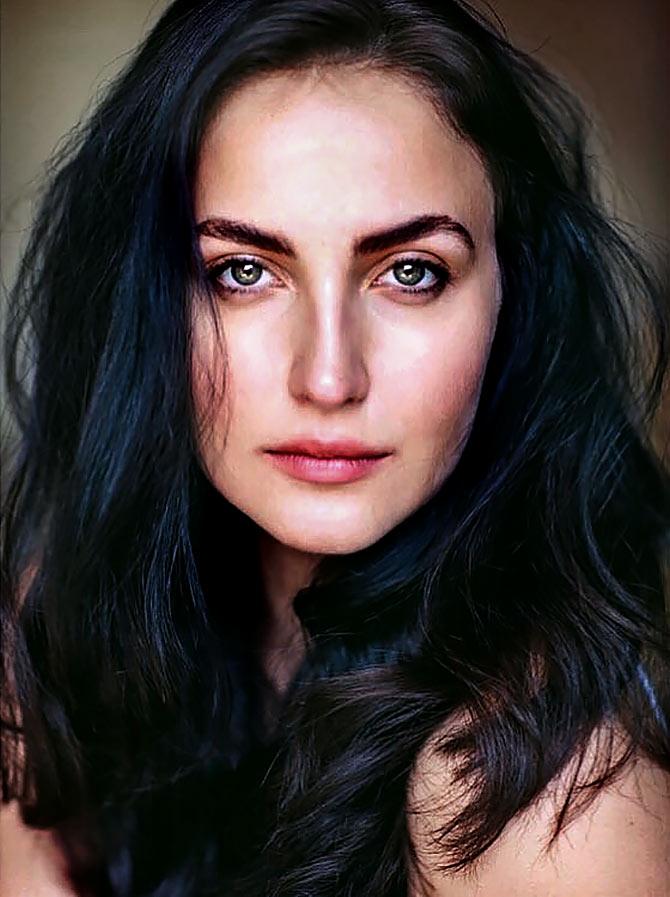 Elli AvrRam has been keeping fit during the national lockdown.
Her exercise is simple -- all you need is a wall!
The actress, who was last seen in Malang, tells Patcy N/ Rediff.com, "A lot of people don't have a big space and so don't know what kind of workout they can do. But there are a lot of super easy exercises that one can do to keep you fit."
How are you spending your time at home?
I am exploring my creative side.
I used to love to write and paint, but I did not have the time in the last few years. Now, I have started it again.
I have started cooking again because I love it!
I dance anyway, but now, I'm doing it more.
I made two gardens on my balcony and now, I am taking care of my plants.
I'm reading.
I'm playing with my baby cat, Charles.
I keep in touch with my family every day through WhatsApp or FaceTime.
I feel I have become more social these days because everyone is on pause.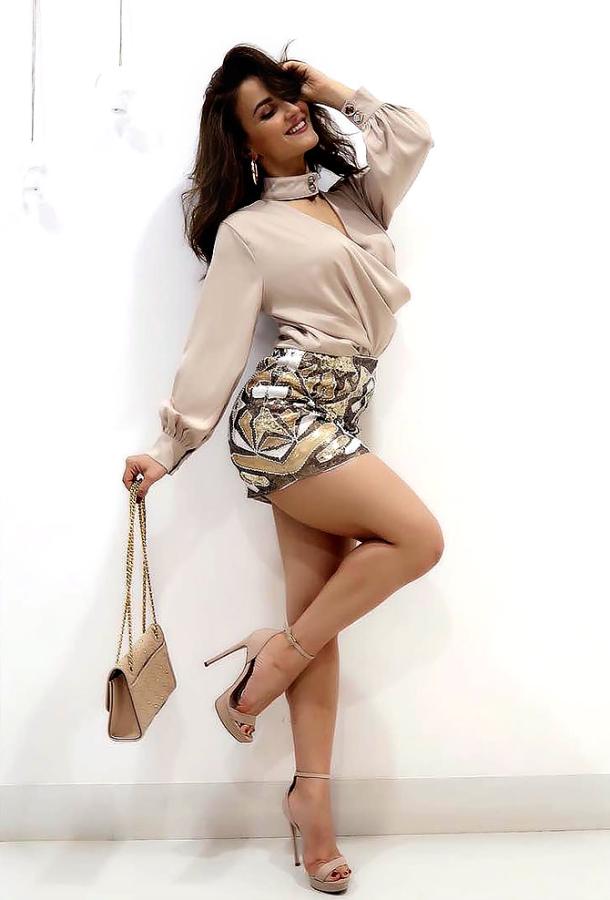 What have you been cooking?
I love Thai curry. I have been making green and yellow Thai curry.
I will not make red Thai curry because it's hot and spicy and I am trying to learn less spicy food.
I love aloo gobi.
I like the simplicity of dal chawal.
I love broccoli.
I turned vegetarian last June and am exploring this vegetarian phase.
I love avocados. I have made this amazing avocado dip.
What made you turn vegetarian?
I have been wanting to be vegetarian for the longest time because I believe we all should be.
Having said that, it's very difficult when you have been eating meat since childhood.
I have grown up eating non-veg in all three meals a day.
So whenever I've tried to turn vegetarian, it's been very tough.
My body would react and I would feel fragile. It's difficult for the body to adjust all of sudden.
But last year, it came to me naturally. It was my inner calling.
I started with meditation and started to connect more. My body started rejecting non-veg.
It started with eggs, I would feel pukish. I could not even swallow it; I had to spit it out.
I am very happy that it happened. It made it more easier for me to connect with nature and animals.
The best part about India is that it is so rich in sabzi. There are so many dishes you can make and all of them are delicious.
It became easier because there was so many options here that I did not crave for meat so much.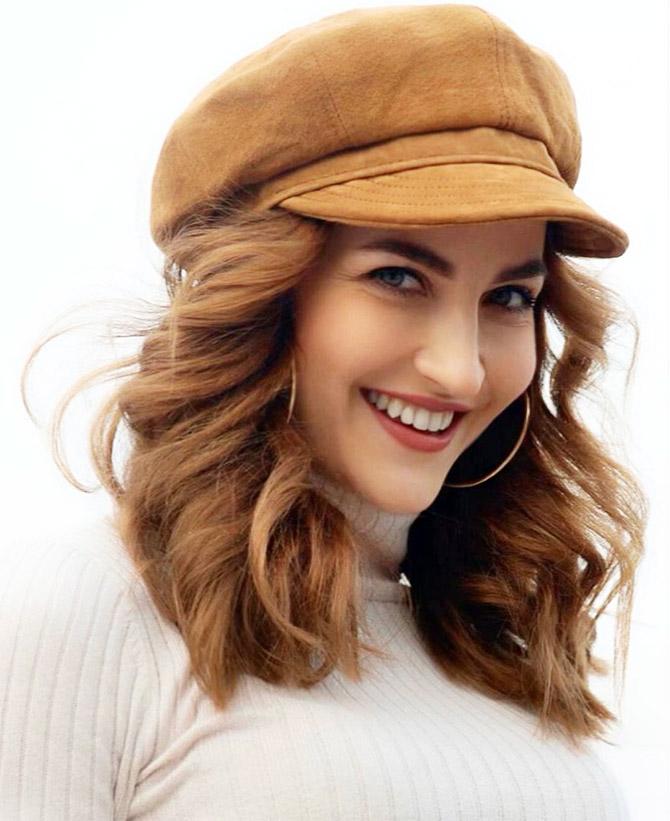 What do you miss most?
I miss my family.
I miss my staff.
I miss my work.
I miss my walks.
I miss stepping out and going to the gym.
What's the first thing you'd like to do after the lockdown?
I want to buy a piano because I'm craving to learn it.
The day they were going to deliver it home, they were told that they could not deliver anymore.
I want to go to a gym and practice mixed martial arts.
My family is not in the country, so I cannot immediately meet them unless I get blessed with a plane ticket and take off to Sweden.
I want to meet my family and just hug and kiss them.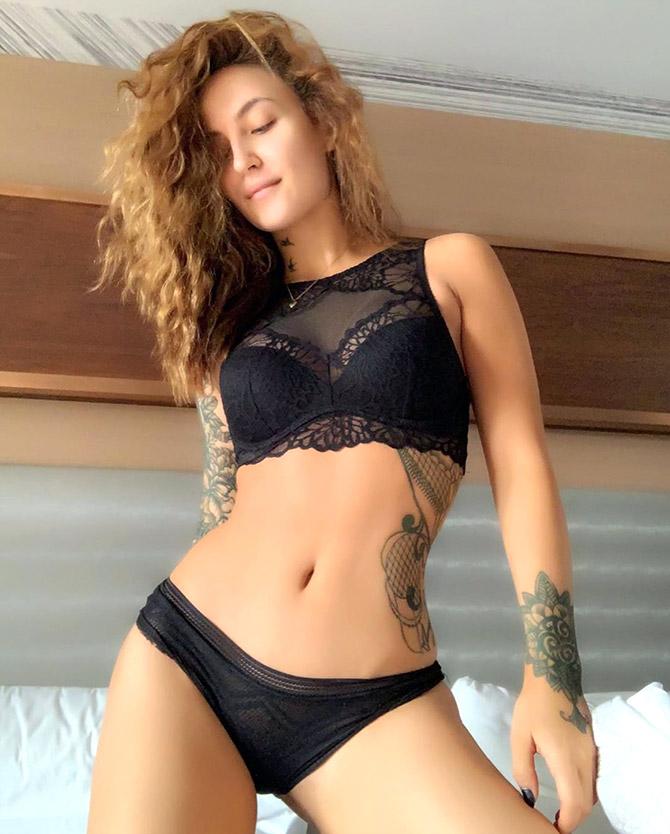 Can you give us some fitness tips for readers at home?
I have posted a video on Instagram. A lot of people don't have a big space and so don't know what kind of workout they can do.
But there are a lot of super easy exercises that one can do to keep you fit. All you need is a wall.
Watch the video to see how to do it:
You can do stretching, it opens up your body and removes blocked energy.
Sit ups and push ups are good too.
Try meditation.
The basic thing that you should think about is to keep your spine straight.
Try to sit for 10 minutes, or at least five.
Focus on your breath.
Close your eyes.
Focus on the third eye.
I'm promoting meditation because in situations like these, we go through a lot of stress, anxiety and depression.
Meditation will keep you calm.