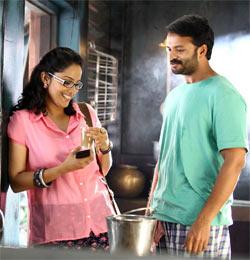 Actor Jayasurya, whose last two films – Philips & the Monkey Pen and Punyalan Agarbathis ­– were major hits, is back with Boban Samuel's Happy Journey.
The film releases today, Friday 21. Jayasurya plays a visually challenged youth with a positive attitude to life.
"Aaron (Jayasurya) lost his eyesight when he was young but his mother never let that affect his confidence. His efforts to get into the cricket team for the visually challenged is being narrated here," says director Boban Samuel, who has earlier directed Janapriyan and Romans.
Aparna Gopinath is Siya, to whom Aaron tells his story, during a journey.
Also in the cast are Lal, Lalu Alex, Lena, Edavela Babu and Sunil Sugatha.
Happy Journey is produced by Ashiq Usman under the banner of Milestone Cinemas.
Arun Lal has scripted the film. Mahesh Raj is the cinematographer and Gopi Sundar is the music director.