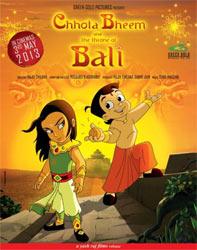 After watching Chhota Bheem on television, we can now watch our favourite animation character on the big screen, when the film Chhota Bheem and the Throne of Bali releases on May 3.

The film will follow the adventures of Chhota Bheem when he goes to Bali to attend the crowning ceremony of his friend, Prince Arjun.

Chhota Bheem, who seemed to have a good time in the Rediff office
recently, promises to show us a good time in his new film.
Now, you can win Chhota Bheem prizes.
All you have to do is answer this simple question:
Who captures the kingdom of Bali?