Chehre makes for an engrossing watch, applauds Joginder Tuteja.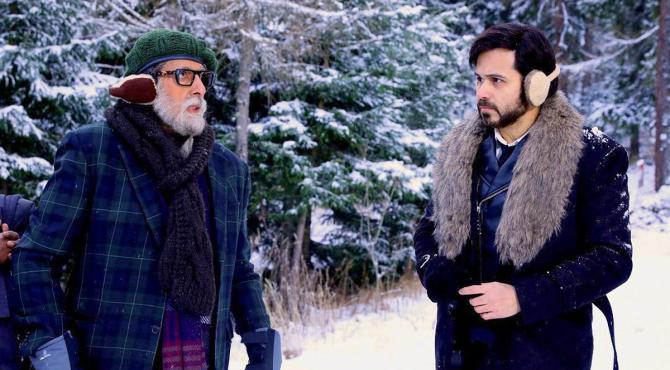 Is it good enough to deliver a judgment?
Or should there be indeed justice?
That's the core question asked in Chehre, which is truly a unique experience for the audience where they go through an alternate justice system that involves much more than a mock trial.
'Everyone in this world has committed a crime or two,' says a prominent cast member in the Rumy Jafry drama, and that's exactly what traps the youngest of the lot, Emraan Hashmi, who finds himself put on trial by a quartet of retired men at a secluded bungalow in the snowy peaks of Himachal Pradesh.
So we have Amitabh Bachchan as the public prosecutor, Annu Kapoor as the defence lawyer, Dhritiman Chatterjee as the judge and Raghubir Yadav as the grumpy old man who is much more than a silent spectator.
There is also Siddhanth Kapoor, who is the Man Friday for this quartet.
He is supported by Rhea Chakraborty, who is the 'higher secondary pass' housemaid with the kind of English speaking skills that instantly bring the inner Emraan Hashmi out of the now suave CEO of an ad agency, who has a few skeletons in his cupboard.
The manner in which the title rolls begin for Chehre, you are reminded of the intense monologue that Amitabh Bachchan had delivered in yet another intense thriller of his, Aankhen.
You are set up for the mood in the film.
Emraan is waylaid at a bungalow that has 'insaaf' and 'nyaay' screaming from the walls.
Here, 'insaaf ki devi' doesn't wear a blindfold but literally sees things, something that you realise is much more than just a metaphor as the film progresses.
It is good to see the manner in which Director Rumi Jaffrey goes about making Chehre a gripping affair with every scene building up, and preparing audience for something far more intense.
The quartet is fun to watch, especially the Big B and Annu Kapoor and though there is a mix of empathy and sarcasm on display, you know that Emraan will soon be taken for a ride.
The youngsters (Rhea and Siddhanth) do not contribute much beyond a point but it's nice to see Krystle D'Souza in a meaty part once the flashback begins. Her character arch, though predictable, is well etched out.
Emraan springs a pleasant surprise.
One would have expected him to get subdued in the proceedings considering the Big B's presence looms large and Annu Kapoor has a great part to play. But he only manages to keep a strong hold.
It is wonderful to see his cocky self all over again. The best is reserved for the middle portions when he begins to get an impression that something sinister is happening.
Amitabh Bachchan has a full fledged role despite being tagged in a 'friendly appearance' in the credit rolls.
His arguments and counter arguments are a treat to watch and the way he goes about trapping Emraan is done quite well.
He has a 12-minute monologue which, though impressive, is a few minutes too long.
It also goes off-tangent at a few places as some of the references made have nothing to do with the trial at hand and seem forced. However, the conclusion around judgment versus justice is done nicely.
The Anand Pandit production plays out well though the climax seems to be a little hasty and not quite conclusive.
Better written scenes here could have done the trick.
By and large, Chehre turns out to be a cerebral film that would be picked by those who loved Badla. Yes, the constant dialoguebaazi, especially at a single stage setting, may make a few people restless. But those who like to be mentally involved right through, Chehre makes for an engrossing watch.
Rediff Rating: