She was everyone's favourite to win the title of Bigg Boss. Ramp model Carol Gracias' cool composure and maturity was appreciated by her fans and housemates alike.
Last week, readers got a chance to chat with Carol, and ask her about her Bigg Boss experiences.
For those who missed the chat, here's the transcript.
Carol Gracias says, Hi all, how's everyone? 
---
Vaibhav asked, Congrats Carol for staying so long in the house... and competing well. How was the experience? Has the 90 days stay changed the way you look up to life nowadays?
Carol Gracias answers, Thank you, Vaibhav. Bigg Boss has been for me a school of life. It has made me have more patience and taught me the value of small things in life. 
---
Meena asked, You were smart but why was there so much of backbiting around in the house? You don't do it normally when you are staying at your own home, do you?
Carol Gracias answers, Hello Meena, It was not smartness on my part, but if you put people who you have never met even in a very basic situation, you will have people doing it. In your home, you don't always get along with everyone in your family. At some point you will fight with them and at the end of the day you know that they are good people and you do care about them.  
---
Raji asked, Hi.... how did u feel when you entered the real world after coming out of the Bigg Boss house?
Carol Gracias answers, Hi Raji, I was a bit disoriented, a bit scared and there was lot of nervous excitement to see my parents. 
---
Pawan asked, Congrats Carol You were simply superb and were consistent through out the show! So, what have you learnt from the show?
Carol Gracias answers, Thanks Pawan. Value of family and friends and lot of patience were a couple of things I learnt. Also, cooking and speaking Hindi and a lot about myself.  
---
Atul_Arora asked, Hi Carol, are you single ?
Carol Gracias answers, Yes Atul, I am.  
---
Manan asked, Hi Carol, albeit I was not viewing Bigg Boss regularly, I used to always watch it on Friday, the day of eviction and every time I was sure that you would have not been nominated for it. I was dead sure that you would win this competition. But unfortunately the masses wanted it otherwise. Anyways, my best wishes are with you for rest of your life.
Carol Gracias answers, Thanks Manan. That's sweet of you.  
---
Bigg Boss asked,  Hi Carol, zindagi zandwa phir bhi-- Complete the analogy.
Carol Gracias answers, ....Phir bhi gamandwa.  
---
Ashish asked, What do you intend to do after you are 35? Average models ramp age is that. Is it true?
Carol Gracias answers, Firstly, I am younger than 30. So, I still have many years to go, but already looking at other options and will let everyone know whenever I am ready. 
---
Avinash asked, Hi Carol. If you were given a chance to be a housemate in the next season, would you accept the invitation?
Carol Gracias answers, Hello Avinash. If it was for a couple of days, maybe. But I think I have learnt lessons for a lifetime.  
---
Natasha asked, Hi there! I'm a big fan of your's..You were the most mature person in Bigg Boss... I want to ask whom did you hate the most in Bigg Boss house?
Carol Gracias answers, Hate is too strong a word, Natasha. People have to make an enough impression on me to waste that kind of emotion on them. So there were people I was upset with at that given time, but now being out, I have no recollections of the bad times there. And I think that they were all very nice people.  
---
GK asked, Hi Carol! How do you react on the final result? I mean Rahul winning it? You think he is the right person to win it?
Carol Gracias answers, Yes GK. Rahul was the best choice. In fact a couple of days before the finals, I was asked by Bigg Boss who I think would win and I said, who do I think or who do I want? And I replied that I think Ravi would win, but I want Rahul to win. And I am very happy for him.  
---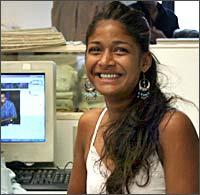 Shanky asked, Hi Carol, do you have any plans to be in touch with your Bigg Boss roomies? If yes, than who?
Carol Gracias answers, Hi Shanky, I have already been in touch with a few. Been speaking to Rupali and Rahul a bit. Also spoken to Amit and Rakhi. In due course of time I think I will make the effort to speak to all.  
---
 

Vikas asked, Hi

Carol...who was worse--Kashmira or Deepak Tijori?
Carol Gracias answers, If you lived in that house you'd understand that living situations were very difficult. I will not justify what they did, but in each person there is also goodness and you can be the better person and look at that instead of the bad. So now the question should be who is the better person, Kashmira or Deepak?  
---
Nagesh asked, Carol congratulations! My question is have you learnt to clean your room in your house? Has Bigg Boss been effective in your personal life?
Carol Gracias answers, Thanks Nagesh. Yes, I've been much better at home and yes, Bigg Boss's lessons have been very effective and productive in my life.  
---
Pooja B asked, Hi Carol, Your's was the most dignified performance in Bigg Boss. You carry yourself so well. Your parents have really brought you up really well. We love you a lot!! Only time when we did not like your behaviour was when you all isolated Rakhi. Anyways, you were superb and I hope this show brings you lots of opportunities. May God Bless You!
Carol Gracias answers, Thank you, Pooja
---
Ankur asked, Hi Carol ...Me and my family really adored you and I must say your Hindi has really improved! You were the best among all the contestants and I really wanted you to win ...it would be great if u could reply in Hindi!
Carol Gracias answers, Dhanyawad Ankur.  
---
Ronit asked, Hey carol! Do you have any plan to join Bollywood?
Carol Gracias answers, Never say never. But at the moment, just seeing what fits in for me. If any plans will keep people informed. 
---
Harshal asked, Hi Carol, how are you? Whom did you find most interesting in the house?
Carol Gracias answers, Hi Harshal, everyone's personalities were very different. It was quite interesting for me to see human behaviour, but I really found Ragini very interesting and quite beyond her years. Rahul was on the same wavelength as me and my conversations with him were very interesting.  
---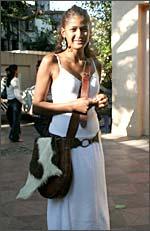 APURVA asked, Hello Carol, are you there? Please don't hurt me because I'm your great fan. No replying, nothing, so are you really online or just saying this site to us?
Carol Gracias answers, I am really online, Apurva. It's me.  
---
Nimish asked, How are you feeling after seeing artificial people along with you?
Carol Gracias answers, This situation in Bigg Boss was artificial. The surrounding and the house...it's not something that you'd do in normal life, but people's behaviour was their personality. So, I don't see where the artificial people come from, coz I think they were being themselves.  
---
Sunbin1 asked, Hey!! Carol. How do you see yourself after the Bigg Boss episode?
Carol Gracias answers, I see myself exactly as the same way before. Have learnt a little more about life, so become a little bit more mature.  
---
Kamalnarayan asked, Btw, have you met Ravi Kissen's wife after Bigg Boss finished?
Carol Gracias answers, Yes Kamal, as soon as I came out of the house, I met with my family and the entire cast was there with their families. And I met with his wife and his daughters. Even my parents have met them.  
---
AjayThakur22 asked, Hi congratulations! First of all Carol, your Hindi is cute and innnocent! You look superb in 'Right here right now' music video with Abhishek Bachchan. But I think the director did not give you much screen space. Now after Big Boss you may getting much more offers. Is there any? What are your plans about acting?
Carol Gracias answers, Thanks Ajay. Nothing has come in yet, but will keep you well informed about anything I am doing.  
---
The Don asked, Hi congrats! First of all Carol. The show was a s*** but you were great. I just didn't understand what was the show all about.
Carol Gracias answers, Reality TV is finding out about human reactions, emotions and human behaviour that happen in normal life, but the only difference is that the situation is unnatural, but everything else seen is real.  
---
Prushraj asked, Have you started classes for Hindi? How were your parents' reactions watching you on Bigg Boss
Carol Gracias answers, Decided to take diction classes in Hindi. And my parents are very proud of me.  
---
Carol Gracias says, Thanks everyone for making time to chat with me. It's been fun.
Photographs: Rajesh Karkera