There hasn't been another year like this for the movies in a long, long time. Why, there hasn't been another year like this, say old-timers, ever. A year that will sieve through a range of reigning idols to establish the new badshahs of Bollywood. A year when every producer and director worth his salt will light up the marquee, however briefly, to sink in ignominy, or ride the crest of success. A year when older talent must make way for the younger, the hungrier -- or not.
In 2006, by coincidence almost, every major actor (and alas, they are ageing, our Bollywood heroes) has at least two releases lined up -- films that will reestablish their iconic connection with the masses, or sign their obituaries and consign them to character roles forever. A year after most movies bombed at the box office, there's a great deal of hope, history and money riding on every big banner in town. This is Bollywood's comeback year. But which production house will survive the year to tell another celluloid tale, and which will perish?
In 2006, a few beautiful women worshipped by the nation may end up a footnote in Bollywood history, or light up the screen for a little longer. A year, then, on which the fortunes of Bollywood's richest, most powerful A-list will ride. In an industry where playback singers, choreographers, designers and lighting assistants offer prayers on Friday mornings to the deity that controls their destinies, 2006 is the year when Shah Rukh Khan is battling for survival and Aishwarya Rai praying for her career's longevity.
It is a year when Karan Johar is betting on his brand to create magic. A year when the movies are getting bigger, more expensive. A year when titans of the industry are clashing, and from the dust and ashes of defeat, a few good men will snatch victory, to make it to awards ceremonies next year.
No, ladies and gentlemen, 2006 is not just another year at the movies.
Weigh the facts. In 2006, Shah Rukh Khan's numero uno status is under serious threat. King Khan's only release in 2005,
Paheli
was a commercial dud. By comparison, Aamir Khan has already delivered two mega-hits in 2006.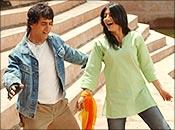 Rang De Basanti
and
Fanaa
have raked in around Rs 200 crore at the box office. Producers and distributors are now betting Rs 90 crore on Shah Rukh Khan's releases --
Don
and
Kabhi Alvida Na Kehna
.
Waiting for their fortunes to unravel are other contenders -- Saif Ali Khan, Salman Khan, Hrithik Roshan and Abhishek Bachchan. While Shah Rukh remains on intravenous drip till his new releases, joining him in the biggest blockbuster battle in Bollywood ever are top Bollywood directors Karan Johar, Farhan Akhtar, J P Dutta and Vishal Bharadwaj.
The pecking order for heroines is being disputed between Rani Mukherji, Aishwarya Rai, Kareena Kapoor and Priyanka Chopra -- all with interesting releases in 2006.
Not everyone will survive the year.
Behind the glitz and glamour, far removed from the audiences, there's blood on the floor. Controversies and epic battles are brewing. Take director Farhan Akhtar, whose Don was to be the big Diwali release. That is, until producer Yash Chopra decided to take him on with his mega movie Dhoom 2. Fine. Only Chopra went about booking multiplexes so aggressively, there were no decent screens left for Don. Just rumours, both camps hasten to explain; and last heard, a truce has been reached: Dhoom 2 will hit screens after Don.
But then, Bollywood is just another business. The unprecedented success of Krrish has already collected Rs 150 crore (and counting, according to director Rakesh Roshan), bringing it into the league of the top five all-time grossers of Bollywood. It has also brought actor Hrithik Roshan back into the reckoning. He will now take on Abhishek Bachchan in Dhoom 2, as the two vie for top slot for the country's most saleable GenX star.
2006 will change some star ratings forever. Kunal Kohli, who directed Aamir Khan and Kajol in this year's big hit Fanaa, says, "Audiences are going to sit back and take note of who will finally emerge as winners." Kohli's bets are on Aamir Khan who, he says, is already leading the race after two clear winners. Film critic Komal Nahta agrees: "It will be a crucial year for Abhishek, especially after Hrithik's success in Krrish. Both have big films coming up to prove their mettle."
It's another matter that 2006 also offers an amazing variety of films from big-league directors. "We have love stories, family sagas, even run-of-the-mill
stories, but we also have directors who will execute them brilliantly," says Rakesh Roshan. "That, I think, is the magic of 2006." For producer Pritish Nandy, 2006 marks an important trend. "The day of domination of single film actors and actresses is now over. What we will now see are multi-starrers."
Big directors. Big actors. Big bucks. Before earning them, you've got to spend them. And budgets have never been bigger. Producers have together invested Rs 300 crore on 10 of the largest movies, an increase of 50 per cent over last year. In 2006, at least four films (compared to only Mangal Pandey last year) boast budgets of Rs 30 crore and over. The Rs 50 crore barrier has been breached once again with Karan Johar's Kabhi Alvida Na Kehna. Last year, the biggest film cost under Rs 40 crore.
But then, movies are also making more money than before. Industry estimates show that, in the first six months of this year, net box office collections in the domestic market went up by 35 per cent as compared to last year. This year, three movies (compared to none last year) have already made over Rs 50 crore in net collections from the domestic box office alone, with half the year still to go. Overseas collections of at least three movies (Krrish, Rang De Basanti and Fanaa) have crossed the Rs 30-crore mark and, if Roshan is to be believed, Krrish is close to matching Kabhi Khushi Kabhi Gham's record of the highest grosser abroad (Rs 35 crore).
Executives at Adlabs (which has picked up overseas distribution of movies like Krrish and some other blockbusters) point out that the overseas rights for multi-starrers are being offered at Rs 8-9 crore, and are still being snatched up. Says Ronnie Screwvala, CEO, UTV, whose company is involved with film production and distribution: "Nine out of 10 movies today are not losing any money."
The easy availability of institutional money might have a lot to do with that. Sanjay Bhandari, a chartered accountant who helps producers get finance, says, "Nearly all the big budget movies this year have been funded, and these include Fanaa, Kabhi Alvida Na Kehna, Umrao Jaan, Dhoom 2, Don and Jaan-e-man."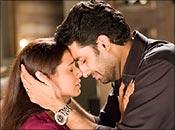 Industry estimates that at least 30 per cent of the cost of the top 10 films (in terms of budget) has been raised institutionally. Producer Ritesh Sidhwani (
Don
) says, "As you have to return the loan, there is a need to plan out budgets, keep them under tight control and formulate marketing strategies, which helps us look at the film business more professionally."
Adlabs, a film processing, financing, production and distribution company, has funded nearly half the cost of Salman Khan-starrer Jaan-e-man. Says Manmohan Shetty, Chairman of Adlabs, "Earlier, you may have had a good project but no recourse to non-traditional finance. Today, there is more money, but fewer projects."
The growth of multiplexes has also helped in pushing larger box office collections, as has the increasing trend to push more prints in the market in the first week to reduce piracy. Nearly 55 per cent of Rang De Basanti's theatrical revenues came from the 80-odd multiplexes across the country, and Kunal Kohli agrees that 60-70 per cent of film revenues are generated in multiplexes.
And while only Mangal Pandey hit the market last year with 500 prints, in 2006 there are already three blockbusters (Fanaa, Krrish and Rang De Basanti) that have crossed the 500-print release figure. Karan Johar is expected to hit the market with a staggering 700-print release for Kabhi Alvida Naa Kehna.
Big banners, big stars -- er, big stories? Well, no. Says Shetty, "Most blockbusters are made with well-known stars. No one is taking risks. You still have a love story with a 40-year old boy and a 30-year old girl. New talent isn't coming to the fore."
But with the box office sizzling, no one is thinking beyond 2006. "The coming six months will only get better," says Kohli. "You will get to watch the survivors at awards ceremonies next year." The others can sit back and relax -- the lifetime achievement awards are still light years away.
Also read: