Home > Movies > Bollywood News

Catfight to the finish

Surajeet Das Gupta & Abhilasha Ojha | August 01, 2006 16:14 IST



Continuing the feature on Bollywood 2006, we look at top heroines, each facing tremendous odds this eventful year.

RANI MUKERJI
Last year, she ruled Bollywood with a critically acclaimed performance in Sanjay Leela Bhansali's Black, and as Babli to Abhishek Bachchan's Bunty in Shaad Ali's blockbuster -- also the year's biggest grosser. This year, she has Kabhi Alvida Na Kehna and Baabul (with Amitabh Bachchan) as her big releases, but will have competition from Aishwarya Rai, who is back in Bollywood after a hiatus.

AISHWARYA RAI
Rai's Bollywood success owes a lot to Sanjay Leela Bhansali (Hum Dil De Chuke Sanam, Devdas). She went on to deliver some duds, even though she won critical acclaim in movies like Raincoat and soon-to-be-reeased Provoked. She warmed 2005 with a sizzling item song (Kajrare) last year, and is back in the reckoning with Dhoom 2 and the remake of Muzzafar Ali's classic Umrao Jaan. Will Bollywood's import to Hollywood still rule in 2006?

PRIYANKA CHOPRA
Of her six movies last year, only Bluffmaster and Waqt did above average business. This year, she has started off with flak for her performance in the super-hit Krrish. She's got Don with King Khan, where she keeps Kareena Kapoor company, but still needs a powerful performance to elevate her to the top position.

PREITY ZINTA
Salaam Namaste raked in Rs 29 crore to become the fifth highest grosser of 2005. Earlier, Veer Zaara did better with Rs 41 crore in the domestic market alone, but it was Rani Mukherji who walked away with all the accolades. It's now up to Zinta to recover lost ground in Kabhi Alvida Na Kehna and Jaan-e-man.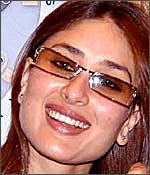 KAJOL
The semi-retired actress was last seen in Kabhi Khushi Kabhi Gham. Her return with Fanaa has been one of the reasons for the film's success, but she's unlikely to enter the rat-race full time.
KAREENA KAPOOR
A listless 2005 has made way for Don and Omkara in 2006. Though expectations from both movies are high, Kareena will have to share screen space with Priyanka Chopra (Don) and Konkona Sen Sharma (Omkara), indicating a struggle to gain a foothold in the list of toppers.
Also read:
Never been a year like this: 2006 at the movies
A few good men: Top actors are ready to battle
Powered by



What do you think about the story?








Read what others have to say:





Number of User Comments: 7








Sub: whatever

aishu rocks preity rul'z others tooooooooooooooooooint yucks!


Posted by neka









Sub: Wait & Watch for Madhuri

Guys, Wait fo adhuri ot come back!! If she gets the right kind of roles which suits her age and our commercial too, resto f ...


Posted by TK









Sub: Which Leading lady will truimph

I think it gonna be between reigning queen Rani & the comeback queen Kajol and we have to till the end of the year to ...


Posted by anish kapil









Sub: sizzling ladies

nisha kotari,tansuree dutta,mallika sherawat


Posted by ysr









Sub: Kareen,Rani

In future you two people are acting in good role.i mean good character roles for next future also ur also looking good.


Posted by BANU






Disclaimer