Home > Movies > Bollywood News

2006: A few good men

Surajeet Das Gupta & Abhilasha Ojha | August 01, 2006 16:15 IST



Continuing the feature on Bollywood 2006, we look at the top actors throwing their hats into the fray. Who will rule the marquee after the box office blood spills?

SHAH RUKH KHAN
Last year's Paheli was critically acclaimed, but no one wanted to watch it. But, with Karan Johar's Kabhi Alvida Na Kehna and the remake of Amitabh Bachchan's classic Don, directed by Farhan Akhtar, he's hoping to continue his reign. For now, though, he must be sweating.

ABHISHEK BACHCHAN
Once the actor with the largest flops, his fortunes turned in 2005 (Bunty Aur Babli, Sarkar, Dus), but Bollywood's hottest rising star needs to reinforce his new status in 2006. He has two multi-starrers this year, where he will match skills with the industry's best (Kabhi Alvida Na Kehna, Dhoom 2) and two films to prove his histrionics (J P Dutta's remake of Umrao Jaan and Mani Ratnam's Guru). 2006 could make or break Bachchan Jr.

AAMIR KHAN
After an awful response to Mangal Pandey last year, Aamir Khan is back with two mega hits in a row (Fanaa, Rang De Basanti), which have together raked in Rs 200 crore at the box office (at a combined production cost of Rs 55 crore). That's a record even Shah Rukh, despite two major films, might find difficult to break.

SALMAN KHAN
Last year, Salman's No Entry was the second-highest grosser in Bollywood, though Lucky and Maine Pyar Kyun Kiya barely scraped through to recover their money. In 2006, Salman has two potential blockbusters in Jaan-e-man and Baabul. Industry experts say that distributors have forked out a staggering Rs 6.2 crore for the Mumbai territory for Jaan-e-man and Rs 8 crore for overseas rights.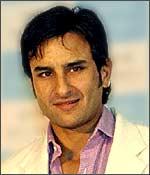 HRITHIK ROSHAN
Roshan Jr turns superhero only for director dad Rakesh Roshan, and this year's honours for Krrish are Rs 150 crore by way of collections so far. The film made Rs 100 crore in just three weeks. With Dhoom 2, Hrithik will turn villain as he takes on Abhishek for a fight to the finish.
SAIF ALI KHAN
The industry's dark horse, Saif has been its safest contender for three years with hits like Hum Tum, Salaam Namaste and Parineeta. His negative character in Omkara is being touted as one of the most powerful performances in Bollywood. Time for the Nawab to oust the Badshah?
Also read:
Never been a year like this: 2006 at the movies
Catfight to the finish: Heroines poised to strike
Powered by



What do you think about the story?








Read what others have to say:





Number of User Comments: 44








Sub: Salman for sure

Salman with Jaan-e-man and Babul will win the race and there will be no competition DON will be seen eating pan


Posted by Mahesh









Sub: my super hero

hi, hrithik please send me ur photos....., n i want 2 meet u ....., please fulfill my one of my dream. pls i beg u.......,


Posted by prathap









Sub: AAMIR all the way yaar!

This year belongs to cutie pie AAMIR.His RDB and Fanaa made 200 crores together which other SRK or Akshay can just dream about.SRK will fail ...


Posted by Mudassir









Sub: actor of the year

Surely actor of the year is none other than AAMIR KHAN. that is for sure....................


Posted by rais aalum









Sub: hrtik bhai 1st

hrtik bhai is gud.and srk mia is best


Posted by shaik shareef






Disclaimer