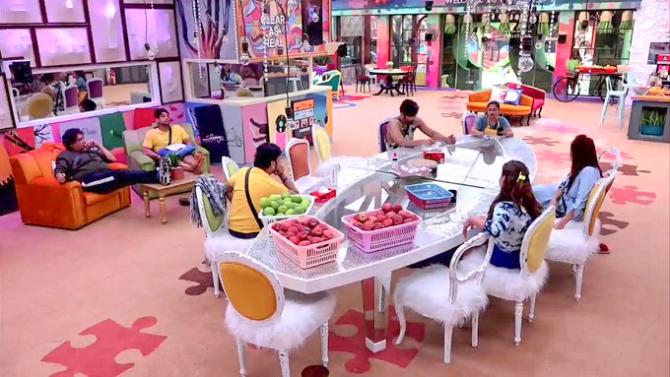 While everyone eagerly awaits the ticket to finale task, day 15 saw all the housemates participating in another interesting nomination activity.
Last Friday, Paras Chhabra, Siddhartha Dey, Abu Malik and Asim Riaz were nominated and on Monday, it was time for the female celebs to save themselves from going into the danger zone.
The day starts off with Paras and Shehnaaz Gill having some fun while doing the dishes in the kitchen area.
Later, Dey gives out some lessons on English grammar to which Arti Singh disagrees.
Shehnaaz also shows off her vocabulary. The whole English session is hilarious.
In the bedroom area, Devoleena and Arti discuss Siddharth Shukla and Shehnaaz.
Arti tells Devoleena that Siddharth didn't like that she helped Rashami during the time bomb task over the weekend.
Arti then goes to Siddharth and informs him about her conversation with Devoleena.
She also subtly hints to Siddharth that he shouldn't trust Shehnaaz too much. It's quite apparent that Arti does like Siddharth.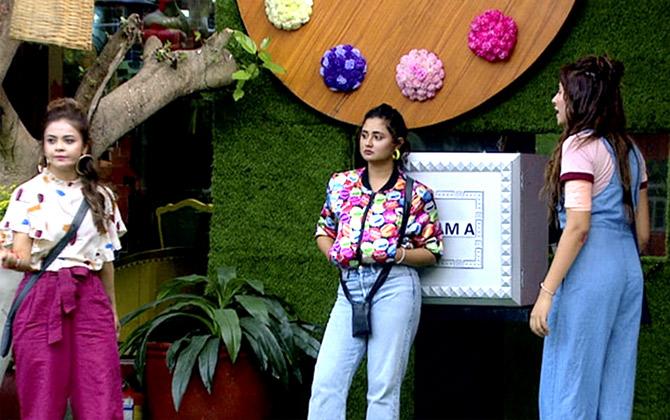 While talking to Devoleena she brings up the topic about her dating Siddharth and all the rumours surrounding them.
Though Arti states that she does like him, she tells Devoleena she is very focused and wants to get married by next year.
Shehnaaz joins the two girls in the bedroom area and they discuss Rashami.
In the afternoon, Bigg Boss announces it's time for the female celebs to save themselves from the nominations and reveals about the Bigg Boss Bank task.
Bigg Boss also reveals that two people will exit the house this week as well -- one male and one female celeb.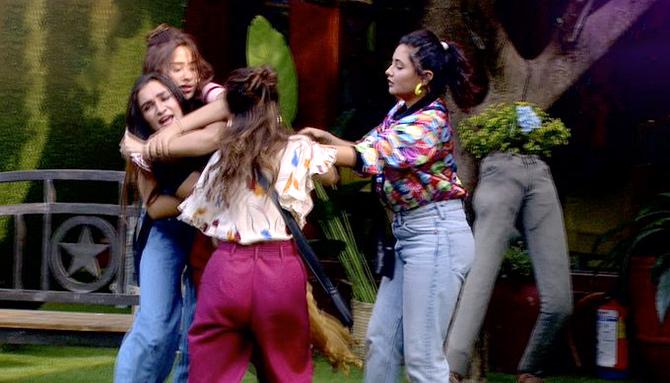 The females are divided into two teams -- A and B. Rashami, Devoleena and Mahira Sharma are in team A, the rest of the girls are in team B.
Both teams have to collect money from the guys and safeguard it till the buzzer goes off.
The team which collects the most amount of money will win the task. The losing team will automatically get nominated for this week.
Since Devoleena is currently the queen, she won't be nominated, but has to perform the task like everyone else.
Abu Malik, Siddharth and Asim decide to support team B whereas Paras and Siddhartha Dey are with team A.
Though Rashami asks Asim and Abu to play fair, her efforts are in vain as Siddharth wants to save Arti and Shehnaaz from team B.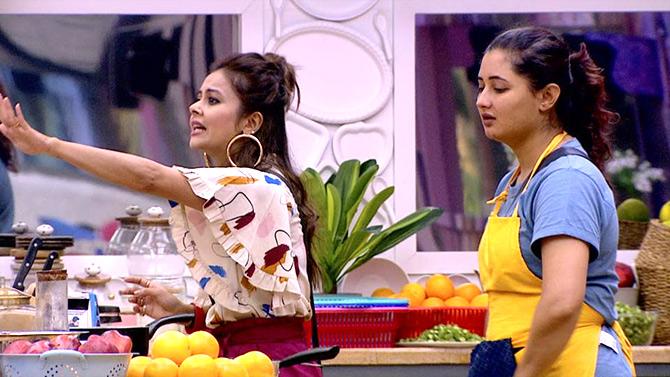 As soon as the task begins, the girls collect money from the boys. Team B clearly has an advantage as three boys are supporting them.
Mahira and Devoleena try their best to collect as much money as possible. They even steal from Asim, but it hardly helps them.
Devoleena later plans to break team B's money box to steal from them. Rashami and she pick up dumbbells for the same, but their plan doesn't work.
In the end, team B emerges the winner and are declared safe from the nominations. Mahira and Rashami directly end up in the danger zone.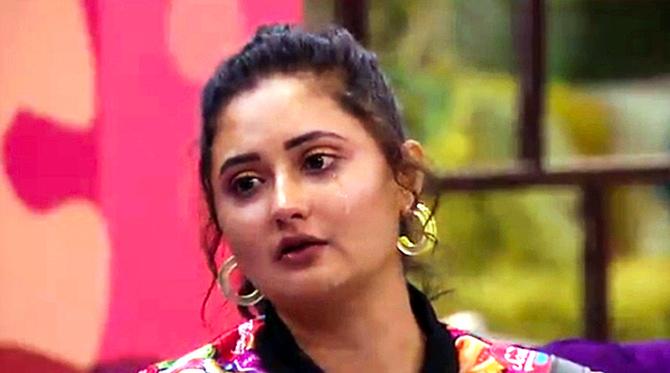 Rashami, who is nominated consecutively for the third time, pulls aside Abu and tells him that he shouldn't think she won't go home just because she is a popular face.
She says he should have at least played the game fairly. She breaks down and tells Abu that even Dalljiet was popular, but she got evicted nonetheless and the same could happen with her too now that she has been nominated once again.
After his conversation with Rashami, Abu speaks to Asim and Siddharth and tells them that he will play individually next time onwards.
Siddharth loses his cool and makes Abu understand that Rashami is trying to manipulate him by crying. Asim agrees with Siddharth.
When Abu suggests that they bring Rashami on their team, Siddharth says she will only break up their team.
After much convincing, Abu is back with his team and agrees to play the game with them.
Before the lights go off, Siddharth and Asim tell Arti and Shehnaaz that together they are a strong team and therefore should always stick with each other.
As for Abu, Siddharth says he can flip anytime and hence can't be trusted fully.