Gauahar Khan and Hina Khan stand against Sidharth Shukla and accuse his team of cheating. Sid loses his cool.
Who is right?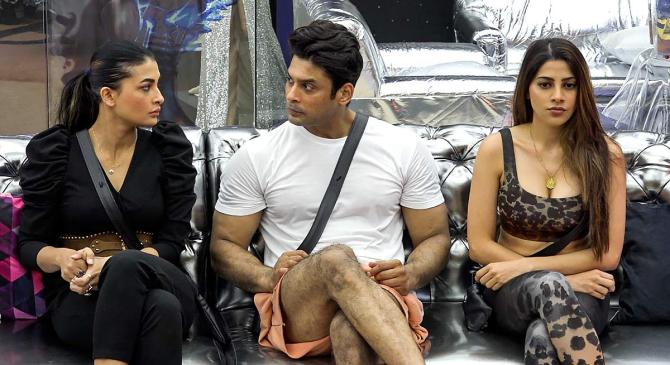 Day 17 in the Bigg Boss 14 house turns out to be quite high on emotions.
In the morning, Sidharth Shukla talks to his team member Pavitra Punia and advises her to maintain good rapport with the other two seniors, Hina and Gauahar Khan.
Pavitra says she gets along with Hina but finds Gauahar very dominating.
In the bedroom area, chaos ensues as housemates discuss changing their duties. Eijaz Khan and Shehzad Deol get into a scuffle whereas Rahul Vaidya locks horns with Rubina Dilaik.
When Rahul points out he cannot do the dishes because of his back problem, Pavitra claims she can't cook anymore because of her back issues as well. They get into a verbal spat.
In the kitchen area, Jamsin loses her calm and says Rahul is just giving excuses for not doing dishes.
She announces that she will not his work henceforth, including cooking food for him.
This leads to more yelling.
After a lot of drama, the situation returns to normal and Rahul agrees to do the dishes for two days and see if it hurts his back.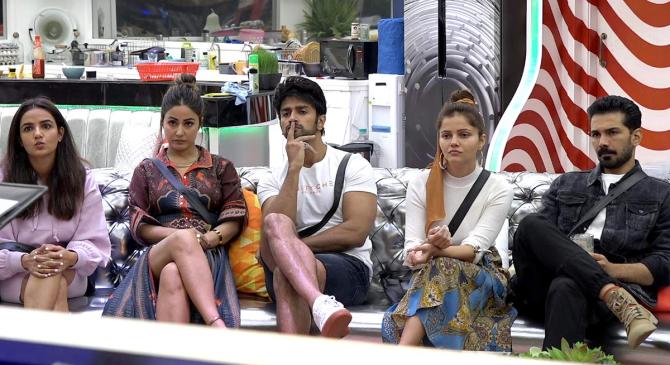 As if this isn't enough, Rubina is called into the confession room and she breaks down.
The television actress says she is deeply hurt by a comment passed on her husband Abhinav Shukla over the weekend.
She felt disrespected when host Salman Khan called Abhinav the 'personal luggage' of Rubina.
Bigg Boss tries to make her understand that Salman said it in good humour and didn't imply anything. But Rubina is hurt and says she is thinking about leaving the show.
Bigg Boss calls Abhinav to the confession room.
The husband-wife duo have a talk with each other and with Bigg Boss.
Eventually, Rubina agrees to continue with the game and says that if she is unable to get over the comment, she will talk with Salman directly.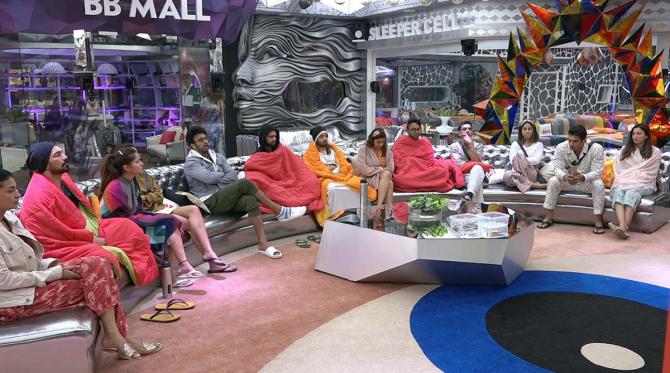 The next morning, Bigg Boss asks them to gather in the living area and announces that soon it will be game over for the some of the members, including a senior leader.
Also, Shehzad will leave along with the losing team.
Eijaz later explains the buzzer task and then the three seniors strategise with their respective team members.
Since Gauahar only has Jaan and Rahul in her team, she makes an alliance with Hina's team of Abhinav, Nishant, Rubina and Jasmin.
They decide to target Sid's team.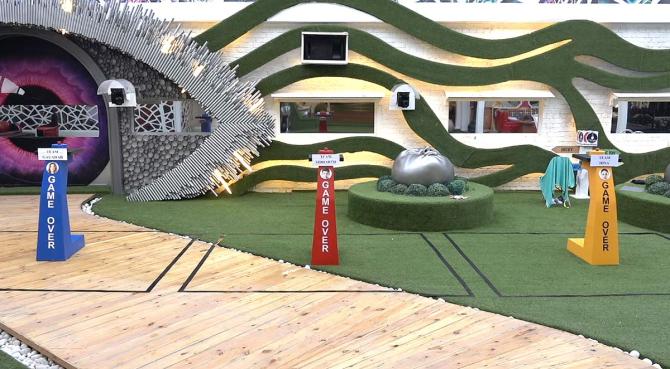 When the task starts, everyone takes their position in the garden area.
The seniors motivate their team members and ask them to stay focused and alert.
Jasmin and Eijaz get into a verbal spat whereas Nikki Tamboli tries to distract Jaan.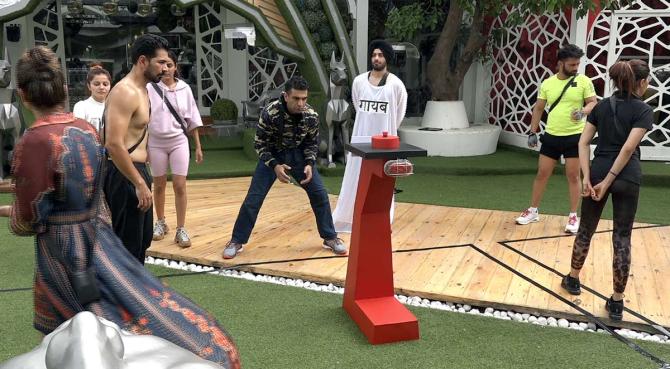 When the alarm goes off, Sid's team attacks Gauahar's buzzer.
Eijaz, Pavitra and Nikki succeed in ringing the buzzer but Gauahar alleges that Sidharth's team has cheated.
Hina also accuses them of cheating and this leads to heated argument between all the housemates, especially the seniors.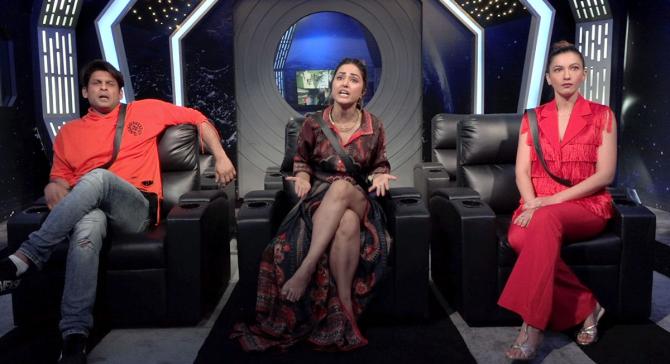 Ultimately, Bigg Boss calls the seniors in the theatre room and replays the whole task.
Gauahar and Hina stick to their stand whereas Sid says that his team won playing the game fairly.
He loses his cool after starts yelling.
Hina doesn't cave in and gives it back to Shukla.
Bigg Boss then announces that rules were broken by all the teams.
Sid is overjoyed but Hina and Gauahar aren't and they ask Bigg Boss to take the final call.