Salman asks the contestants to join either Sidharth, Hina or Gauahar's team. And things get ugly.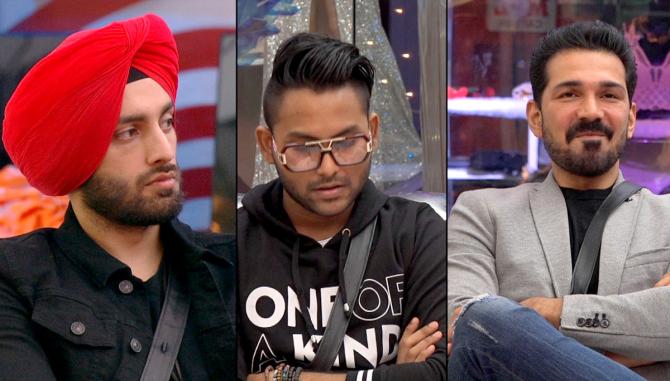 Monday's episode starts with the bottom three contestants -- Shehzad Deol, Jaan Sanu and Abhinav Shukla -- pitching to the housemates as to why they should stay in the game.
While Shehzad and Jaan address everyone in the living area, Abhinav decides to step back and simply tells everyone to take a fair decision as he already knows that some of the contestants don't like him and want him to go.
Host Salman Khan greets everyone and asks the housemates about their decision regarding eviction.
Everyone votes.
Abhinav and Jaan receive four votes each whereas Shehzad gets only two votes.
Since the housemates don't have a unanimous decision, Salman asks the seniors to take the final call.
Hina Khan, Sidharth Shukla and Gauahar Khan vote for Shehzad, which shocks everyone as it leaves him with five votes.
Shehzad isn't asked to leave the house, instead he is given a tag that says gayab.
Salman reveals that Shehzad is the first non-confirmed contestant of the show.
He will continue to do the chores but won't have a say in any of the house matters.
That's not all.
Salman announces that the show will get its confirmed contestants in the next two days and hence, all the housemates should now buckle up and stay focused.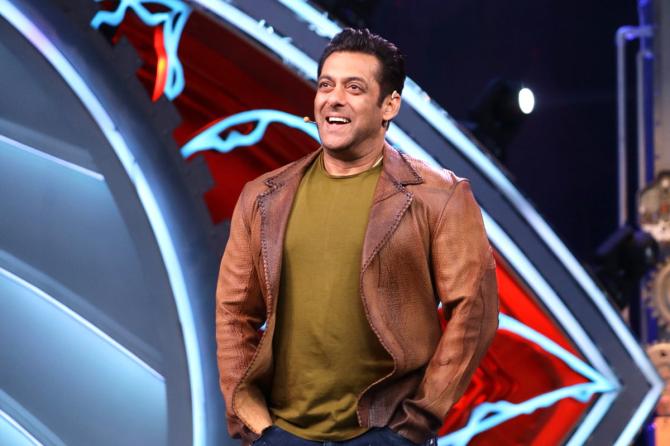 Khan introduces a new fun task.
He tells the housemates to reveal a name they think doesn't deserve to be a confirmed contestant by spraying foam on their face.
Eijaz Khan picks Rubina Dilaik whereas Nishant Malkhani, Rahul Vaidya, Jaan and Nikki Tamboli spray the foam on Abhinav's face.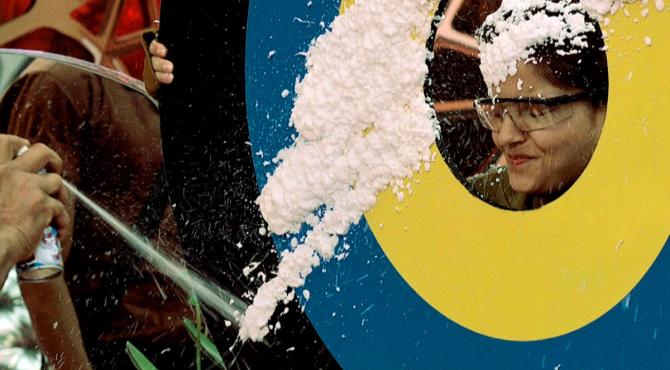 Rubina and Abhinav target Rahul and Jasmin Bhasin sprays Eijaz's face.
Pavitra Punia feels Jaan doesn't deserve to be a confirmed contestant.
During the task, Abhinav gets into a tiff with Nikki.
Salman pokes fun at Abhinav and lightens the situation.
Salman asks Pavitra to rate the men in the house. He also says that Pavitra will have more options as soon the wild-card contestant will arrive in the house.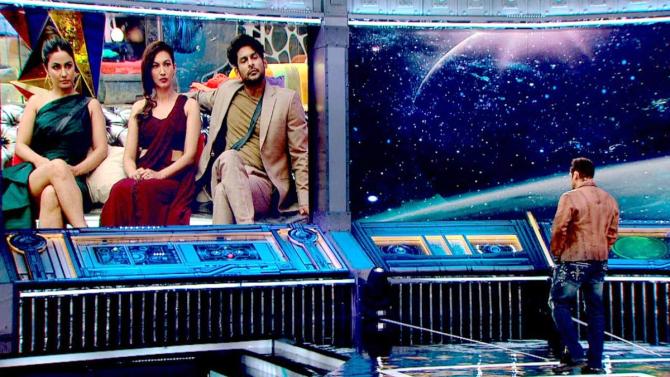 Salman then shifts his attention towards the seniors and gives them a task.
Hina, Sid and Gauahar have to choose contestants that they want to see in the show going forward.
Between Rubina and Eijaz, Sid picks the latter whereas Hina and Gauahar pick the former.
In the end, the trio go for Rubina.
Next up are Jasmin and Pavitra. Sid and Hina want to see Pavitra and Gauahar sticks to Jasmin.
But going by aapsi sehmati, Pavitra wins.
Between Nishant and Jaan, the seniors unanimously take Jaan's name.
When it comes to Abhinav and Rahul, the seniors choose Abhinav.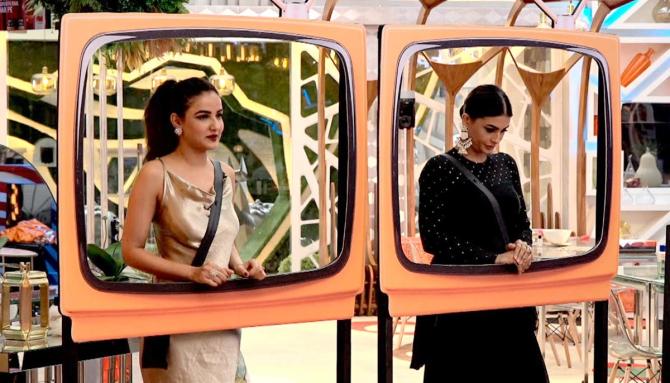 As if this isn't enough, Salman throws in yet another twist.
He asks the contestants to join either Sid, Hina or Gauahar's team.
Nikki, Eijaz and Pavitra decide to join Sidharth's team.
Rubina, Abhinav, Jasmin and Nishant choose Hina.
Jaan and Rahul pick Gauahar's team.
The episode ends with a preview of what's in store for us next. We see the three teams battle it out in a task which will turn ugly.