'I told Rakhi it is unfortunate that people like you are celebrities.'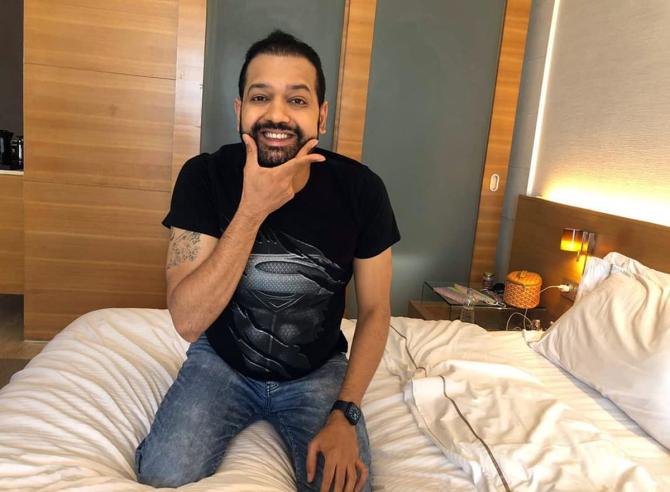 Rahul Mahajan, who was one of the Challengers oN Bigg Boss 14, was recently evicted from the show.
He is happy with his entertaining stint on the show even as his clashes with Rakhi Sawant were epic.
He made an alliance with Rubina Dilaik and Abhinav Shukla and found a buddy in Eijaz Khan.
The brother of Poonam Mahajan, the Bharatiya Janata Party MP from Mumbai North West, Rahul was among the most popular contestants when he first entered the house in the second season of Bigg Boss.
"I was the only challenger who entered without a purpose. I didn't want fame or money. I went just for the love of the show," Rahul tells Rediff.com Senior Contributor Rajul Hegde.
You looked surprised with your eviction.
Honestly, it was a mixed reaction.
I was happy to go home because I was missing my wife and my comfort zone.
At the same time, I was sad to leave the housemates because I felt I could have spent more time with them.
Yes, I was a bit surprised because I didn't anticipate my eviction at this point.
But there is always an exit time and it's not in one's hand, whether it is Bigg Boss or life, so I am not complaining.
Now I plan to go on a holiday and spend time with my wife.
Also, maybe I was the only challenger who entered without a purpose.
I didn't want fame or money.
I went just for the love of the show.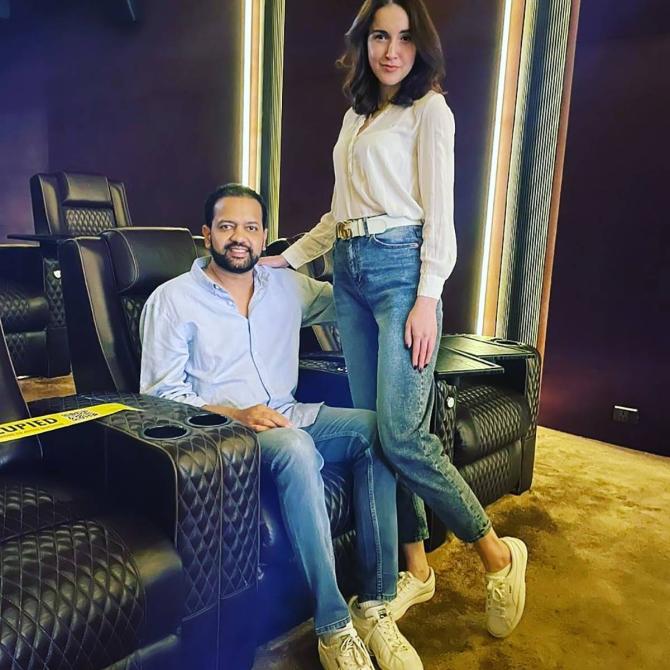 During your fight with Rakhi Sawant, you called her 'cheap level ki celebrity'. That did not go down well with her fans and they trolled you. Are you apologetic?
Not at all. I stand by what I said.
Rakhi, as a person, is good.
But when she caters to the audience, what she thinks caters to, that makes her a bad person and a bad character on screen.
People will vote for her, people will like her and that's what has happened.
If followers don't support a cheap level, celebrities would not be able to do cheap acts.
That's why I told Rakhi you are cheap, your audiences are cheaper, I think it is unfortunate that people like you are celebrities in the country.
It was said in the context of her behaviour, not her career.
When Aly was the captain of the house, I was assigned to do dishes with Rakhi.
I said I don't want to do dishes at night because I was doing it in the afternoon.
Rakhi thought I was saying no to doing the dishes with her.
I told her it's not about you, it's about me getting tired washing dishes twice a day.
She did not understand the matter.
She said, 'You don't want me, you want Nikki.'
I was telling her to hear my side and understand the logic.
The moment I said logic, she started showing her buttocks to everybody and started moving. That is when I lost it.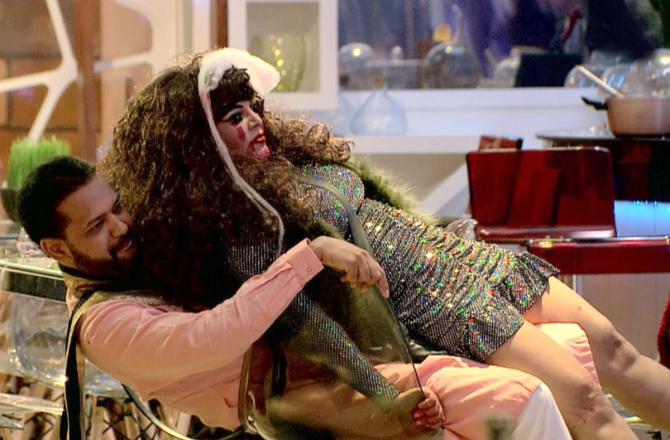 When Rakhi pulled your dhoti, you handled it well.
That shows my character.
I didn't make an issue, but the housemates did.
It could have been such a big issue if a man did that to a woman. He would have been behind bars.
But Bigg Boss said don't make things ugly. And since we were the senior most, he told us to have an amicable solution.
But I knew there is nothing I will gain from fighting with her.
There was no point in forming a bitterness.
I knew that whatever she was doing was for the camera.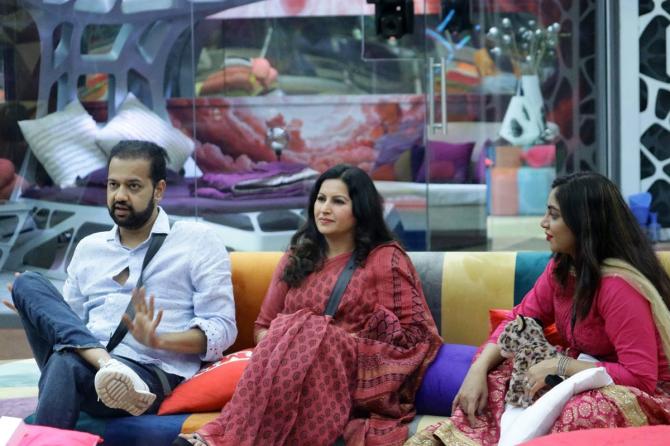 On Weekend Ka Vaar, it was discussed that Rakhi was the soft target. Do you agree with that?
Salman (Khan) didn't ask me.
If he would have asked me, I would have given him an answer.
I am not commenting on what the host or the channel said.
But if you ask me, I would say Rakhi is a strong person.
I don't think she has ever been a soft target.
She alone can give all the housemates a hard time.
She claimed that the two of you were friends.
We have done similar kinds of shows like Swayamvar and Bigg Boss and also worked together for eight-10 days in Comedy Circus.
We have never met or interacted apart from that.
Before we entered the Bigg Boss show, Rakhi and I did speak, as we had our share of doubts. We wanted to be there for each other in the game.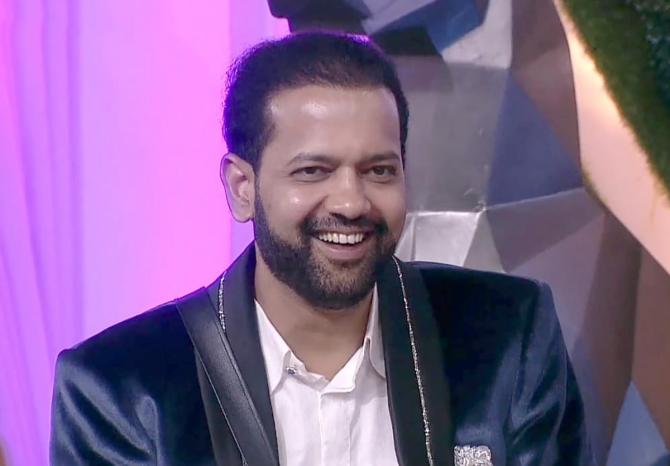 You seemed to have enjoyed your stay in the house, getting things done by the housemates.
My fellow housemates took good care of me.
They made sure I ate well, that my clothes were washed and that I slept well.
Eijaz washed almost 30-40 garments of mine, but never told anyone. He washed it secretly unlike Rakhi who told the whole world when she washed half a bucket of clothes.
Abhinav Shukla has become a good friend. He would trim my beard and colour my hair.
He would style me before every Weekend Ka Vaar.
He also helped me find my clothes in the luggage room. It was so messy that nobody would know where their clothes were.
Everybody took care of me and cooked food for me as I am diabetic.
No matter who the captain was, I would sleep in the captain's room.
Somebody even said that Rahul has the talent to get work out of people.
To be honest, I didn't ask anyone to do my work, but everyone did it out of love.
Did you have a different perception of the contestants as a viewer before you went inside the house?
Yes, I misunderstood Abhinav and Rubina, but they came across as a sweet couple.
I would spend four-five hours chatting with them every day.
We would have fun conversations, but they were not shown.
I really couldn't stand the unnecessary screaming in the house.
After a point, certain fights of Rahul Vaidya and others started looking like fiction rather than a reality show.
It was weird to see them get so angry during tasks and be normal the next moment.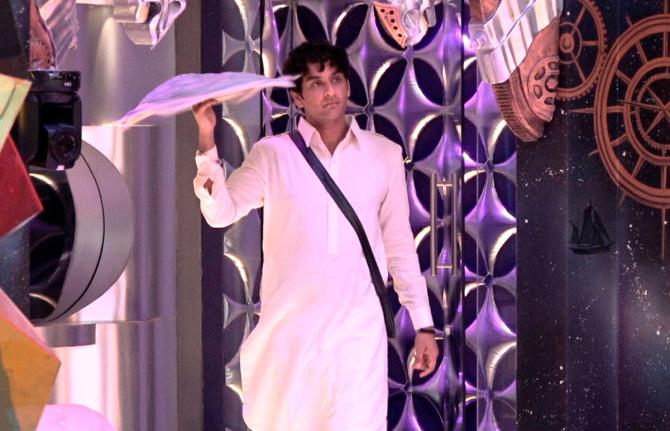 Who is the crybaby in the house?
Vikas Gupta. I have heard that he takes his yoga mat inside the bathroom for a nap.
I have hardly seen him sitting and discussing things with anyone.
There was no bonding with him.
I was in the house for a month, but I didn't see him much. I never had a one-to-one interaction.
I hardly know who Vikas Gupta is.
Who is fake in the house?
Rakhi. She is not as mean or bad as she is shown.
She is a nice girl, but she comes in that character because her audiences demand her to be that kind of person.
She is fake, in a good way.