Is L-O-V-E really brewing in Bigg Boss 14?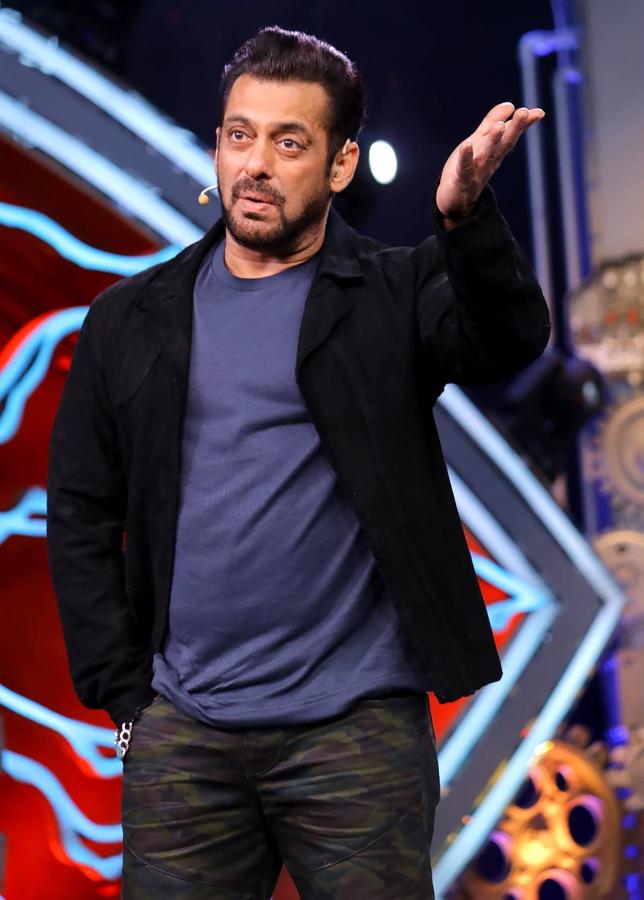 Salman Khan graces the Bigg Boss stage over the weekend and it turns out to be a bashing session for Rubina, Jasmin and Nishant.
The superstar calls the trio to a special sitting area and says that Rubina is the puppeteer while Jasmin and Nishant are her puppets.
He also asks Rahul Vaidya to take the villain's seat and reprimands him for raising the nepotism topic during the nomination task.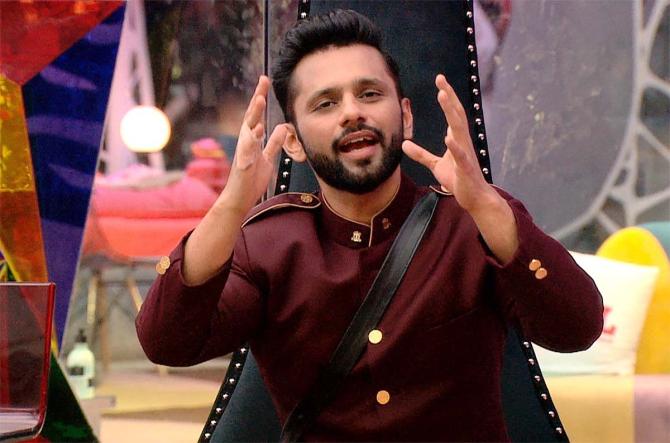 Next, Salman shifts his attention to Jasmin and tells her to stop the drama over Rahul's intentions as it is unnecessary and looks stupid. He plays an audio clip of the task where Rahul and Jasmin fight and then asks everyone who supported Jasmin if it sounded as a threat.
Salman stresses that it's clear that Rahul was not threatening to hurt Jasmin during the task.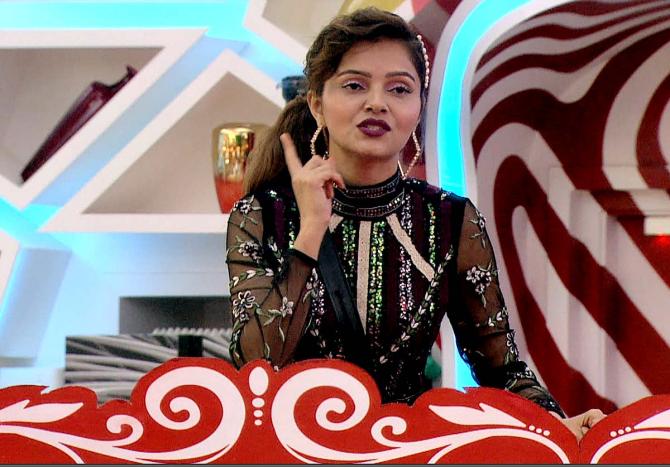 After Jasmin, it's Rubina turn to get schooled by Salman.
He tells Rubina that no one in the house does hinsa even while playing the task and therefore she should stop making it such a big deal.
He reprimands her for not supporting Jasmin and adding fuel to the fire when she was fighting with Rahul.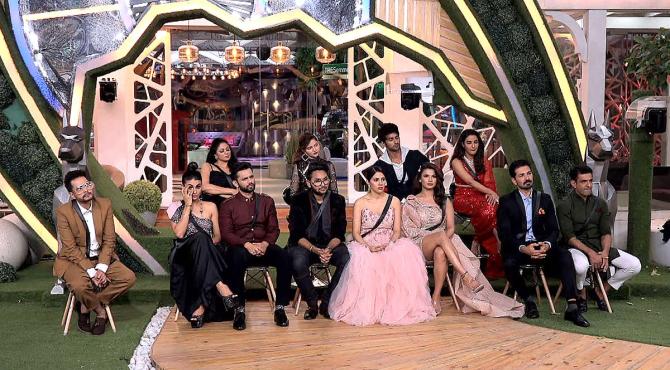 On Sunday, Salman welcomes two celeb guests in the house.
First up is Sunidhi Chauhan. Both Rahul and Jaan get to sing with her and the other housemates play a fun game.
The whole segment is quite entertaining.
The second guest is Shehnaaz Gill, who was among the strongest contestants in Bigg Boss 13.
She takes over and plays fun games with the housemates.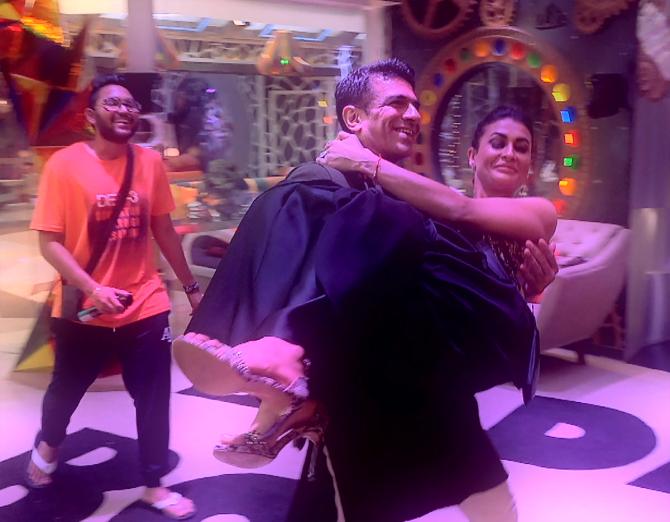 She talks about love brewing in the house and calls Pavitra-Eijaz to play a game. But it is not fun at all.
In fact, the whole love angle between them seems forced and scripted.
There's hardly any chemistry between Punia and Khan.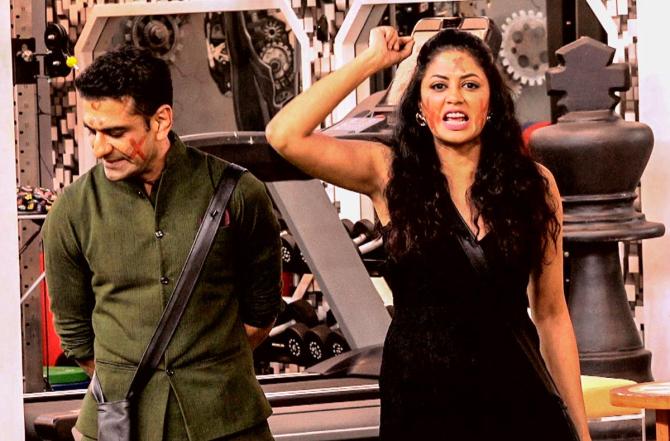 After Shehnaaz leaves, Salman asks the contestants to choose between Eijaz and Kavita. The latter gets six votes and the former gets five.
That's when Kavita loses it and blames Eijaz that she can't connect with anyone in the house because of him.
She reveals personal things about him, which irks everyone in the house, especially Pavitra.
Salman too tries to stop Kavita and tells her that Eijaz did nothing wrong but the F.I.R actress doesn't listen and continues to yell to prove her point.
Salman gets upset and walks away, asking Eijaz and Kavita to continue fighting.
Most of the housemates support Eijaz and ask him to not get affected by Kavita's revelations.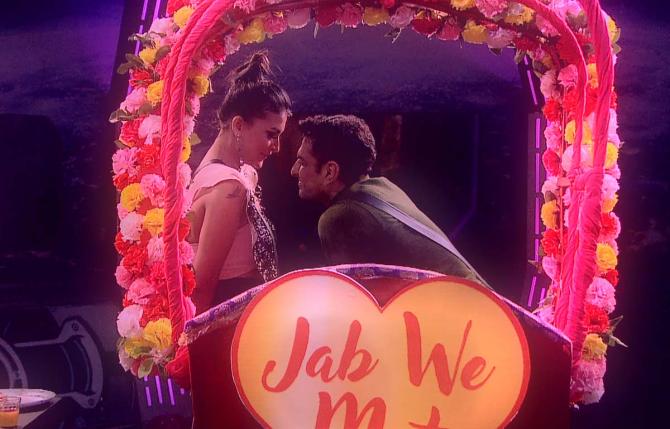 After Salman leaves, Pavitra and Eijaz go on a date arranged by Shehnaaz.
In the Red Zone, Kavita expresses her disappointment and tells Rubina, Jasmin and Nishant that only her fights are being aired on television.
She says Bigg Boss isn't showing her fun and entertaining side at all and so she won't do anything in the house henceforth. The actress adds it is better if she goes home.