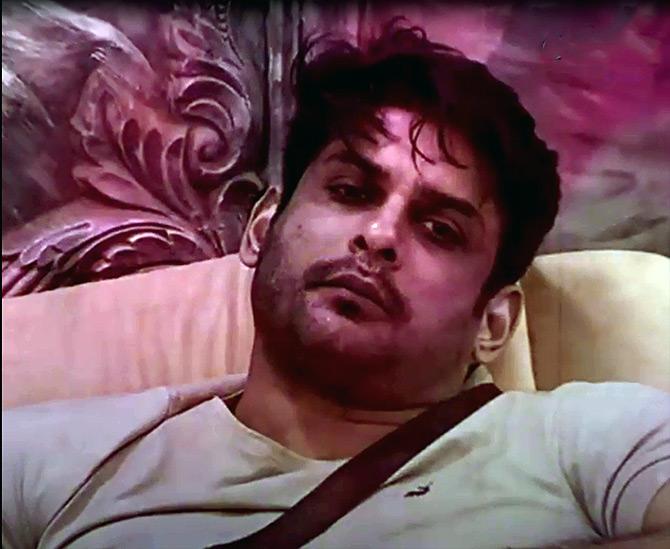 With the finale inching closer, everyone is beginning to feel the heat inside Bigg Boss 13 -- including Shehnaaz Gill, who had been entertaining everyone with her crazy antics since Day One.
After Arti Singh was declared safe from nominations, Bigg Boss announced that Asim Riaz would be safe as well, as nobody had nominated him during the BB Rose task.
Everyone else is in the danger zone this week.
Wednesday's episode kicks off with Paras Chhabra and Shehnaaz hugging in the kitchen area.
Later, Shehnaaz discusses him with Siddharth Shukla, Asim and Arti. They discuss his equation with Mahira Sharma as well.
Siddharth feels the other group is together because they need each other, not because they are actually friends, unlike them.
In the bedroom area, Shehnaaz is bored and decides to have some fun with Siddharth.
She tries to apply lipstick on him but doesn't succeed.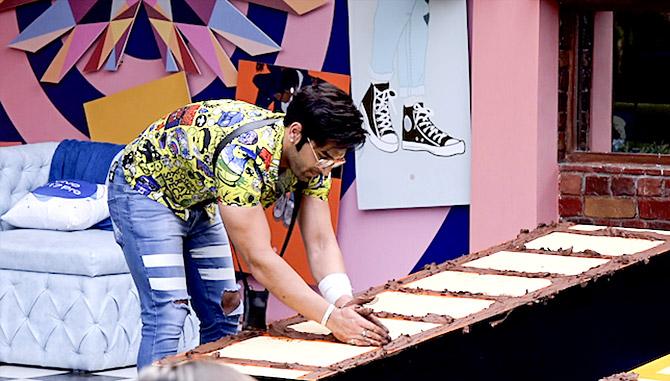 Bigg Boss gives nominated contestants a chance to save themselves from eviction by winning a task.
The garden area is turned into a snakes and ladder board game.
Arti is asked to supervise the task, as well as participate.
Everyone starts planning and strategising.
Siddharth, Asim and Arti discuss in the bathroom area but she gets angry when Siddharth talks to her rudely.
They eventually patch up.
Rashami Desai, Shefali Bagga and Siddhartha Dey also discuss a plan to win the task.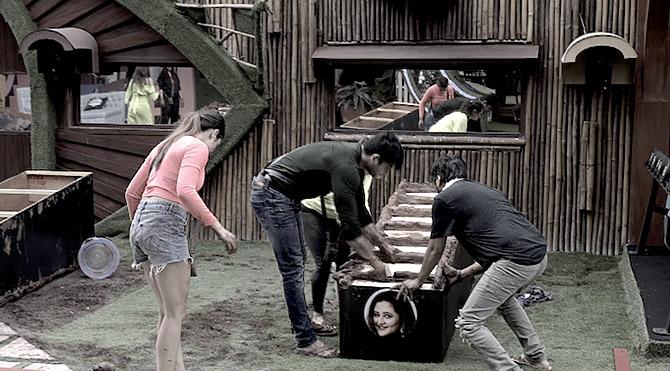 As soon as the buzzer goes off, the housemates run to their respective places where they have to build a clay ladder on a wooden plank.
Since Arti and Asim are safe, they are given different wooden planks.
While they have to compete with each other, Rashami, Devoleena Bhattacharjee, Shefali, Siddharth, Paras, Mahira, Siddhartha Dey and Shehnaaz have to play the game against each other.
Five minutes into the task and Paras decides to ruin Shukla's clay ladder.
As soon as he does that, Siddharth loses his cool and starts destroying everyone's clay ladder.
That's not all.
He turns all the wooden planks upside down.
Paras tries to stop him, saying he cannot destroy Bigg Boss property but he's in no mood to listen.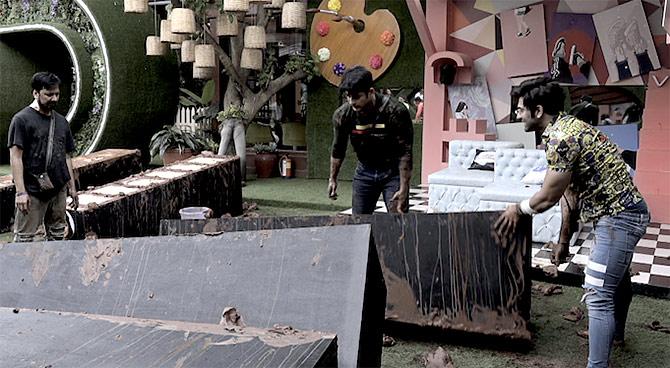 Things get worse when Siddharth targets Devoleena's clay ladder.
She tries to stop him and initially, talks politely.
But when he does not listen, Devoleena gets down and dirty.
Amidst all this, Shehnaaz throws water on Devoleena and she retaliates by throwing clay.
They get into a physical fight and everyone has to step in to pacify them.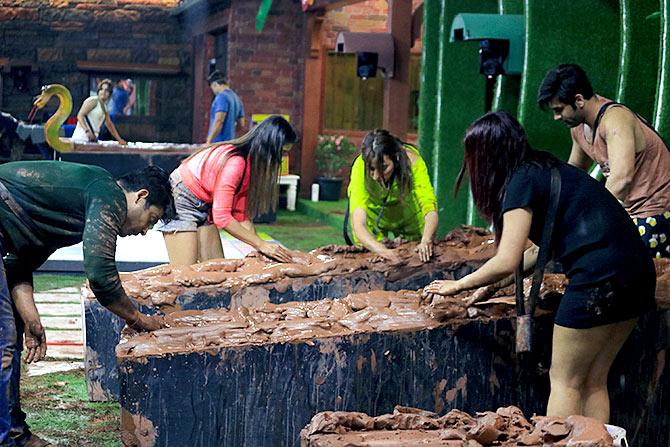 But Devoleena is in no mood to calm down.
She reveals how Siddharth said not so good things about Shehnaaz behind her back.
He retaliates by saying that even she had said some nasty things about Rashami to him.
The argument turns ugly.
Paras and Siddharth also get into a verbal spat and the former refuses to do the task.
Mahira gets into an argument with Arti. Siddharth joins in.
Mahira and Shehnaaz have a fight, which boils down to their equation with Paras.
Asim tries to calm everyone down.
Devoleena eventually says that they should not give up on the task; that everyone should come together and help at least one female contestant win.
Rashami, Shefali and Mahira agree, and they resume the task.
They decide to protect Mahira's clay ladder.
When Siddharth tries to destroy it, the girls protest.
Asim takes Siddharth away from the scene and tells him to cool down, as the girls are playing the game dirty by using the woman card.
Bigg Boss intervenes and stops the task.
Later, Rashami, Devoleena and Mahira discuss Shehnaaz and feel that Arti did not do a good job as a sanchalak.
The day ends with Siddharth telling Asim that he cannot tolerate hearing shit about him all the time.