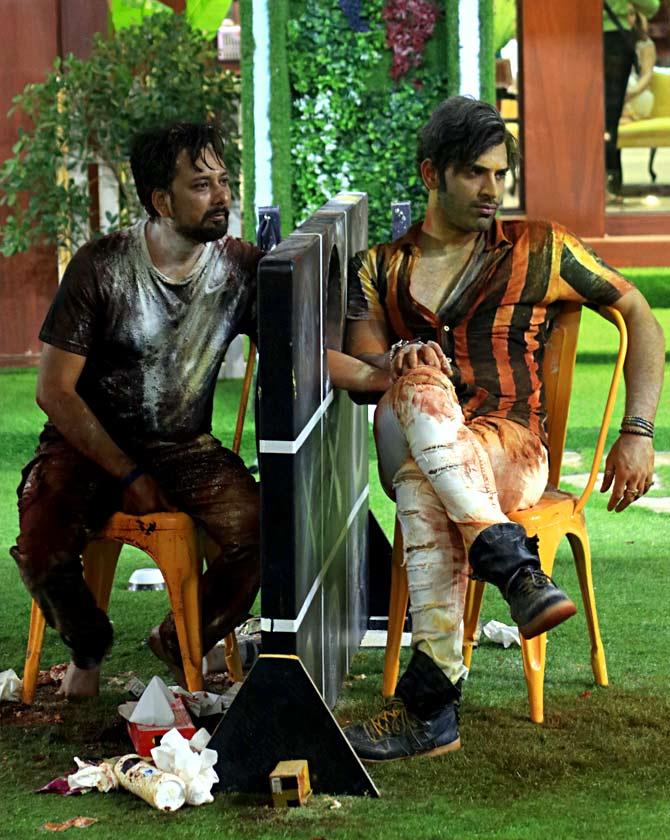 Day 19 kicks off with contestants going about their routine, as Siddharth Shukla and Shehnaaz Gill indulge in playful banter in the jail area.
But their jail time is short-lived as Bigg Boss asks Devoleena Bhattacharjee to release them.

The nominated male contestants have to save themselves from eviction, so Paras Chhabra introduces a new task.
Paras and Siddhartha Dey form one team and the other includes Asim Riaz and Abu Malik. Both teams have to sit in the garden area and hold hands until the buzzer goes off.
The female celebs have to torture the team they like the least.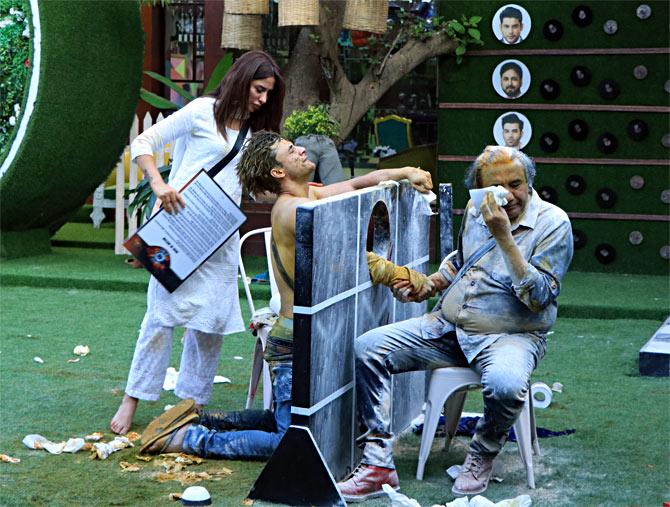 When the buzzer rings, everyone gets down and dirty.
Arti Singh targets Siddhartha and starts the task having fun.
But the situation gets ugly as he hints at something ugly and she loses her cool.
On the other side, Rashami Desai, Devoleena and Shefali Bagga try their best to remove Asim and Abu Malik from the task.
Asim gets aggressive and even breaks down but doesn't leave Abu's hand.
Meanwhile, Siddharth Shukla, who is the sanchalak, fights with Mahira Sharma, Paras and Siddhartha.
None of the housemates are ready to give up and perform the task until night.
Bigg Boss calls off the challenge, praising the contestants.
Siddharth, who is good friends with Arti, loses his cool over Siddhartha's remarks and gives him a piece of his mind.
Rashami gets annoyed with Siddharth's statements, and yells at him. Mahira and Shefali join in.

The day ends with Rashami and Devoleena discussing Siddharth's behaviour.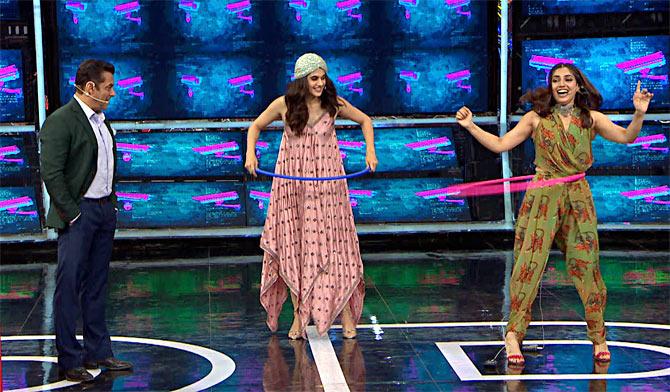 On Saturday, Salman Khan takes centre stage for yet another Weekend Ka Vaar episode.
Taapsee Pannu and Bhumi Pednekar enter the Bigg Boss house to promote their film Saand Ki Aankh.
They play a fun game with the housemates involving a saand.
After their stint, they greet Salman on stage and reveal their favourite contestants. Taapsee claims her favourite is Shehnaaz and Bhumi picks Siddharth.
Salman reprimands Siddhartha for his unsavoury remarks but also tells Arti that he didn't mean it.
Siddharth gets questioned about his statements and though Salman feels he was making the right point, he felt that the contestant should be careful with choosing his words.

Paras comes under the radar when the caller of the day asks him why he doesn't clarify things with Siddharth, and why he gossips about him behind his back.
The housemates are surprised to hear Paras's secret revelations about Siddharth. Paras tries to answer the question but fails.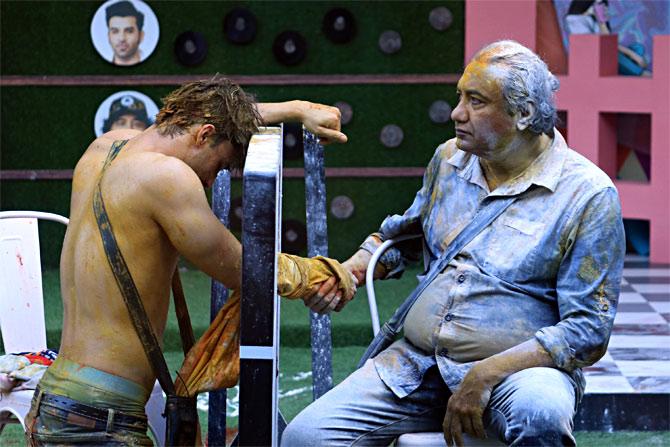 Salman discusses the Rashami-Siddharth equation as well.
He says that they should sort things out, as they looked good together in the last TV show and their fans were rooting for their jodi.

Before the episode ends, Salman reveals a twist about the evictions.
He says no female celeb will leave the show, two male contestants will.
This means Rashami and Mahira are safe.
Salman announces that Asim Riaz is safe as well.

In today's episode, Salman will evict two male celebs.
Who will get evicted? PREDICT!