It has been some time since a Kamal Haasan movie hit the theatres.
The fate of his Vettayadu Vilayadu hangs in the balance.
Which is why K S Ravikumar's forthcoming project, Dasavatharam, starring Kamal Haasan seems so interesting.
Dasavatharam sees Kamal Haasan playing 10 roles.
Those who saw his comedy Michael Madana Kama Rajan will never forget it. He was fantastic in all four roles he played.
If four Kamal Haasans could make us laugh so much, just imagine how funny 10 Kamal Haasans would be.
Now there were four heroines in Michael Madana Kama Rajan, one for each Kamal Haasan character. Does that mean there will be 10 heroines in Dasavatharam?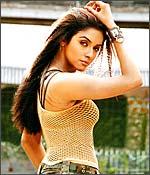 We don't know yet, but what we do know is that two of the hottest heroines in Tamil and Hindi cinema have been signed on so far -- Asin and Mallika Sherawat.
Asin will play a double role, so that accounts for three heroines in the film, for which shooting starts on Friday next, August 18.