Anurag Kashyap's live chat with Rediff Readers on October 29 was quite an interesting one, as the young director tried to explain the finer points of his new film, No Smoking.
For those who missed the chat, here's the concluding part of the chat transcript.
Click here for Part I: The director's guide to No Smoking
Andysg asked, AK - Mate.. I watched No Smoking in Sydney with my colleagues from all parts of the world. The subtitles were great (for once) and everyone are flabbergasted and are waiting to watch it on DVD to figure it out. Keep it up. You made it easy for me to prove that Hindi cinema can be intellectual too. Those who rubbish it have nothing but their lesser IQ to blame for. Bravo.
Anurag Kashyap answers, had hoped that would be the case here too.. sadly it wasn't.. turned out to be just wishful thinking
---
Yashdeep asked, First and foremost, I have to say it is the most intelligent film to have released in a decade in the Indian film industry. I totally loved the whole movie with myriad metaphors. Did you want to show water as the medium from which one can enter from one world to the other. If so, why didn't John need to use that medium the first time he goes to meet the Baba. Is there any significance to Ayesha being the undercover secretary as well as the wife... I am thinking I missed some allegory there.
Anurag Kashyap answers, the wife scretary thing was K's two kind of woman he wanted in one.. water flows seamlessly and and easier way to commute, idea came from a video of a baby being born underwater i saw on you tube..
---
bunny3 asked, Hi Anurag, is your movie an adaptation of Quitter's Inc?
Anurag Kashyap answers, no that is just the deparure point for the story
---
Manoj asked, why did u keep no smoking name for this film
Anurag Kashyap answers, couldn't think of anything else
---
magesh_rr asked, What is your answer to all the critics who have slammed your film?
Anurag Kashyap answers, most of them are right in what they say.. maybe i did not communicate too well.. what bothers me is Nikhat and khalid reviewing me and Mr. hegde's headline.. i wasn't drugged when i made the film.. if they say they didn't get it or i could not communicate it, or there wasn't anything to be got, i understand.. no one has given it any stars.. but deepa, indu mirani, they also did not like the film but said it like a reviewer.. a critic.. and it's fine.. that helps you realize.. critic's job is to critique, not pass judgement.. they reacted to my criticism of them.. but they have to rise over it and be objective, they are doing a job, and a critic who can not take criticism himself has no right to pass judgement onto others.. i am a filmmaker, i get frustrated and angry so i say things about them, which is my opinion, but if they become like that when they do the job and they get frustrated then aren't we the same.. then why should one have their opinion pasted on us.. i write on a personal blog.. he can reply or trash me in an article, or even on my blog or personally or anywhere else.. but cannot while reviewing a film.. and cannot disturb in the press screening to influence opinion
---
Sisodia asked, where do you see yourself after 15-20 years from now ?
Anurag Kashyap answers, right here talking about my then film
---
ajya asked, Dear Sir, with whom(actor) u r really looking to work
Anurag Kashyap answers, Big B
---
sammaxin asked, wht is ur opinion on the initial report on no smoking
Anurag Kashyap answers, only a miracle can save me..
---
ks asked,  hi anurag from a directors perspectiveI would like to know why actors with glamorous looks are generally not considered good actors as compared to actors with mediocre looks?
Anurag Kashyap answers, good looking actor distracts you and does not allow the character to take over, even if he is good. and that is from the audiences perception..they watch him and not allow him to become what he plays.. case in point SRK, they just want him to be that SRK
---
Vikash asked, I think its ok to ask questions but at least they should be answered somewhwere in the end. Leaving so many questions unanswered is senseless cinema to me. It was really painful experience to watch No Smoking. your take on this Mr. Kashyap.
Anurag Kashyap answers, i overestimated my audience and my film both.. will correct it the next time.. sorry mate
---
amitttttttttt asked, hey anurag....what was russian connection? the choice between cig & the tub??
Anurag Kashyap answers, bathtub is comfort.. cig is freedom.. russia was stalin.. a dream now shatterred.. a dictatorian attitude that eventually destroyed a country
---
rohittt asked, whwn will panch see the light of day ?
Anurag Kashyap answers, no idea, waiting for my producer to come back from london
---
csrinivas asked, hi anurag, i heard you complaining about film industry's reluctance to experiment.why don't you try digital cinema, using actors(non-stars), release direct to dvd,internet downloads.this way you can keep the budget low, don't have to compromise,get decent returns. use technology to beat the old gaurd
Anurag Kashyap answers, will try that..have to. also haven't figured out the technology yet
---
jaaanu asked, Do you hate entertaining films??? Indian films are so immature to you??What is maturity?? madness?
Anurag Kashyap answers, i do not hate entertaining films.. but they should entertain then.. i love rang de, chak de, all i want to do is what i can do.. but why should all the films be same.. do you eat the same food everyday, do you wear the same clothes everyday.. somedays you dress up normally, somedays you want to feel sexy.. sometimes you want to be intrigued.. i don't claim to know everything, but i want to try everything.. is it such a crime.. i cry hoarse against the other kind because they exist in abundance..naya bhi kuch hona chahiye ki nahi
---
Sachin asked, Hi Anurag, firstly thanks for giving us a splendid movie like Black Friday? I have just two questions....your fav. hindi movie and actor?
Anurag Kashyap answers, pyaasa and dilip kumar
---
AnupNair1 asked, Hi Anurag,Kudos to you for making NO SMOKING,apart from the movie being a bit long,I quite enjoyed the movie.to quote one of the foreign critics 'If someone from Bollywood has a potential to make a crossover movie,Anurag Kashyap will be on the forefront',just wondering the 'K' in NO SMOKING,is it a refrence to KAFKA or KASHYAP?:)
Anurag Kashyap answers, me.. i don't want to die before my work gets published
---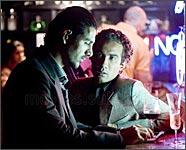 RGV asked, Hi sir, Who is your fav director amongst current ones Arey yaar only responding to girls;)
Anurag Kashyap answers, anurag basu, raju hirani, shimit amin
---
Fai asked, Hey Anurag, dont u think that some where down the line u didnt value ur audience--u indulged a lot and u went overboard???
Anurag Kashyap answers, i value them more.. it's the others who don't value them.. i credit them with more intelligence, you should sometimes do a sting operation on how the bigwigs talk about the audience.. "sir ek kiss daal do, bikini pehenwa do, bhaag ke aayenge" "dimag thodi lagana chahta hai koi sir.. jo kehna chahte ho sab bol do" that's what they think and i guess they were proven right..
---
supyal asked, wat u think where ur movie go wrong
Anurag Kashyap answers, i think we did not prepare the audience for what they should expect.. publicity was wrong.. after that the last twenty minutes is what everyone is saying.. i haven't sorted that out in my head as to how could have i communicated better.. other than these two i don't think anything went wrong as far as the audience is concerned.. I made the film i wanted to make.. so here i am taking the blame
---
neon asked, Do you think your movie is flawed in anyway or you think its just perfect
Anurag Kashyap answers, from my POV barring few things here and there rest is the way i wanted it
---
amitttttttttt asked, pls tell me what was the zero minute??
Anurag Kashyap answers, Zero minute was just a concept i had that denotes freedom but that too comes with a condition.. it's like you are free to be in the zero minute only in a no man's land, inhabited by your kinds.. so they could keep a watch
---
Vatsal asked, Anurag, I really liked the film but to be frank there were so many things that I did not understand. And all the events kept bugging me whole night. Can we expect a sequel to the movie explaining all the things that happened or we will have to make our own version of all the events that transpired in the movie?
Anurag Kashyap answers, do you think anyone will let me make a sequel.. i have the idea to bring it together.. do you have the money
---
sg-i_read_pfc asked, hi anurag.. dont u think u could have ended it all well when K wakes up from in his bed in end.. it could have been soem trip..
Anurag Kashyap answers, that's too easy..and does not leave an aftertaste.. i wanted the film to stay with the audience and see it's not leaving them.. give this film time
---
kamlesh asked, Anurag, why there is dark side associated with your movies?
Anurag Kashyap answers, ask the ones who are associating it with me.. and what is dark, who defines it.. press has an obsession with dark.. they want everything happy, shiny, pink.. and why is dark wrong.. and you want to see real dark, see hostel, see a lot of cinema from europe and hollywood, all korea, japanese make adult comics.. it's a different world out there.. only we want to live in wonderland
---
hik asked, How is JOHN Is he attracted to women...
Anurag Kashyap answers, which straight man isn't.. but he has the most beautiful girlfriend.. so there you go
---
Vivek asked, Dear anurag, how was ur exp making No Smoking? did you enjoyed making it? and are you happy with the final product, i mean is it the way you wanted?
Anurag Kashyap answers, i loved making it i love the finished product
---
pm3313 asked, Hi Anurag who are Your favourite directors internationally - Bunnel seems to me one.
Anurag Kashyap answers, bunuel is one yes.. and a lot more.. too many to name..they are all listed on my myspace page
---
nrao asked, Hi, in No Smoking is Paresh Rawal meant to be the Devil himself? and how did the protagonists wife come back alive?
Anurag Kashyap answers, she never died.. yes he is the ageless devil
---
Shravan asked, Hi AK, What was ur target audience..? bcoz 95% dint understand the movie (inc. myself), I did read ur article in PFC..but still why this movie..? I know u had to prove a point & all that..but even this one was ok till teh interval..but the last 30 mins..you totally lost it..your comments..
Anurag Kashyap answers, i made the film to discover my target audience.. wanted to see how many of my kind exist..
---
ashesh asked, though the smoking is banned on screen, still you movie has 100 of smoking scenes.. how??
Anurag Kashyap answers, it is not yet banned.. the case is still pending in supreme court
---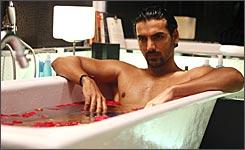 gf asked, we audience are really proud having aunrag in bollywood.Anurag pls design masterpieces comparable with malayalam movies.
Anurag Kashyap answers, malyalam movies of the earlier were great.. but i think the bollywood is seeping in there too
---
saurabh dikshit asked, Hi, Anurag, I've dropped some comments on PFC as well... about how I loved the movie but wish u kept it safe n simple in the second half. we cld have had a blockbuster. Do u repent it or feel that this was the only way u cld have done justice to the movie?
Anurag Kashyap answers, i don't repent it.. but yes i could have made the same thing simpler but i didn't know how
---
Bhardwaj DSS asked, I need a serious answer. If anybody was to compliment your film after watching it, What would you like to hear? 1. About the story, 2. The direction, 3. The way it it was shot
Anurag Kashyap answers, about the whole film together
---
subhash Tangella asked, Hello Mr. Anurag, you constantly claim in your blog at pfc that several hindi film writers have original thoughts that are quashed by the stupid system they work under. Is it true that these original writers still retain their spark or just start playing the game and become a part of the crap that bollywood is?
Anurag Kashyap answers, some do some don't.. i know the ones who do.. but i have given in many times
---
prats asked, Vishal says on CNN IBN that he had reservations about No Smoking. Were there differences between the two of you?
Anurag Kashyap answers, no..
---
mohan asked, Anurag how did the concerpt of Black friday come to you,where did you get the story from. It is a very hard hitting film.
Anurag Kashyap answers, the book
---
CBJK3 asked, Hi Anurag, who are your favourite writers? Do you like Irvine Welsh, James Lee Burke, Ken Kesey etc?
Anurag Kashyap answers, have only read his one flew over..i like the others you mentioned.. but right now my favourite is ken bruen
---
FM asked, How satisfied are you with 'No Smoking'?
Anurag Kashyap answers, very
---
suniln asked, Hi. Lot of questions have come up post the movie. Was there a metaphor about people taking a bath in the end. What happens to people who have given the 1 rupee and don't need to take a bath?
Anurag Kashyap answers, that was just a symbol of smokers being the jews, or anyone who doesn't want to be what he is commanded to be is the jew and the one who commands is the dictator.. and when the the dictator can not handle you he kills your soul, i.e. kills you.. what happens to you when you don't pay your dues..
---
riya123 asked, hi anurag from where did u do a course in direction? i just admire ur movies pls tell me about no smoking -the funniest moments on the sets of the film
Anurag Kashyap answers, it's all online on www.passionforcinema.com
---
ramesh asked, you think audience will accept any scrap u will throw u really tested my patience for 2 hrs
Anurag Kashyap answers, i don't think they accepted it.. i will keep trying though till you give up on me or ignore me
---
ajm asked, sir i am a faculty from IITROORKEE immensely liked your movie. THOUGH I MUST ADMIT i picked up the thread of the movie from u r blog and other review sites! keep it up sir u r just fantastic in translatying your surreal dream/ reality into motion. just one question - were you inspired vby kafka's writing? i have read trial and america and was spellbound. moreover is it necessary to have an unintelligible cinema to parade u r innovative style of film-making?? i liked u r black friday a lot and is looking forward to your next. u will definitely get intelectual patranage. would not it be possible for u to make u r naext movie which makes us celebrate u r intelligence as well entertain us in a 6-9 show???????????
Anurag Kashyap answers, yes he does influence me.. will try both next time
---
Jaison asked, Hey Anurag, I actually loved the movie. My wife did not..A lot of people just got up to leave when the title of the movie flashed up at the end, only to get back to their seats when the bipasha number took over...john was great, i think ur direction is good, and you are definitely going to scale some height with the kind of work you do..all the best!
Anurag Kashyap answers, thanks man and apologie to your wife
---
mj asked, Hats off for daring to stand against the Chopra's and Johar's of this world. I like your style of film making. Have you read "Fireproof" by Raj Kamal Jha. It will suit your style
Anurag Kashyap answers, no will pick it up
---
cricketguru asked, Our audience in India is greater than all European countries put together and if you don't understand their pulse, forget about making money. Sure, you can satisfy yourself intellectually by proclaiming your film is not the routine run of the mill stuff.
Anurag Kashyap answers, you know our cinema doesn't even make a fraction of money tha so many other countries make.. our biggest hit is still gadar tha made 65 crores.. which is 14 million dollars.. and trust me that's pathetic
---
Arnabi asked, Hi Anurag, I am a big fan of your style of movie making. specially black friday was so vivid. However some people claim that a film like 'no smoking' has no point. what is the point that the movie is trying to make according to you?
Anurag Kashyap answers, have you seen it.. one black friday can not define me
---
cricketguru asked, If a movie is not going to be successful commercially, what's the point inmaking it.
Anurag Kashyap answers, 90% movies don't make money but we still make them
---
Jeevan asked, Hi Mr.Anurag... what makes you tick....is that a stark reality based concept with a bit of inherent message or with a dumb song n action saga for commercial success.....
Anurag Kashyap answers, anything that catches my imagination or bothers me
---
francis asked, hi anurag just want 2 say keep up the good work and continue inspiring us
Anurag Kashyap answers, thanks man
---
AMITA asked, WHAT MADE YOU TO MAKE THIS FILM?DO U THINK ITS GOING TO DO SOME GOOD TO OUR SOCIETY?
Anurag Kashyap answers, do you think politicians are doing any good.. do you think shopping malls are doing any good.. or do you think other films do good.. why is it the job of a filmmaker to do good.. why not yours.. i can't do good for myself, how will i do it for others.. i try and i fail, may be one day
---
keshav asked, Hi Anurag,I have a simple question, whom you tried to satisfy with this film? I think this is the worst film made by you.
Anurag Kashyap answers, have released only two so far.. i tried to reach out to everyone.. i saw they weren't ready.. i have become wiser now
---
ravish asked, hi according to me, movie was very nice till interval, but after that it was really Horrible , i can see 100% theater was Scratching thr head . how did you achive that ? i hv never seen 100% people behaving same in a theater. DON'T TAKE IT IN NEGATIVE way
Anurag Kashyap answers, but that also is a reaction.. because people like to be served interpretations.. they don't do self service.. sometimes films should bother people.. provoke them, force them to think.. why should one always pamper the audience,, because they pay.. but then you also pay the dentist and he puts in terrible agony to relieve you of it..
---
muhammad asked, Sir, Gd afternoon to you, since 14 years i have been smoking and without any interest (most of the times i hate whole somoking) but unable to stop it. Plese guide me to practice non smoking....
Anurag Kashyap answers, wish there was a baba bengali
---
rahul asked, Hey anurag..I liekd your movie, quite a lot. What was it working with Rajeev ravi as ur cinematographer
Anurag Kashyap answers, rajeev is brilliant and with the best temperament there can be
---
Amol asked, Hi Anurag. How was your experience working with John , bips and Ayesha ? Is it that u have a preference to make dark movies ? Will u make a comedy ever ?
Anurag Kashyap answers, would love to make a comedy