Anil Kapoor has been a part of the Hindi film industry for about 25 years. From one of the biggest heroes of his time in Ram Lakhan, Tezaab and Mr India, he turned into a seasoned star in films like Pukar, Taal and Nayak: The Real Hero.
Now, he turns producer with the promising Gandhi My Father, starring Akshaye Khanna, Darshan Jariwala, Shefali Shah and Bhoomika Chawla.
The actor talked about his career and much more with BBC Hindi India Editor, Sanjeev Srivastava, on Ek Mulaqat, a weekly chat show on Radio One. The show will be broadcast at noon, on Sunday, July 29.
Here are some excerpts from the show:
SS: You have done a variety of roles starting with Woh Saat Din, Meri Jung, Ram Lakhan, Kishan Kanhiya, and Rakhwala. How did you play so many different characters? You must have worked several shifts.
AK: I trained with Roshan Tanejasaab for a year and I respect him a lot. I have always done less work, but even then, it would be three or four films. When I got an opportunity to go abroad and meet foreign filmmakers, they were very surprised as to how we could work in three or four films at the same time. Actually, we Indians are very capable, and I am an Indian. Perhaps that's why I am able to do this. I'm proud to be an Indian.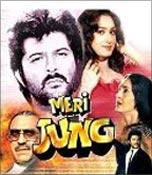 SS: Which of these characters is closest to yours? In the 1980s, you surpassed Amitabh in your roles of the 'angry young man'.
AK: Firstly, I have to admit honestly that I did not surpass him [Amitabh]. He is one of the greatest actors. Yes, it's true I acted in several films whose screenplay was written with Amitabhji in mind.
SS: When I saw Meri Jung, it seemed like Anil Kapoor in an Amitabh film. You enacted your part so well in that film.
AK: Yes, he [Amitabh] was going to do this film. Initially, he was meant to do Mr India also. But I added my own style to these characters. If you see Mr India, you will never feel that this film was going to be done by Amitabh. Then I acted in Javed Akhtar's film, who used to write films only for Amitabh. I worked with Yash Chopra, who used to make films with Amitabhji. When people compared me to Amitji, I considered it an honour that at least I have reached this stage where people are comparing me with Amitji.
SS: Believe it or not, you were the biggest star of the 1980s.
AK: I never thought about it. I used to just do my work. When people used to say that Anil Kapoor is on the cover of the magazine, it didn't affect me much. My career graph didn't have too many ups and downs. I used to give a hit film every one or two years. I didn't have any problems at home or with the family either. Thanks to God everything was fine.
SS: You have a very good voice. If you weren't an actor, you could surely have become a singer.
AK: Yes, I used to practice singing before. I can tell you that I could have become a better singer than all the actors who sing in films.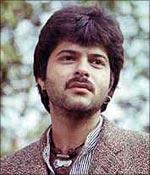 SS: So you were interested in music also? And you used to practice singing?
AK: Yes, I used to practice singing. In Woh Saat Din, I came to Mumbai to become a music director and I always have a harmonium with me. You will see that I am quite comfortable with that harmonium. The film was shot in 1982. In 1977-78, I learnt music from Chote Iqbalsaab.
When I was studying in seventh class, I was 12-13 years of age, I played the childhood role of Shashi Kapoor in the film Tu Payal Main geet. I auditioned for the role without telling anyone at home and I was selected. I had to play the sitar in that film. I said I don't know how to play the sitar. My director told me that there is a guru in Bandra who teaches sitar, and I thought that if I work in the film without learning to play the sitar, it will look very bad. So for a month I used to go by bus to learn to play the sitar. I always used to do my work very passionately. If the work doesn't turn out properly, it feels like it's no fun. That's how I learnt horse riding and swimming also. I learnt several things but just enough so that when I come on screen I look like I know it. I did all this so that I could act properly. There was never any confusion as to what I have to do in life. I always wanted to be an actor.
SS: Did people around you, your family and all say that you have it in you to be an actor -- or was it just your own misconception?
AK: It was only my misconception. Everyone thought I was mad. People used to say -- how would this boy with a small face and long hair, and thin legs become a hero? But there was an enthusiasm. I couldn't rehearse my lines loudly at home so I used to go for a walk with my grandfather. No one lived in that locality so I used to climb up a tank on the eighth/tenth floor and practice from there.
SS: Another song of your choice?
AK: I did some films which, if you see them, you would feel that the music is everything. Take 1942 - A Love Story for instance. I did this film because of its music. Vidhu Vinod Chopra came to me and I said to him, 'why are you taking me for this film? I'm a father of three and you want me to do a love story? The film also has a Romeo and Juliet kind of scene. Then he played me a song he had recorded for the film and then I thought that I will definitely do this film.
SS: You said in some interview that you couldn't learn to dance. I don't agree with you on this, but tell us, is it true?
AK: Dance master Kamal taught me a few steps of the tapori dance from Bhagwan Dada. Amitabh Bachchan used to do this before me. Amitji belonged to North India, but I belonged to Mumbai and lived in Chembur. This tapori dance was also Maharashtrian, so I was able to learn it quite naturally. I have some sense of rhythm so I learn a few steps of Bhangra also. But I couldn't do Western dance. If you liked my dance in any film, it's because I would have danced in my own style. If you pressurise me and tell me that I have to dance like Prabhudeva or Mithun, then it will be difficult.
SS: Then how did you dance in Taal?
AK: Working with Sarojji, I learnt a little bit of dancing. The song was packaged so well that even I looked good to you.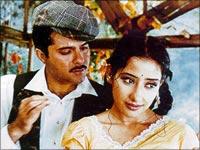 SS: Another song...
AK: Another song of 1942: A Love Story that I like very much is Ek ladki ko dekha to aisa laga. I think this song should find a place in history. Kumar Sanu sang it beautifully. I had suggested Kumar Sanu for this film. When he came, he had grown a beard, so the director Vidhu Vinod Chopra said to him, 'it's such a beautiful romantic song and look at you; first go and get a shave.'
Another instance I remember [is that] Vidhu didn't have the money to film the song. Those days, Vidhu didn't have a lot of money. The music director was Panchamda. He told Vidhu to go ahead and film the song, and he will pitch in the money. So he gave the money.
SS: It was picturised beautifully.
AK: Sanjay Leela Bhansali picturised this song. That's when I realised his potential. The song had a male voice so it should have been picturised with me but all the shots were filming Manisha Koirala. I argued with Sanjay a lot. The song was very poetic and later I realised that he was right and I was wrong.
SS: Today in India, who is the dancer you wish you could dance like?
AK: I think Prabhudeva is the country's best dancer today. Hrithik Roshan and Shiamak Davar are also very good dancers.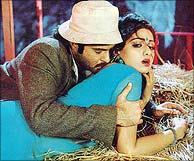 SS: Sridevi and Madhuri Dixit were the two big heroines of the 1980s and 1990s. You did many films with both of them. Who was closer to you?
AK: I have worked more with Madhuri Dixit. She is from Mumbai, so I feel closer to her. Her career graph went up after working with me. She got recognition with Tezaab.
When I worked with Sridevi, she was a big star and I was an upcoming actor. I did many films with her -- Lamhe and Mr India. She got married to my brother and now she is my bhabhi. She is a very good actress. I would include Sridevi and Madhuri Dixit as good dancers.
SS: Who do you like among today's actresses?
AK: After Madhuri, I liked Aishwarya and Kajol. They have some magic in them. Rani is also a good actress; she has improved her acting a lot. Her role in Black was fantastic. Preity Zinta also has her strengths.
SS: Working with such beautiful heroines, you heart never fluttered?
AK: It always fluttered. There wasn't a day when my heart didn't flutter, but then I think – do I want two seconds of happiness or a lifetime of happiness?
SS: You always choose a lifetime of happiness?
AK: Yes. Do I make myself happy or some one else unhappy? It's always a struggle. That is why my wife has been with me for the last 34 years -- as a girlfriend, as a friend, and as a wife.
SS: Your daughter is also coming into films. Were you supportive or against her decision?
AK: Times have changed. Today, children decide what they want to do. She wants to be an actress so I encouraged her, but I also told her all about this field.
SS: The greatest moments in your life?
AK: When I fell in love with my wife, when my daughter was born, when I signed Meri Jung, when my family felt proud of me, when I finished making Gandhi - My father, when I presented this film at the press conference.
SS: What plans for the future?
AK: Gandhi - My father releases on August 3. Then comes Anees Bazmi's Welcome. Then there will be an Abbas-Mustan film. I am also working in one of Subhash Ghai's films, called Black and White.