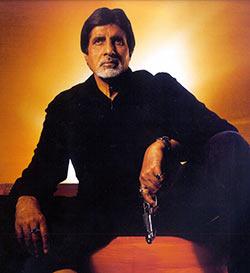 The long-due sequel to Vipul Shah's 2002 thriller Aankhen may see Amitabh Bachchan reprise his role.
Producer Gaurang Doshi has signed Anees Bazmi to take over the directorial duties in the sequel.
The rest of the cast is not known yet.
"Both Gaurang and I are very keen to have Bachchansaab on board," says Bazme. "He is the central point of interest in Aankhen. I'm keen to work with him. We are working on getting him to agree. The rest of the cast will be completely different from the original film. However, it will be the same situation in the plot of blind characters pulling off a daring heist."
Incidentally, Anees has been keen to work with the Big B for a while now. The prolific director wanted the Big B to play the role vacated by Feroz Khan in Welcome Back but the dates didn't work out.
Besides Bachchan, the original Aankhen also starred Akshay Kumar, Arjun Rampal, Paresh Rawal and Sushmita Sen.
In the picture: Amitabh Bachchan in Aankhen