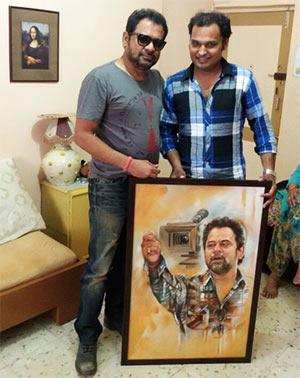 It was a triumphant homecoming for writer-director Anees Bazmi.
On June 14, Anees's native village Modasa in Gujarat turned out in full force at an event held there to honour their famous son.
Anees could barely hold back his tears as the entire village waved, cheered and applauded the man who had put their nondescript village on the Bollywood map.
"Modasa is where it all started. To return to the village where I was born and where I grew up and to be honoured in this spectacular way... I must have done something right," says Anees.
Anees had started his Bollywood career as a dialogue writer in 1988 and then proceeded to script blockbusters like Swarg, Aankhen and Raja Babu before turning into a full-fledged director with Hulchal in 1995. He went on to direct movies like No Entry, Welcome, Singh Is Kinng and Ready.
Reliving the emotional experience Anees says, "The entire village had turned up to honour me. It was the most overwhelming experience of my life. Mujhe lagaa maine zindagi mein kuch haasil kiya hai. The District Collector, police officers, doctors, lawyers, income tax officers... they were all there. I felt like a king."
In the picture: Anees Bazme poses with Prashant, who painted his portrait.