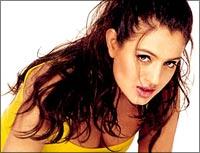 Pose any questions about France, and pat comes the answer from Amisha Patel.
Be it the Louvre, the Mona Lisa, the Eiffel Tower or anything about French history, Amisha's thrilled about France.
Which is why it's no surprise that she was chosen from Bollywood by French designer Louis Vuitton to share the red carpet with Uma Thurman, Sharon Stone and Salma Hayek. The actress is the first Indian to endorse the luxury leather brand.
"It is an honour to share a platform with such actresses," says Amisha, who will leave for Paris on October 7. "Louis Vuitton is a 150-year old brand, and our Indian Maharajas used their luggage and goods in that era! I am really excited and looking forward to my visit."
She added, "Paris as a city is very close to my heart. It is one of the great cities of the world. I visit it every year and it is one of my favourite destinations."
Amisha also speaks highly of the French language, and says it is one of the world's sweetest. "I feel French is very close to Urdu. Both languages are beautiful. Sadly, their beauty is lost in translation."
And what will she wear at the event? "Obviously, it will be a sari! If I am representing India, it can be nothing else!" Without revealing much about the style of her sari, she says that Neeta Lulla will be designing her clothes for the trip.
Watch this space for more on the actress!