'जब भी आएँगे धमाके लेकर धमाके के साथ आएँगे!!!'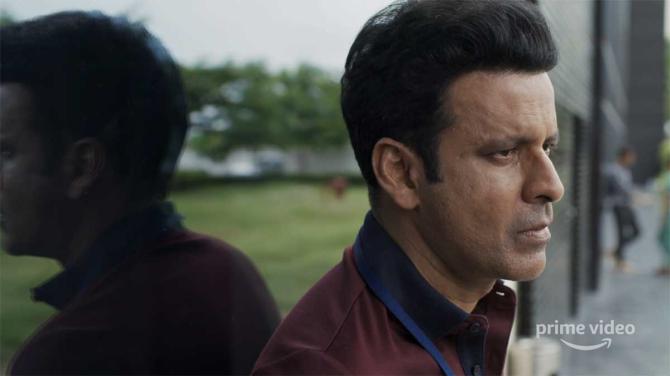 The decision to postpone the streaming date for Season 2 of Raj and DK's eagerly awaited The Family Man has thrown many associated with the series offguard.
But not Manoj Bajpai who plays the central role in The Family Man.
"As an actor in the series I don't have any communication as to why it got postponed," Manoj tells Subhash K Jha..
"I trust Amazon's decision, whatever the reason may be also I think that Amazon is represented by some very responsible and intelligent people in India and they know what's best for the show and we trust them," the actor adds.
"All I will say जब भी आएँगे धमाके लेकर धमाके के साथ आएँगे!!! हाहाहाहाहा." ("Whenever it releases, it will come with a blast!!! Hahahahaha")
One major reason why Manoj has elected to do a Web series at this juncture is the reach.
"The audience for a Web series is staggering. For the same films of mine that were closed down in theatres even before they got a chance to be seen I've audiences on the Internet coming up to tell me how much they like the film," he says.
Manoj chose The Family Man as his Web debut for its relevance.
"It is about an unsung hero, someone who constantly jeopardises his life for the country at the cost of his family life. I did it because I loved the script," he says.
"Also, I've been meaning to work with Raj and DK for some time now. I've seen Go Goa Gone," he adds. "I liked its fresh energy and the directors' appetite for the edgy and wacky."
The Family Man Season 2, which was to stream from February 12, stands postponed for now.
Confirming this development, a source very close to the project tells Subhash, "Amazon has taken a beating with two of their most successful shows Mirzapur and Tandav coming under the scanner. Amazon doesn't feel the atmosphere is conducive to the release of a big franchise like The Family Man."
But The Family Man has no controversial content at all?
Responds the source, "You know that. I know that. But who knows what triggers off an adverse reaction in the public? Amazon would rather wait for a more opportune time to release an important show like The Family Man."
"Raj and DK have delivered the full series of the second season of The Family Man to Amazon. They have nothing to do with the decision to hold back the series," the source adds.
"As far as Raj and DK are concerned the series is ready for streaming whenever Amazon decides to do so. The directors have no intention of modifying anything in the second season because there is nothing even remotely objectionable in the series."
Feature Presentation: Ashish Narsale/ Rediff.com