A look at the top posts on social media from your favourite Bollywood celebrities: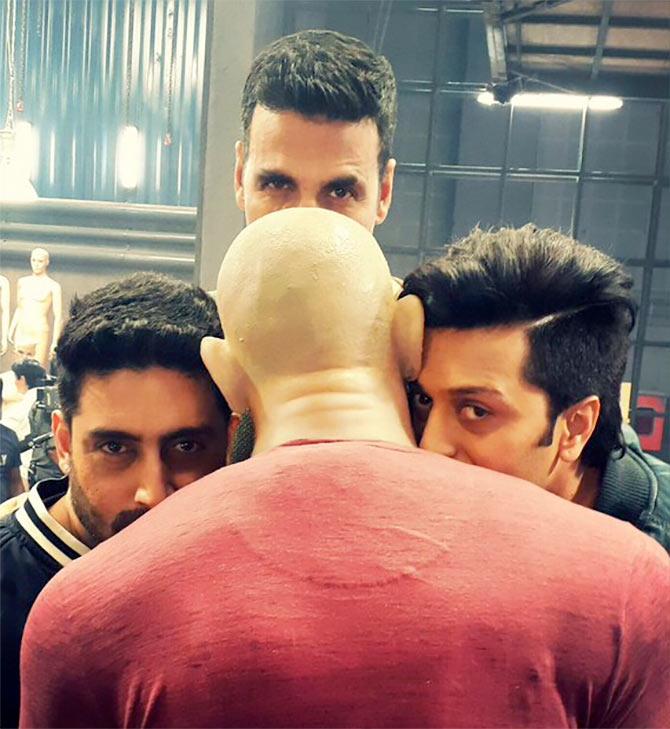 Akshay Kumar, Abhishek Bachchan and Riteish Deshmukh, who are shooting for Housefull 3, spoofed Deepika Padukone's picture with Hollywood actor Vin Diesel.
Akshay posted the picture on Twitter, above, and wrote: 'Since Vin Diesel is busy with @deepikapadukone, we at #Housefull3 are making do with Vin Petrol.'
Riteish Deshmukh added: 'I thought all of us had to match @deepikapadukone 's expression - dhokebaazon!!!!!'
***
Dilip Kumar: Saira is never in favor of celebrating my birthday
Veteran actor Dilip Kumar, who will turn 93 on December 11, has said that he will not celebrate his birthday in wake of Chennai floods.
'My sympathies are with the people of #Chennai. I wish I had the good health to travel there - the city I wanted to adopt as my second home. I have decided to forego all celebrations on my birthday as I am saddened by the tragedy that has swept the lives of so many in Chennai,' he tweeted.
'Saira is never in favor of celebrating my birthday. She feels the evil eye will fall and I will have health issues soon after celebrations. Years ago my mother and grandmother had the same superstition and after my marriage the belief was gladly taken over by Saira,' he added.
***
On the sets of Ae Dil Hai Mushkil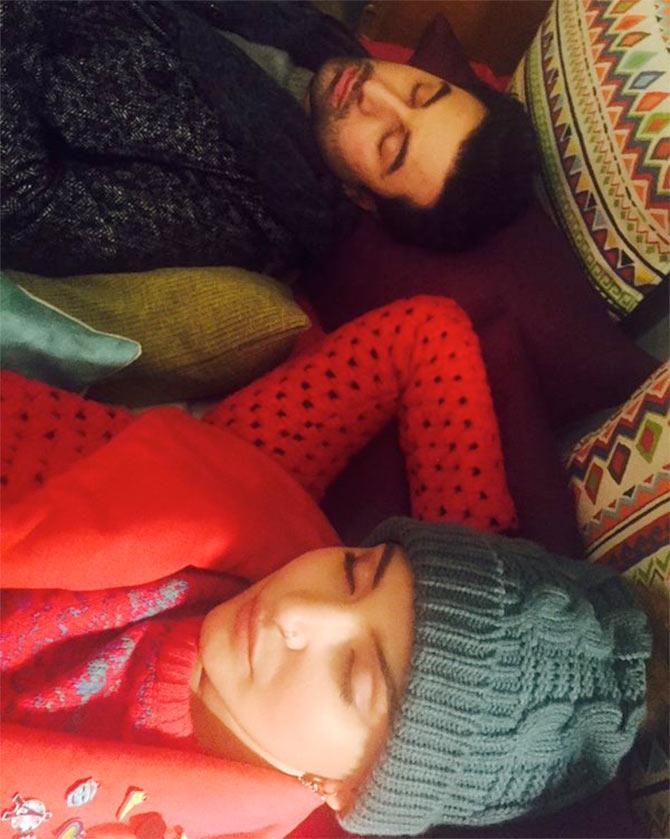 Karan Johar, who is shooting for his film Ae Dil Hai Mushkil in London, shared a picture from the sets, above, and wrote: 'Non stop shoot for #AeDilHaiMushkil ...overworked cast and crew! Here's a sneak peek.'
Meanwhile, Karan confirmed his next with Gauri Shinde, starring Shah Rukh Khan and Alia Bhatt.
'@gauris film with @iamsrk and @aliaa08 commences principal photography middle of jan!! Pre production is on full steam now! Exciting!!!!' he tweeted.
***
Happy birthday Dia Mirza, Shatrughan Sinha!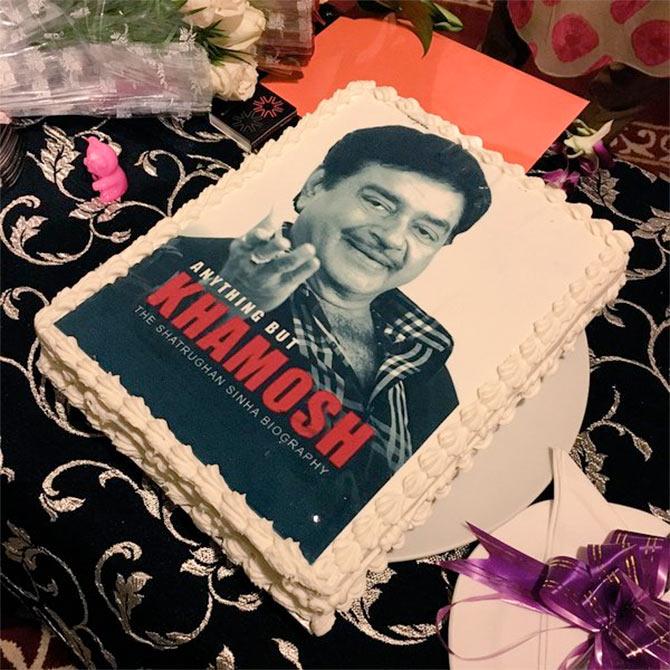 Dia Mirza celebrates her birthday on December 9, and Aditi Rao Hydari took to Twitter to wish her.
'Happyyyyyyyyy birthday deeeeeeee.... Have the bestestest year...you'll always inspire... Alwaaaaays!' she posted.
Actor-turned-politician Shatrughan Sinha also celebrates his birthday today. His daughter Sonakshi Sinha shared a picture of his birthday cake, above, and wrote: 'Happy birthday to Shotgun Senior @ShatruganSinha! Hes anything but khamosh and we love him for that.'
***
Farah Khan, Shirish Kunder celebrate 11 years of togetherness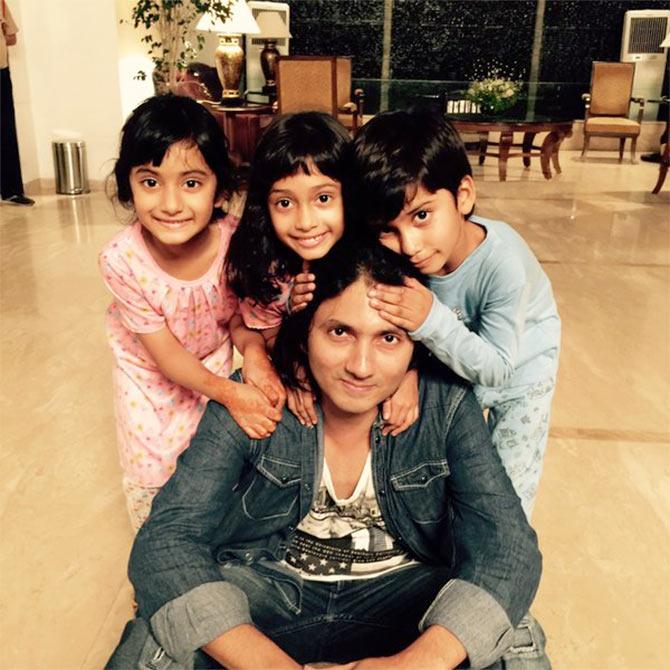 Choreographer-filmmaker Farah Khan and her husband Shirish Kunder celebrate their 11th wedding anniversary today.
Farah shared a picture of Shirish with their kids, above, and wrote: 'Happy 11th anniversary.. @Shirishkunder..only thing better than having u as a husband, is our kids having u as a dad!'
Meanwhile, Shabana Azmi and Javed Akhtar celebrated their 31st wedding anniversary. 'Its our 31st wedding anniversary.@Javedakhtarjadu started the day by saying "you lucky you" to me. He is incorrigible,' Shabana tweeted.
***
Aur Devdas is now titled Dasdev
Director Sudhir Mishra's Aur Devdas has now been titled Das Dev.
Talking about the title, Mishra tweeted: 'Just by d way Das means slave n v all know what Dev means. D movement of the novel is from Dev to Das. At d end Dev is a slave 2 his addiction.'
'All those who question my beliefs shud see DasDev n then say which side of d political fence I am on. I hve d guts to make this film. Do u?' he added.
The film, which is based on Sarat Chandra Chattopadhyay's Devdas, will feature Rahul Bhatt, Richa and Aditi Rao Hydari.
***
How Sharmila Tagore celebrated her birthday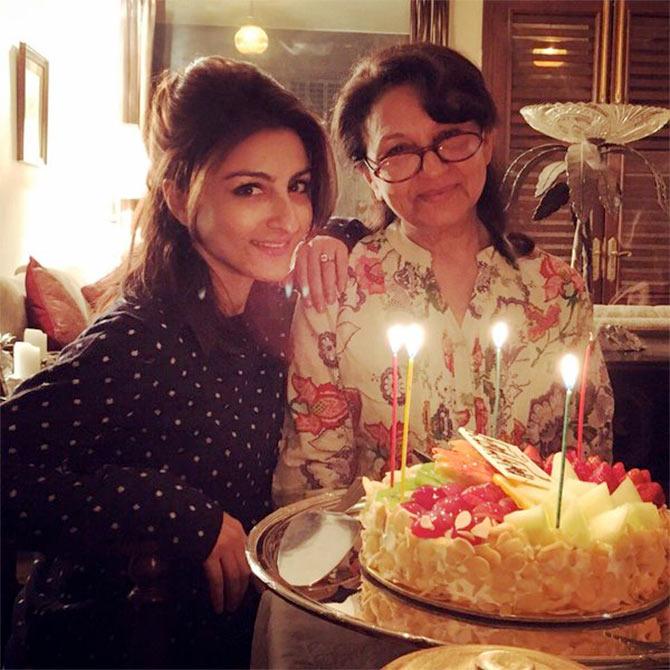 Veteran actress Sharmila Tagore celebrated her 71st birthday on December 8.
Her daughter Soha Ali Khan shared a picture, above, and wrote: 'Happy birthday time. thank you all on behalf of my mother for wishing her yesterday!'
***
Farhan Akhtar bumps into Dharmendra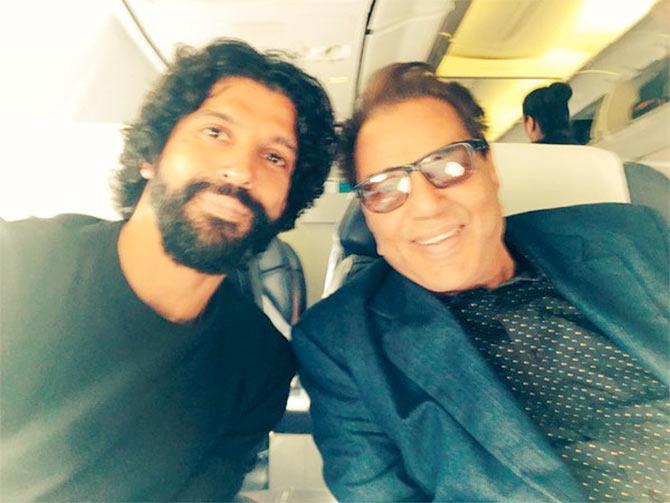 Farhan Akhtar bumped into Dharmendra on a flight, and he made sure to capture it on his phone.
'Seated beside, unarguably, the most handsome leading man our silver screen has ever seen. #legend,' Farhan posted.
Meanwhile, Hema Malini thanked fans for their birthday wishes for Dharmendra. 'Dharamji & I thank all the millions of fans frm all over the world for their love & bday gd wishes today. We love u all! A special 'Thank you' to Amitji for his good wishes as also to all our friends & colleagues in this wonderful film industry for their love,' Hema tweeted.
***
Kabir Bedi launches Sandokan DVD
Kabir Bedi recently released a collector's edition DVD set of his 1976 Italian TV series Sandokan.
He shared a picture from the event, above, and wrote: 'FAB LAUNCH of #Sandokan DVD by India's international star @AnilKapoor, TRUE friend.'
The six-part miniseries is based on the novels of Emilio Salgari.
***
Here's what Sonam Kapoor is up to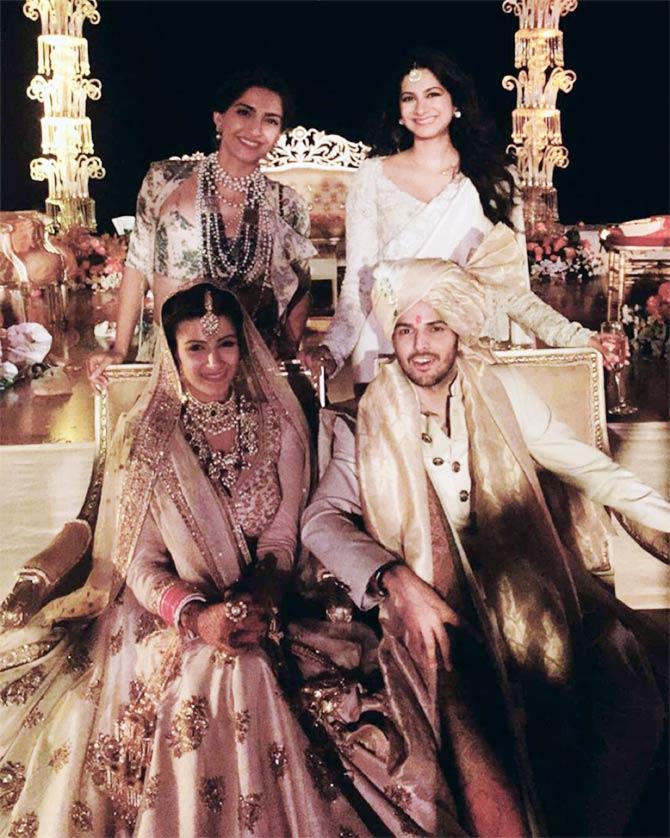 Sonam Kapoor and her sister Rhea recently attended designer Kunal Rawal's sister's wedding in Oman.
She posted a picture on Instagram and wrote: '#pictureperfect #Sashsam @sasharawal @samarthbaj @rheakapoor.'
Sonam will be next seen in biopic Neerja.