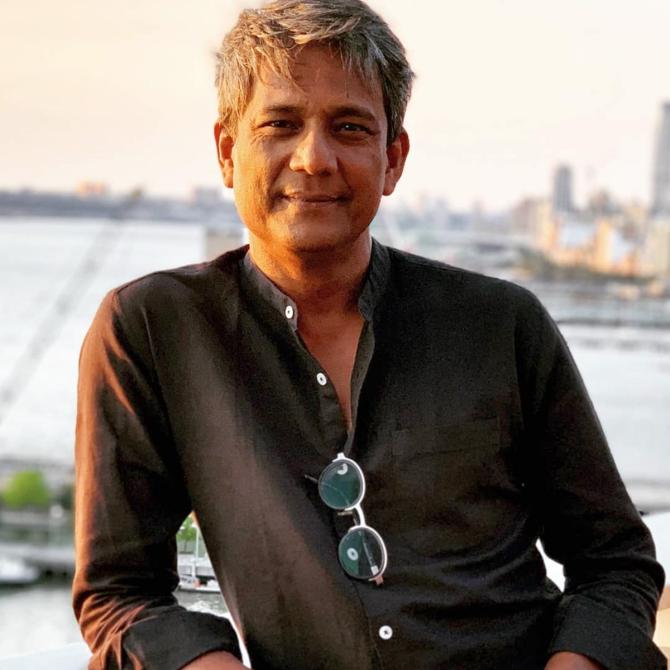 Adil Hussain plays a rickshaw puller in his new film, Pareeksha.
One recalls two great actors -- Balraj Sahni and Om Puri -- playing rickshaw pullers in Bimal Roy's Do Bigha Zameen and Roland Joffe's City Of Joy respectively.
But Adil, whom we have seen in stellar form in films like Unfreedom, Parched and Angry Indian Goddesses, sourced neither of the two great performances for Pareeksha.
"I do recall the great Balraj Sahni's performance in Do Bigha Zameen, but I did not go back to it before doing Pareeksha. That's not how I function," he tells Subhash K Jha.
"But let me tell you, I think Balraj Sahni is the greatest actor this country has produced so far. His grace and effortlessness, his gentle demeanour are unparalleled." asserts Adil.
Adil has been very busy during the past four months.
"The lockdown has been a blessing disguise for me," he says.
"I finally got a chance to spend time with my 10 year son. I got close to his life, his issues. The beautiful aspects of my life that were missing were suddenly discovered. I've learnt to cook and bake, including bread, croissant and homemade pizza bread. Of course, Indian cuisine like my favourite kachchi biryani."
The lockdown has also made Adil realise how little it takes to be happy.
"How much resources we waste. The water we use while washing dishes or while taking a shower. Or the simple pleasures of watering plants."
"During the lockdown, we got a chance to be more discreet and less extravagant in our daily conduct because we had a chance to stop running from one appointment to another."
"I am focusing on meditation way more than before and many such things that were away from our consciousness. Not because I wasn't paying attention but because I wasn't subtle enough in attending to these activities."
Adil has been reading a lot of scripts during the lockdown.
"I am getting lots of offers from OTT and independent producers. A producer is chartering a flight to take us to London to shoot. I am playing the lead in a Hollywood production which got postponed due to COVID-19."
Adil considers the OTT platform to be very important.
"It gives the viewer the freedom of independent watching. One can view what one likes, how one's likes and at the time he likes, without any interference or outside opinion. It's just the audience and the content. Also, the OTT platform gives the audience a chance to focus on minor characters, which cinema doesn't permit."
"I am not saying everything on OTT is good. But something like Delhi Crime empowers the film-maker and the actors. It shows that acting is not just about muscles. Stories of working class people are being told on OTT. It's like empowering people with electoral franchise."
"Also, the audience's attention span is increasing. People are willing to give eight-nine hours of their time to a Web series if it is worth their time."