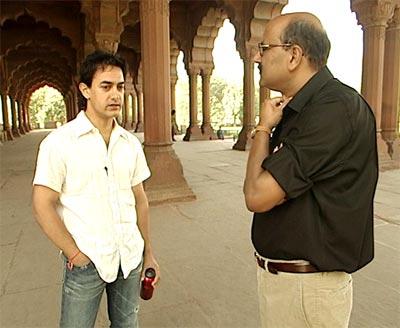 Aamir Khan talking to the the press is an event; and this time, the actor has gone incredibly candid.
In an exclusive interview with NDTV, the star talks about his personal life, his long break from films, his upcoming movie The Rising, and what he didn't like about Shah Rukh Khan's Devdas!
'I was going through a lot of personal problems, to do with my marriage of 16 years. So this gap [his four-year absence from films] was unplanned, and it's not something that happened earlier... or will happen again,' Aamir tells Indian Express Editor-in-Chief Shekhar Gupta in Walk the Talk.
The actor admits his disentigrating marriage forced him to rethink life's priorities. 'I was not in a position to work -- it was a period of high personal trauma.'
Talking about Ketan Mehta's film The Rising, Aamir explains his now famous long hair and distinctive moustache. 'I do whatever it takes to stay in character. I don't know how to work in any other way.'
Does the Lagaan actor have a fascination for period films? 'With both Lagaan and The Rising, it's the stories that interested me. The fact that they were set in sort of the same period is just a coincidence,' the star, who turned 40 recently, says.
On Devdas, and Shah Rukh Khan's performance -- Aamir says coyly he 'would have played it differently,' before going on to deliver his critique of the Sanjay Leela Bhansali film.
The Aamir Khan interview will be telecast on NDTV 24X7 at 7:30 pm, on Saturday, April 2.