'This is the first Bollywood film which is about 4 women not falling in love with the same guy.'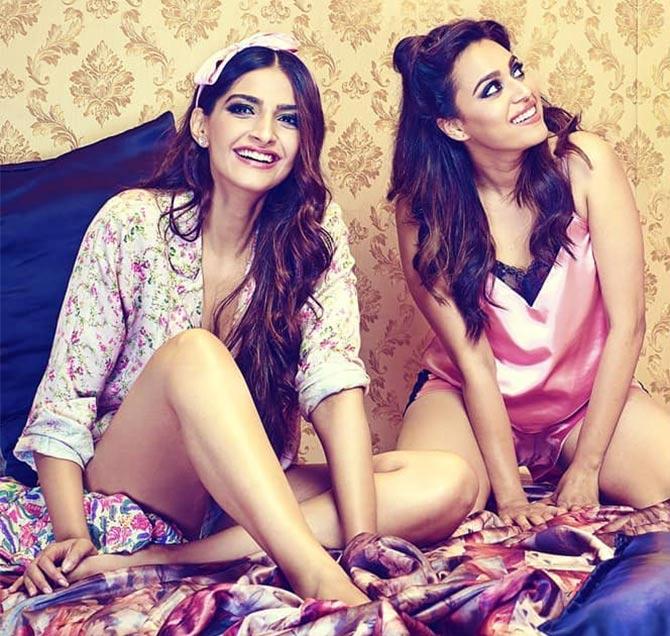 Sonam Kapoor is in a happy space.
The actress, who wed businessman Anand Ahuja last month, is gearing up for the release of Veere Di Wedding, which has been co-produced by her younger sister Rhea Kapoor.
The Veere Di Wedding trailer evoked diverse reactions. Some found it liberating, some felt it violated the basic meaning of feminism, which Sonam and co-actor Swara Bhasker have been flagbearers for.
Sonam and Swara sat down for a chit-chat with the media at the Mehboob Studio this week.
After granting 10 back-to-back interviews, Sonam -- despite her back hurting -- was all gung-ho to talk about Veere Di Wedding. Giving her company -- while intermittently checking her phone -- was Swara.
Urvi Parikh listened in.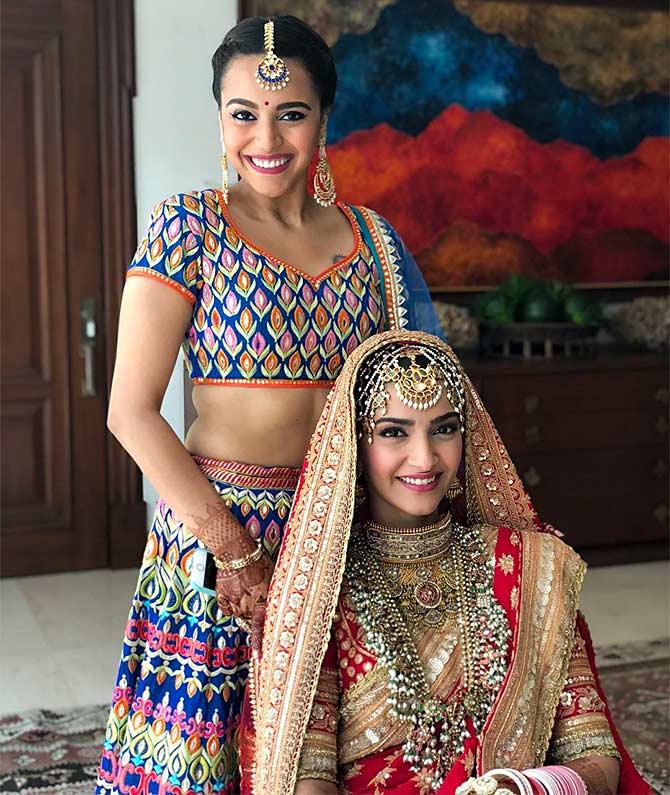 First, Sonam's wedding and now, Veere Di Wedding. Has the wedding hangover evaporated?
Swara: I actually had two weddings. My brother got married in March. I was the wedding planner, the wedding chaprasi.
After that I had Sonam's wedding.
I am done with weddings. I want Veere Di Wedding to release and do well.
Sonam: You are really done with weddings, Swara?
What are you hinting at Sonam?
Sonam: I am not hinting at anything. I don't want to get into trouble.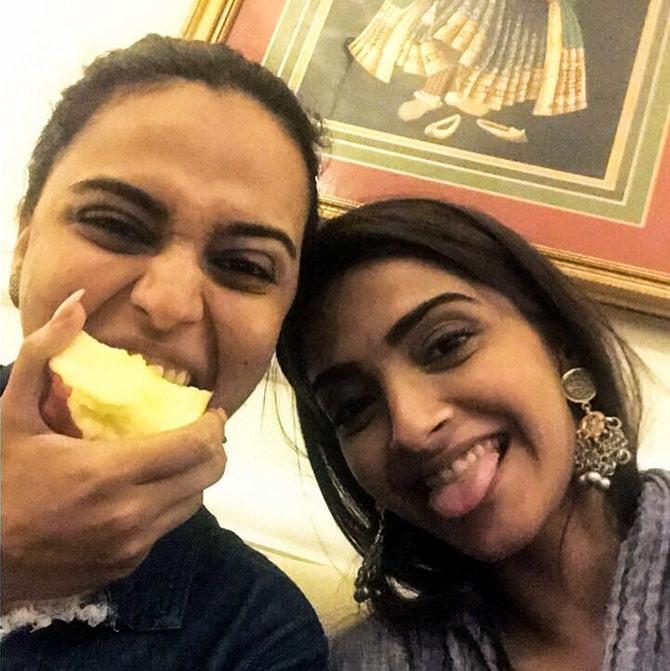 How excited are you all about Veere Di Wedding?
Sonam: You'll tell me how excited are you guys for Veere Di Wedding?
Swara: Lot of excitement is there for this movie. Fans, friends from across India and the world are excited about the movie.
Wherever Bollywood movies are watched, there people know Veere Di Wedding is releasing.
What has been the family's response?
Sonam: Families are loving it. My brothers have started teasing me: 'Accha, you talk like this when you are with friends.'
No, I am not at all like Avni. I have certain characteristics that my sister has put in Avni's character.
Like I have OCD about keeping things neat and tidy.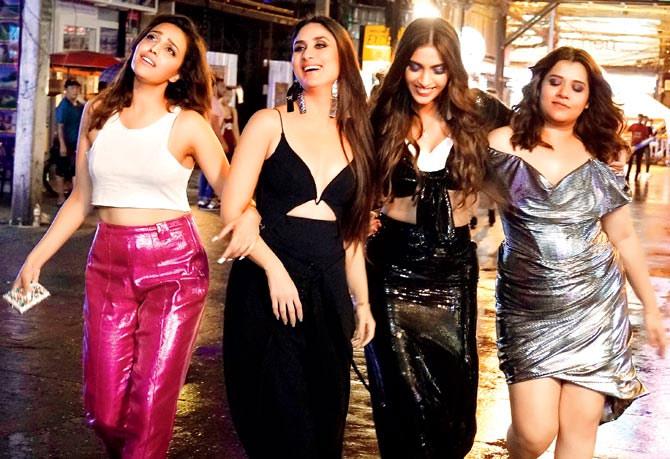 Is working with actresses easier than doing a movie with actors?
Sonam: It is a lot easier to work with actresses and less stressful.
There is no baggage.
Besides Salman and Akshay, I haven't worked with big mainstream heroes.
Though I have never had a stressful equation with any male co-star, with Veere it was just lot of fun.
Also, the responsibilities are not on my shoulder solely unlike films like Khoobsurat, Aisha, Neerja, Raanjhaana etc. Right now, I feel a little less responsibility.
How was the last day of the shoot?
Sonam: I didn't want to leave Phuket. I was like 'abhi toh holiday shuru hua.'
Swara: We didn't finish on the same day. Shikha and I completed the shoot two days after Sonam and Kareena. The last day was chaotic.
Sonam: No baba, the last day was when I was wearing that red top.
We were shooting at Kareena's house and Anand had got us cake.
Swara: Which I didn't eat, I don't know why. Anand got us some 30,000 cakes and gifts. He was a big Santa.
Sonam: Yeah, Anand is a big Santa.
Swara: They are both Santa Clauses and have a gift giving problem.
It was Santa Claus weds Santa Claus.
Veere Di Wedding is a movie about women and their lives. But it is being directed by Shashanka Ghosh...
Sonam: Zoya (Akhtar) directed a film about boys bonding, then why can't Shashanka direct a movie on girls and their bonding?
I think there are both perspectives in it. It is written by Mehul (Suri) and Nidhi (Mehra). But it is a film produced by a woman with women in it.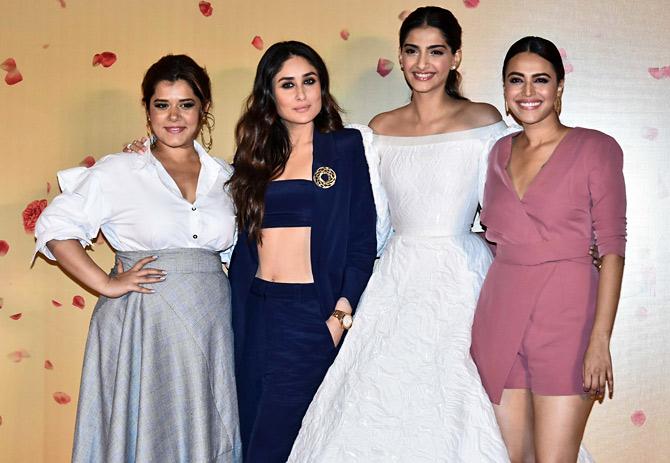 After the trailer came out, there were mixed reactions. What is your take?
Swara: Sonam has always maintained that she is a feminist. I have also said that.
We are proud of it. But that doesn't mean that the movie is made for that purpose.
This movie is about women dealing with love, marriage, friendship, life.
I think it is an empowering film. It is liberating, especially when it comes to gender that we have seen in mainstream Bollywood.
It is not necessary that it should be the same takeaway for you.
The kind of criticism that we have been getting -- 'Oh you are reducing feminism to woman smoking!' I mean who said anything about feminism?
We didn't say Veere Di Wedding is a feminist film.
We are not carrying banners like this in it.
It is a story of four working women and their lives.
Sonam: I am bored with this debate now.
Swara: For years you guys have felt that Bollywood has given very unidimensional women characters who are pure and all.
Now we have begun to give you all flawed characters who feel more real. Now that is also a problem.
Sonam: I feel we are only defending. Whether you are a star child, a feminist, whether you getting married or not, whether you having a baby or not etc. We are only defending.
When can there be a point when there will be acceptance?
Accepting the person for who they are and giving them the choice of what the f**k they want to do. That is the whole idea of it.
That is progressive. That is not being judgemental.
It is like going and asking why are you wearing a burkha? Does wearing a burkha make anyone less of a feminist?
Judging someone over their religious choice? Why are you praying to a Hindu god?
This doesn't make sense. I changed my last name and people came and told me, 'You're not a feminist'.
Who the f**k are you to tell me who and what I am or I am not? That's completely ridiculous.
The same is the case with the film. It is a movie about women and for them. Why is it being judged on wrong things?
Swara: There are three sections of people here.
One who are feminists and felt liberated after watching the trailer.
Two who are feminists, but felt this is not what empowering a woman means.
Three anti-feminists who hate us and the movie. But that is their opinion and it is okay.
We just want to tell people that they should just chill out and watch the movie. Don't judge.
Sonam and I are feminists. But maybe there are others in the movie who don't want to be identified that way and have a different thought process.
Sonam: And it is unfair to put labels on anybody. That is why we said this is not a chick flick.
Swara: People should just watch the movie and then talk about it.
One should just celebrate the fact that this is the first film made in Bollywood which is about four women who are not falling in love with the same guy. I think that is liberating.
It is a movie about four women friends and their lives. Nobody got raped. No injustice happened.
I come from that cinema and I respect it. But isn't it liberating to see a movie where nothing horrible is happening to women?
Sonam: Just don't label us. Just come and watch it.
Swara: Maybe for me it is a liberating, empowering, and a feminist film also. But for others it is not.
Sonam: It is like a piece of art. You take from it whatever you understand.
You guys have all gone to college and hence you all are journalists. And whenever you have to analyse a piece of art, book, film you all have your own perspective.
Everybody has a different perspective. Don't force or pressurise anyone to see it the same way.
Just believe that the movie is made with a moral compass. We are not doing anything that is sexist, regressive, homophobic or in any way...
What was it like working with Kareena?
Sonam: I learnt a lot from her. One of the biggest things to learn is that she leads by example.
Her choices are progressive and it is pretty inspiring to see her come to work, leave her child home and give it her all.
And to see Saif take care of the child when she is working or vice versa when Saif is working.
She said her best work has come post marriage. That is incredible. It gives you strength.