The Padmavati controversy has come at an awakard time for Bollywood.
Urvi Malvania reports.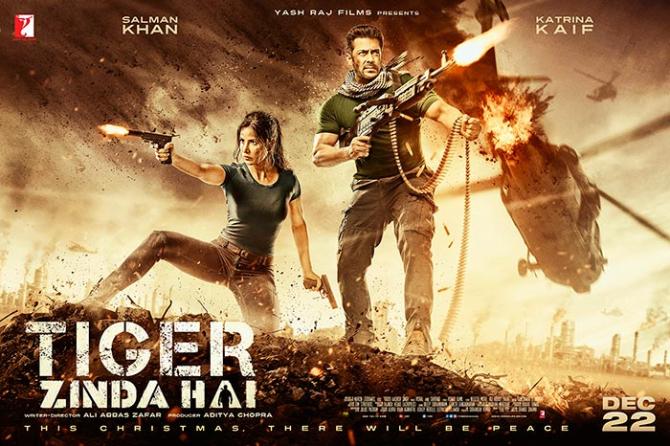 IMAGE: Will Salman Khan's Tiger Zinda Hai save the year for Bollywood?
Controversy sells tickets, but with the ongoing crisis over Padmavati reaching a crescendo and the movie's release being deferred, film-makers and marketers are struggling to salvage what was projected as one of the biggest box office grossers of the year.
Not only could this convert a bad year for Bollywood into a worse one, it could also force brands to reassess their engagement with big budget films say several marketing experts.
Tanishq, one of the most prominent brands associated with the film, has designed a special Padmavati collection that went on sale just before Diwali.
And although the company, speaking to the media after the launch of its collection had said that the association had been extremely profitable, promotion executives across studios point out that the mud being slung at the film will also likely stick to the brand.
The movie -- starring Deepika Padukone, Shahid Kapoor and Ranveer Singh -- has been dogged by controversy right from the start; its sets have been vandalised and director Sanjay Leela Bhansali has been the target of violent and acrimonious protests for a while now.
While controversies send marketers in a tizzy, do they actually impact theatre footfalls as many industry observers seem to indicate?
Marketers say that there is no way to quantify or trace a clear cause-and-effect relationship.
"Unless it is the talent (actor or director) who is facing public ire and is being boycotted, it is very difficult to say whether contextual controversies affect footfalls. Having said that, some films have benefitted from the increased visibility and chatter around them. Udta Punjab is a good example," says a film marketer on the condition of anonymity.
For Padmavati though, the question may not be so much about driving footfalls as it would be about getting another release date.
Given the tightrope walk that Bollywood producers and distributors have to undertake over release dates, Padmavati could end up having to wait a long time or be forced to share a weekend with another big film, which in turn could affect returns.
Also the producers would have to find a way to address distributor and exhibitor concerns as protestors have threatened arson and destruction of property.
Bollywood's tryst with censorship, political interference and stray hooliganism has been on the rise in recent years.
Earlier this year, the Central Board for Film Certification objected to the release of Alankrita Shrivastava's Lipstick Under My Burkha. The film finally made its way to the theatres and turned out to be one of the industry's sleeper hits of the year.
In 2016, Anurag Kashyap's Udta Punjab ran into trouble with the CBFC over several issues including its name as it was seen as defamatory to the state that was about to go to the polls six months later.
The producers appealed in the Bombay high court, which ruled in the film's favour and allowed its release (with just one cut). Udta Punjab turned out to be a hit too.
Controversies keep audiences engaged, but they make life tough for a film marketer, says Prabhat Choudhary whose firm Spice PR markets and promotes several Bollywood movies and stars.
"The nature of the controversy will never be known till it happens and so there is no way to prepare for it. What a marketer can do, however, is stay agile and alert. The turnaround time, or the reaction time makes a huge difference," says Choudhary.
It is also important to be savvy about the political agenda, as many believe that the entertainment sector has become a soft target for people across the political spectrum.
Choudhary says these controversies often end up helping people outside the industry more than the film's producers and actors.
"At times controversies are caused by issues raised by factions outside the industry. In most cases, the controversy gives these external factors more visibility than it gives the film."
Bharat Bambawale, brand strategist and founder of Bharat Bambawale & Associates, says that even without the alleged political agenda, controversies around films reflect the socio-cultural state of a country at any point of time.
"Marketing does not exist in a vacuum and will always have to take into account the prevalent sentiment," Bambawale says.
"If a product or campaign has natural affinity to the cultural sentiment of the time, it receives a tailwind. However, if there is any cultural antipathy, it is bound to face headwinds and that is what we see happening."
How does one deal with such crises?
Unlike brands that have been seen to benefit from turning on the communication channels to full volume, film marketers may need to plot a different path say experts.
It does not always help to speak up or take on the protestors. "There are times when it is better to let sleeping dogs lie," Choudhary says. "But other times, it becomes imperative to address the controversy."
Viacom18 Motion Pictures, the studio behind Padmavati, has preferred to let an official statement do the talking. It said: 'We have faith that we will soon obtain the requisite clearances to release the film. We will announce the revised release date of the film in due course.'