It all started from Mumbai.
Now, Khan's fan base has spread from the US, UK and West Asia to Malaysia, Indonesia, Japan, Germany, Egypt, Jordan, Morocco, Kuwait and Palestine.
Of the top 10 Bollywood movies that earned the most overseas, seven had Khan in them.
Surajeet Das Gupta reports.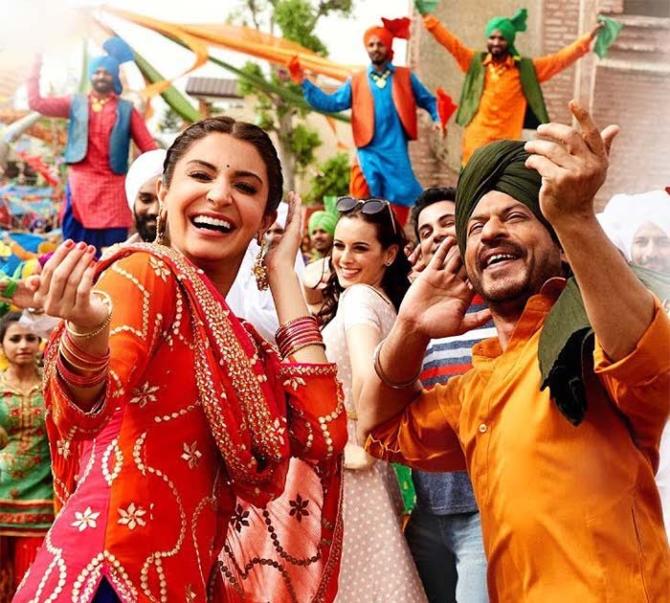 IMAGE: Anushka Sharma and Shah Rukh Khan in Jab Harry Met Sejal.
Shah Rukh Khan has not always been a critics' favourite. His performance seldom makes the grade, and yet they can't afford to miss his films.
The faint praise they sometimes bestow on him is made up for by the immense respect that he commands because, every now and then, he manages to sweep them off their feet.
His fans don't call him 'King Khan' for nothing. But even kings vie for empires.
Khan's movies, even the ones made on mammoth budgets, have been known to break even much before their release.
It's his star power that sells them and his people skills that offset the box office failures, and he rarely compensates for poor collections.
Red Chillies Entertainment, his production house, was born out of this confidence. But Khan's latest films, the much anticipated Fan (2016) and Jab Harry Met Sejal (2017), failed to make much of an impression at the domestic box-office.
While Fan made about Rs 85 crore (Rs 850 million) on a budget of Rs 105 crore (Rs 1.05 billion), Jab Harry Met Sejal barely ever took off.
A mixed response from viewers is a sign of changing times for Khan. And measuring its velocity that may set him off balance, the astute businessman is now solidifying alternative revenue streams.
Khan is betting big on his two businesses: Red Chillies Entertainment and the Indian Premier League franchise, Kolkata Knight Riders. He's put his faith in Venky Mysore, corporate veteran and amateur cricketer, to run these as their CEO.
A look at the trophies embellishing -- but also cramping -- Mysore's modest office in Khar in the tony suburbs of Mumbai gets him talking about cricket, Bollywood and what the two mean for the company's future.
"My boss says I should shift to a bigger office so that there is more space for showing off the trophies," he breaks the ice with a chuckle. Most of these trophies are won by teams under the KKR franchise.
We'll get into the business of cricket in a bit. First, let's focus on Bollywood.
Mysore is at the forefront of a shift in strategy for Red Chillies, the company that mostly invested in movies that featured Khan in lead roles.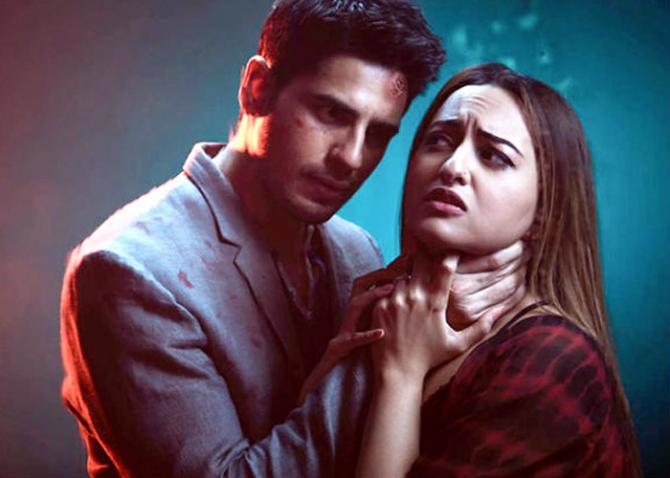 IMAGE: Sidharth Malhotra and Sonakshi Sinha in Ittefaq.
The recently released Ittefaq, a murder mystery starring Sidharth Malhotra, Sonakshi Sinha and Akshaye Khanna, is co-produced by Red Chillies and is part of its new strategy.
"Earlier," Mysore explains, "we averaged one film a year. But now, in our endeavour to become a full-fledged studio, we plan to make four or five films," he says, "and out of them, maybe two with Khan. It's time for us to scale up."
Ittefaq stands on a conservative budget of Rs 24 crore (Rs 240 million) and Red Chillies is recoding its production model by investing in smaller films devoid of a superstar.
The movie has already made over Rs 23 crore (Rs 230 million) at the domestic box office and a neat Rs 8 crore (Rs 80 million) overseas.
But Red Chillies had made money even before the film hit the screens, rustling up a cool Rs 20 crore (Rs 200 million) from satellite and streaming digital rights.
Khan's critics say his company is diversifying in response to the inconsistent domestic box office performance of his recent movies.
But even when his movies have not hit the jackpot in India, Khan has had an ace or two up his sleeve.
Take the example of Jab Harry Met Sejal.
The distributors spent Rs 80 crore on the film which made a meagre Rs 62.5 crore (Rs 625 million) at the domestic box office.
The distributors, according to industry sources, are requesting Khan to make up for their losses.
For, even as the film flopped, Khan made his money.
Red Chillies earned Rs 70 crore (Rs 700 million) by selling the movie's satellite and music rights. This is over the Rs 110 crore (Rs 1.10 billion) it made by selling the distribution rights in India and abroad.
It's no surprise that Khan maintains a loyal fan base overseas, and the film made around Rs 60 crore (Rs 600 million) outside the country -- roughly the same it made here.
Khan's films have gradually reduced their dependence on the local box office collections. Indian movie-goers, says Mysore, account for only 2 to 3 per cent of India's population.
In the words of trade analyst Komal Nahata, "Movies produced by Red Chillies always make money even though the distributors might not."
The company makes good profits, Nahata adds, even if it compensates the distributors because, so far, it has been able to sell its satellite, digital and music rights at a very high price.
It's these negotiations that give Khan an edge in the business of movies.
And while his Bollywood compatriots are looking to perfect the art and craft of thriving in the industry, Khan is often seen scouting for talent in stadiums.
The 52-year-old mega-star has a Rs 750 crore (Rs 7.5 billion) business empire and a strong management team to run it.
Red Chillies's revenue reports are not made public. Mysore says any prediction of its future earnings would be amateur in a largely unpredictable industry that varies with the number of movies produced in a year, and their success.
With three films this year, experts put Red Chillies' 2017-2018 revenue at around Rs 400 crore (Rs 4 billion).
Producing more films hedges the risk, while growing the business.
The company is looking to invest in three to four movies in the budget range of Rs 7 crore to Rs 30 crore (Rs 70 million to Rs 300 million) and Rs 80 crore to Rs 100 crore in one blockbuster featuring Khan in the coming year.
Its eventual goal is to be able to produce somewhere between five and ten movies in a year.
Red Chillies is at a sweet spot, Mysore insists, because of its various revenue streams.
"We have a creative team that can produce content for films, television, exclusive programming, OTT (Internet-based media services) and any other platform."
Komal Nahata says Red Chillies is following a trend practised by many global markets.
"Every production house wants to make more films as it needs to amortise the cost of its large creative team which does not come cheap. If a superstar can work in only one or two films, then they have to invest elsewhere," he adds.
Careful of the dwindling domestic box office collections, Red Chillies has fostered long-term partnerships for Khan's films for a stable source of revenue.
Zee has bought the satellite rights to telecast Khan's movies; Netflix has the digital rights for all his upcoming films; and the music rights are with Sony Music.
Good box office collections, Mysore says, are a bonus. But the company does not sell the rights in perpetuity. The contracts are mostly for a term of five years.
"The library of films provides us with a regular income. As a practice, we license for five year and after that renegotiate for perhaps another five years," Mysore says.
Red Chillies' next big bet is on VFX, or visual effects. The company is looking at taking up projects from global markets by leveraging the cost advantage.
Incurring 60 per cent lower cost than other markets, Mysore says its creative prowess has little competition. Fine-tuning the technology will also enable them to decrease the time it takes to shoot one movie.
The company is also perfecting ways to digitally conceptualise a movie before the shooting begins. This saves time and costs in tweaking the sets and sequences later. This could, in fact, be a remarkable advancement for the Indian film industry.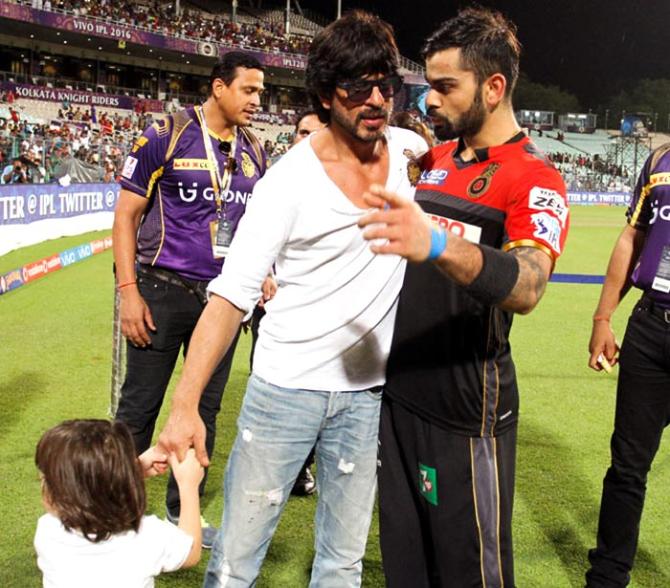 IMAGE: Kolkata Knight Riders Co-owner Shah Rukh Khan, left, and Royal Challengers Bangalore Captain Virat Kohli chat after an IPL game at the Eden Gardens. Photograph: BCCI
About the trophies at Mysore's office, it is evident that cricket more than the movies business has contributed to Khan's recent fortunes.
Mysore thinks the cricket and movies businesses are similar in many ways.
A company needs an expanding fan base that complements aggressive brand-building, good packaging and, of course, a product team that performs consistently, he says.
Thus far, each IPL season has kept Khan and his company in business for two months a year. The way Mysore sees business, it's all about filling the gaps.
He believes Knight Riders has the ability to generate revenues throughout the year. So, he floated the idea that KKR make inroads into other leagues.
The company, since, has made two substantial acquisitions -- a cricket team of Trinidad and Tobago playing in the Caribbean Premier League and a Cape Town team for the T-20 Global League in South Africa.
The expansion has evolved the Kolkata Knight Riders from being a single squad into a brand. Knight Riders Sports, which owns and operates KKR and operates as a subsidiary of Red Chillies Entertainment, is now looking to make a global impact.
"Now, we have live cricket spread out over six months in a year. We might even look at one or two more franchisees of KKR to complete the circle," says Mysore.
The negotiations to participate in the Australian cricket league did not go through as the rights were not being given in perpetuity and the company was unwilling to permit the use of the Knight Riders brand name otherwise.
Owning multiple franchises in the same sport and under one umbrella brand that integrates them makes the company cost effective, explains Mysore.
KKR is leveraging common players in different leagues. For instance, Sunil Narine -- known for his unorthodox bowling that helped KKR win its first IPL trophy -- plays both in the IPL and the Caribbean Premier League, and so does West Indian all-rounder Dwayne Bravo.
Jacques Kallis will continue to coach KKR while also mentor the Cape Town team in his home country.
The teams, of course, were chosen after much research. In Trinidad and Tobago, 40 per cent of the population is of Indian origin. Bollywood is immensely popular there too. And Cape Town is a city of cricket fanatics.
Mysore is also working on integrating sponsors. He is leveraging their relationship with KKR and pitching them to invest in the overseas franchises, too.
His pitch, which starts with something like, "22 million viewers in India watched the latest edition of Caribbean Premier League on TV and the number is expected to grow fivefold in the next season," does sound exciting to a marketer.
He presents it as an opportunity for a brand to activate its products across viewers in India, while expanding its global presence.
"Our association with KKR makes sense because we are from Kolkata and have a substantial presence in the West Bengal market," says Udit Todi, senior vice-president, Lux Industries. "We are also considering extending the sponsorship to other teams pending a final call."
With an expected turnover of Rs 350 crore, KKR already has private equity funds interested. But the company is in no hurry.
Like Khan's films, KKR is among the few franchises in the IPL that has consistently made money.
IPL's popularity has already assured better money for KKR in the next season. IPL's central revenue -- which is shared amongst the teams -- will roughly shore up by Rs 100 crore for each team, courtesy Star India's bid for broadcasting the tournament for the next five years beating Sony's last haul.
The current evaluation of Knight Riders Sports, according to some merchant banking estimates, stands at $500 million.
Mysore expects it to breach the $1 billion mark in the next two or three years.
It all started from Mumbai. Now, Khan's fan base has spread from the US, UK and West Asia to Malaysia, Indonesia, Japan, Germany, Egypt, Jordan, Morocco, Kuwait and Palestine.
Of the top 10 Bollywood movies that earned the most overseas, seven had Khan in them. But enough about money.
In Peru, a group of young women performed the 'lungi dance', a song sequence from Khan's Chennai Express, and the video went viral. This is a country that doesn't know much about the Indian film industry.
For them, Bollywood is synonymous with SRK.