When Amitabh Bachchan bounced back at 60, why can't Shah Rukh Khan at 51?
'Picture abhi baaki hai, mere dost', assures Syed Firdaus Ashraf.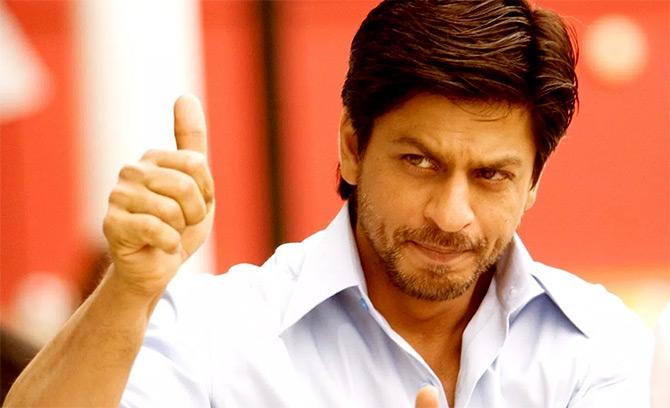 IMAGE: Shah Rukh Khan in Chak De! India
On August 10, 2007, a film, starring a superstar, released.
The star did not want to be a part of that film. Another star had backed out, and this star stepped in at the last moment because the producer was a close friend.
When the film was screened for a select audience before its release, the star felt it was doomed.
The director, a first-timer, felt his career was ruined.
A week later, the audience gave its verdict.
Triple Thumbs Up!
Chak De! India was the biggest grosser of 2007.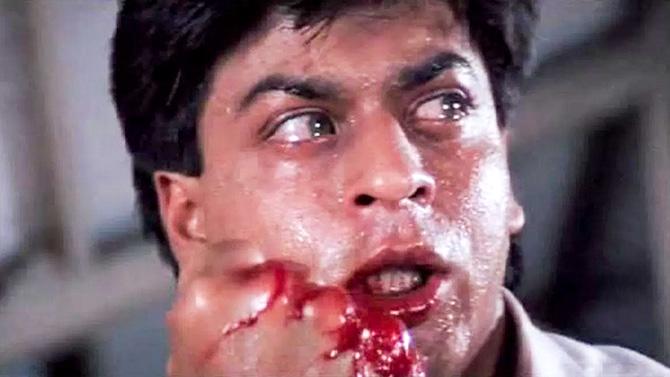 IMAGE: Can you imagine any other actor play Shah Rukh's character in Baazigar?
This is not the first time Salman Khan did Shah Rukh Khan an accidental favour by opting out of a film.
Salman dropped out of Baazigar as he did not want to play a negative role.
Shah Rukh bagged the role and his fortunes turned overnight.
In an interview to the Indian Express Salman said (external link) that if he had done Baazigar, Mannat, SRK's seaside mansion in Bandra which is a major tourist attraction, would not have existed.
A month after Chak De! India released, a group of journalists, including me, asked Shah Rukh why he did not anticipate the film would be a hit.
"This is show business," he said with a laugh. "No one knows what works and what doesn't. Had Chak De! India flopped, you journalists would have given me 10 reasons why it flopped."
He went on to list some of them:
"How can a film with no romantic song picturised on me work?"
"Why did I have a beard in the film?"
"How can a film with no heroine opposite me be accepted?"
"Picture chal padi toh chal padi. Ab sab maaf hai (If the film is a hit, everything is forgiven)," Bollywood's Badshah said.
"Filmmaking is like a painting," he explained. "A painter (like a director) starts with good intentions, but when he finishes his art, he has no idea what he has finally made."
"Sometimes he is right and sometimes things go wrong. If it goes right, you get all the praise. If not, you get the flak."
IMAGE: Shah Rukh Khan and Anushka Sharma in Jab Harry Met Sejal.
When I watched Jab Harry Met Sejal, I remembered what Shah Rukh said about the painting.
Everything that had to go wrong with the film went wrong -- the script, the story, an indifferent performance from SRK, bad direction...
Jab Harry Met Sejal is an awful painting.
Things have been going wrong for Shah Rukh since 2013. It may seem that he has lost his famous Midas touch.
None of his six films in the last four years have generated big money at the box office -- Happy New Year, Dilwale, Fan, Dear Zindagi, Raees and now Jab Harry Met Sejal have tanked.
What makes it worse for the superstar is that his Khan rivals -- Salman and Aamir -- are doing very well for themselves, Salman's Tubelight not withstanding.
So has SRK's career come to an end as his critics say?
I've been hearing this for the last 15 years.
Whenever critics have written an obituary of Shah Rukh Khan's career, the man bounces right back.
And how!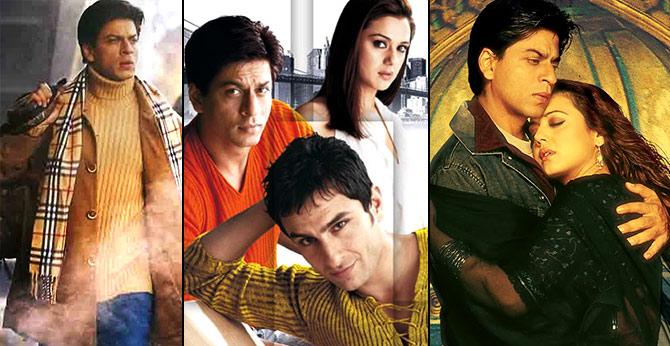 IMAGE: Shah Rukh Khan in his big hits: Main Hoon Na, Kal Ho Naa Ho and Veer-Zaara.
Hrithik Roshan made his debut in Kaho Na... Pyaar Hai in January 2000 and became an overnight star.
Shah Rukh Khan's Phir Bhi Dil Hai Hindustani released a week later and flopped.
Everyone said Hrithik was the future of Bollywood, and SRK's career had ended.
Three years later, he bounced back with Kal Ho Naa Ho.
Then came Main Hoon Na and Veer-Zaara and a slew of hits.
When Ra.One tanked in 2011, he bounced back with Chennai Express two years later.
If Shah Rukh Khan ever doubts his career, he just needs to look at Amitabh Bachchan.
Bachchan, then 60, was in debt when his company Amitabh Bachchan Corporation Limited suffered a series of losses.
The biggest movie star of his time spent many sleepless nights over this debacle.
One day, he went to Yash Chopra, asking for work.
He was offered Mohabattein.
Soon, he bagged the television game show Kaun Banega Crorepati. And the rest is history.
Mr Bachchan bounced back and has been going strong for the last 14 years. Touch wood.
So when Amitabh Bachchan bounced back at 60, why can't Shah Rukh Khan at 51?
He just needs to get the painting right.
Until then, 'picture abhi baaki hai, mere dost.'